NDTV Food Desk | Updated: December 16, 2017 15:31 IST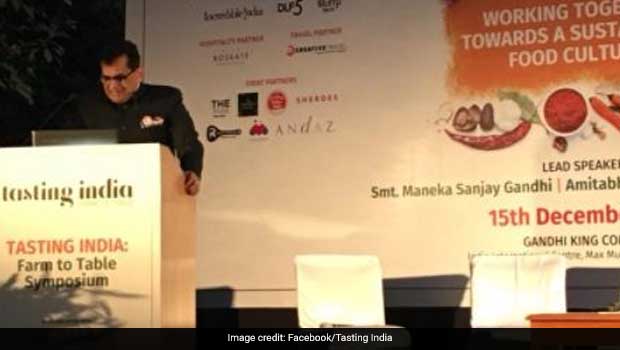 India's diverse culinary heritage, agricultural produce, and sustainable diet options it can offer to the world. After the success of Tasting India Symposium last year, the second edition focuses on the country's culinary tourism potential, the agricultural wealth and farm-to- table innovations. If you are a foodie or in the food business, here are five highlights of the event that you must know about.

1. The concept was conceived by Sanjoo Malhotra and Sourish Bhattacharyya, who have been working together since May 2015 to make this an important forum to promote Indian food.

2. It is a platform for innovative young chefs and food entrepreneurs to interact, share and grow, to showcase India's lost foods, generate ideas to make India a global food destination and foster understanding of Ayurveda's contribution to healthy food.

3. The event is being organised from 13th to 16th December at different locations where key persons from the food industry, travel and tourism, government, civil society and media – from India and abroad, will gather for dialogues and panel discussions on various subjects related to gastronomy and its future.


4. The event has received support from NITI Aayog, Incredible !ndia (Ministry of Tourism), the Food Safety and Standards Authority of India (FSSAI) and ICRISAT.

True to its name, Tasting India: Farm to Table was kick-started with a lovely farm-fresh lunch specially curated by Dr. Pushpesh Pant and Chef Nishant Choubey at the Rajokri Farmhouse of Roseate Hotels & Resorts on 13th December, 2017. It was preceded by a guided walk around the farm and an interesting talk by Dr. Pant on the importance of seasonality and the use of local produce in Indian cuisine.​



Co- Founder Sanjoo Malhotra, also Stockholm-based Make in India promoter, shares, "The Symposium seeks to engage opinion-makers in the country and around the world to shift their lens on India's opulent gastronomical heritage, its potential to emerge as a culinary tourism showcase for the world, and its vast wealth of wisdom relevant to the current global debate on sustainable lifestyles."

Sourish Bhattacharyya, noted food journalist and blogger, and co-founder, Tasting India: Farm to Table, adds, "Our emphasis is not so much on the act of eating food as in the blood, sweat and toil that goes into making it. I can assure you that you'll just love partaking of it."





The ongoing four-day event in New Delhi, Tasting India: Farm to Table, offers a great opportunity to understand