Chef Sanjeev Kapoor
needs no introduction. He's been blessed with talent, determination and luck and has certainly got the magic touch when it comes to cooking. His brilliant recipes and his infectious smile have made their way into our hearts and we were delighted to catch up with him during
World Food India 2017
– the three-day long food fair that aimed at promoting the Food Processing Sector in India. One of the highlights of the festival was a lovely Food Street curated by him where you could enjoy the best of regional Indian food – everything from a royal Hyderabadi
Mutton Biryani
and Coastal Daab Chingri to Punjabi
Sarson Da Saag
and fragrant Assamese Fish Curries. We had an interesting conversation with him at the event about the future of Indian food and the role of technology and digital media in the culinary world.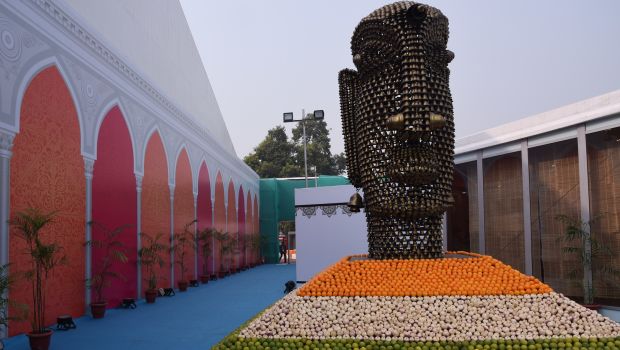 The event was organised at India Gate Lawns for three days. Photo Credit: World Food India 2017
1. Can you predict the future of Indian food? Any emerging trends that you've noticed in Indian cuisine?
One has to look at anything from the demand point of view. From the consumption point of view, Indian food has been growing continuously year on year. We need to first define what Indian food really means – is it what Indians eat or what Indians are cooking or what others perceive it to be? Ultimately, it's a popular view. Indian cuisine is so vast and diverse with so many influences and distinct cooking techniques and flavours that it is hard to pinpoint. One thing I can say is that while the taste is not changing, the forms are changing. The prominent flavours of Indian food remain
khatta, meetha, teekha
and
namkeem
. Our
chaat masala
taste is our taste. At times, we find it in an
aloo tikki
burger, at times in
masala
noodles, sometimes in a
biryani
and sometimes in so many other things. So, the demand for our original flavours has been growing and in terms of an emerging trend, more forms will play a role keeping in mind the taste we like.
2. Where do you see Indian cuisine in this age of molecular gastronomy and fusion food? Are we losing out on our traditional dishes?
There's migration of flavours, tastes and forms over a period of time and that's a natural phenomenon. We cannot stop it and I think any change is good. I don't think we can lose out on our
traditional dishes
because, like I said, it is the taste that matters and people like and want more and more of it. You can never lose anything that is time-tested. The word 'tradition' or 'traditional' mean that it is meant to last forever. Our traditional dishes have stood the test of time and it is not easy to erase their memory.So, while there is a lot of fusion food happening where we are marrying Indian flavours with International dishes, you will still find the same tastes and flavours being used that remind you of the original dish and only the presentation is different. Also, this marriage of Indian and International dishes is done keeping in mind our local tastes. For instance, there is a better chance of Japanese Teriyaki more easily adapted into Indian content than a Sashimi and this inspiration we can find from anywhere.
3. What are the qualities that make Indian food so popular globally?
Indian food is a combination of the air we breathe, the water we use, the soul that we bring in and our rich history. I feel there are three qualities that make Indian food so popular all across the world and these are – its uniqueness, its boldness and its complexity. In one dish, you can have a combination of 15-20 contrasting herbs and
spices
which makes it complex and adds the unique factor too.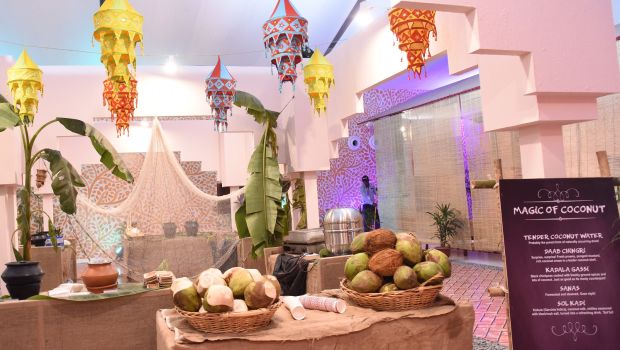 World Food India 2017
4. Why did you choose to associate with World Food India 2017 and what is special about the Food Street that you've curated?
We have the capacity to grow because we are an agricultural country but we are not able to consume that much and to be able to utilize our produce better we need to process it but we don't have those many facilities in India right now. There is an inherent market at the supply level but we are unable to utilize it. So, in case of farmers, if there is anything seasonal and they are not able to sell it, they will throw it but if we are able to process it and increase its shelf life, they earn more. This is what our intent is to help the farmers and I feel it is a very noble cause.
Food Street
symbolizes the heart of World Food India. It showcases the India of yesterday, today and tomorrow. We've showcased everything from food from the jungle and
Ayurveda
to regional dishes and molecular Indian cuisine and how processed foods can be a part of these. There are so many ingredients like spices and tomatoes that can be processed without losing their nutrition value. So, it is a smart thing to process them and use them when not in season.
5. Why did you pick khichdi for the world record?
The combination of rice and dal is enjoyed in each and every state across India from Kashmir to Kanyakumari. The name could be different – it could be
khichdi
, it could be just Dal-Chawal, it could be Varan Bhaat, it could be
Tehri
or Pongal. It could even be Idli and Dosa which uses the same combination of rice and lentils and only the form is different. We wanted to create a dish that unites India.
6. How do you think digital media has impacted the world of food? Any tips you'd like to give to all the digital and social media chefs out there?

In this new digital age, it has definitely become easier to connect with and reach out to your target audience. Food is being consumed in many different ways and lots of conversations around food are emerging thanks to social media which gives easy access to information. This digitization is making food more accessible and endearing and is getting the younger generation more involved with food. The simplest tip to all the cooks and chefs out there that I would like to give is to innovate. It could be on the medium you choose to use, on the recipe, on presentation or on the lighting –innovation is the key.(Also read:
918 Kgs Of Khichdi, It's A Guinness World Record!​
)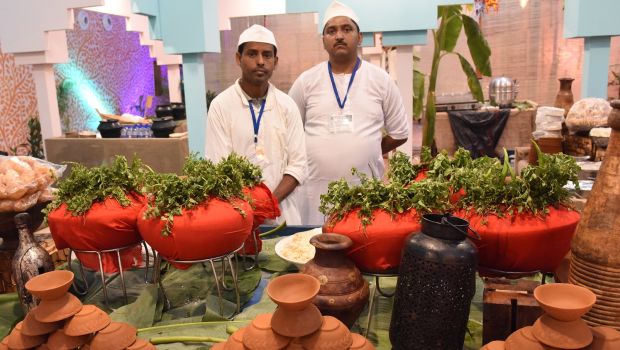 Photo Credit: World Food India 2017
We had a great time talking to Chef Sanjeev Kapoor and also bingeing on delicious food. Good times for food!