There will be many this weekend excavating the history of the khichdi, the potboiler that doesn't even need fire to keep things on the boil, as Birbal proved. But let's not get into things past. We know that the dish is of antiquity and Hobson Jobson, that glossary of Anglo Indian words, traced its ancestory to a dish described by Ibn Batuta who visited the Sultanate of Delhi. Let's look at things present and global-at the confederacy of khichdi! Because we humans ourselves are such a mishmash of influences and flavours and not terribly sophisticated either usually, it is hardly surprising that some of our pop dishes, not just in India but the world over, be versions of the khichdi, comforting ailing hearts and bodies, upholding national pride. Brand India is hardly alone in aligning itself with the mishmash. If there was a united nations of khichdis, many countries would be similarly represented by their one-pot rice dishes. Amongst its most prominent represenatitives, the confederacy of khichdis would certainly have:
1. Paella, Brand Spain: The Spanish claim it as their national dish but the Valencians, being Catalan and therefore separate and different, scoff at these claims. The true Paella they claim is theirs alone-brand Valencia. And though there are vegetarian versions available, it is the rabbit-rice mix that is truly legit, they say. Like our own khihdi, the paella has ancient roots but came up in its modern sellable version only in the 19th century, ostensibly. Though there are many versions, those who lay claim to the original, say the recipe should have white rice, green beans , meat (chicken and rabbit), white beans , snails, and seasoning such as saffron and rosemary. In the seafood paella, the beans and meat are omitted, while freestyle paellas bung in everything.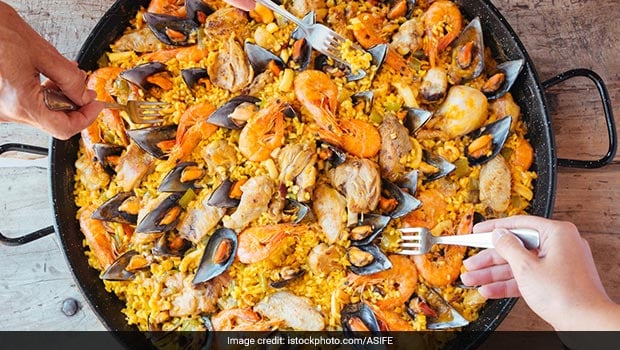 The Spanish claim it as their national dish but the Valencians​2. Kushari, Brand Egypt: Forget the falafel, when I was in Egypt touring that troubled land with armed escorts, I was told to try the kushari from local street stalls. The Kushari is kosher food, for those who are abstaining from meat. It is wildly popular as street food though-even though it is a product of Egyptian multiculturalism of the 19th century. Everything from rice, macaroni, and lentils to tomato sauce and garlic vinegar gets bunged into the dish. Expect no subtl-ty or finesse. But then that is exactly what a khichdi is supposed to be!
3. Congee, Brand Guangdong: Now if you want things a little more pristine, think congee. The rice gruel with all its accompaniments that could range from fish to sauce is a breakfast dish in the far East, wholesome, good for the gut, available to the rich and poor alike. Do you really want to eat anything else?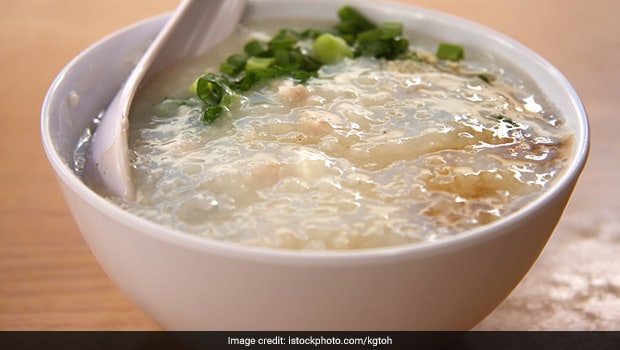 Now if you want things a little more pristine, think congee​4. Risotto, Brand Italy: Brand India has to have an Italian connection, so alike the two cultures are! When I first tasted the risotto, not in Milan with its distinctive saffron, but in New Delhi where Arborio was still an unfamiliar term, restaurateur Bina Modi, whose favourite it apparently was, described it as "Italian khichdi". It is. Rice is sautéed in butter, everything from bone marrow to sausage and onions added. The broth needs to be added in stages unlike our own khichdi but the final comfort is undeniable.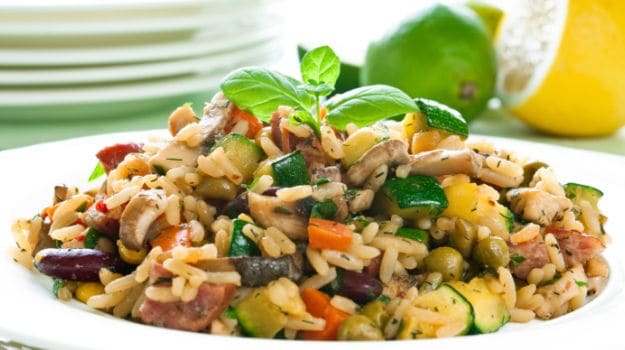 Rice is sautéed in butter, everything from bone marrow to sausage and onions added
5. Kedgeree, Brand Britain:
Smoked haddock, boiled rice, parsley, hard-boiled eggs, curry powder, butter, cream and occasionally sultanas... this is the height of Victorian inventiveness. The kedgeree was inspired by the khichdi and fashionable Anglo Indians patronised it but it is Britain that can truly lay a claim to this breakfast dish. Tempted to try?
About the AuthorAnoothi Vishal is a columnist and writes on food for The Economic Times and NDTV Food, and runs the blog a moveablefeast.in. She tracks the business of restaurants and cuisine trends and also researches and writes on food history and the cultural links between cuisines. Anoothi's work with community-based cuisines led her to set up The Great Delhi Pop-Up three years ago, under which she promotes heritage, regional and community-based cuisines as well as researched and non-restaurantised food concepts. She has also been instrumental in reviving her own community's Kayastha cuisine, a blend of Indo-Islamic traditions, which she cooks with her family and has taken across India to a diverse audience.DisclaimerThe opinions expressed within this article are the personal opinions of the author. NDTV is not responsible for the accuracy, completeness, suitability, or validity of any information on this article. All information is provided on an as-is basis. The information, facts or opinions appearing in the article do not reflect the views of NDTV and NDTV does not assume any responsibility or liability for the same.