Cold brew for sale at Sydney's Single Origin. Photograph: Supplied/The Guardian.
Iced coffee used to come with cream and milk, but now a new breed of roasters are creating cold brews using complex methods.
Forget slogging through a hot coffee on a sweltering day. Coffee drinkers now have a variety of cold caffeined brews to sip on. What we used to consider an iced coffee, a towering mass of sweet milky coffee dolloped with ice cream and whipped cream, could now arrive as a filter Ethiopian Yirgacheffe - a cold pour-over coffee made from beans of the Yirgacheffe region in south-central Ethiopia, or a single origin Burundi Muyinga 24 hour cold drip, where the slow, cold-drip method is used to bring out the flavours and qualities of beans from Muyinga, Burundi in central Africa.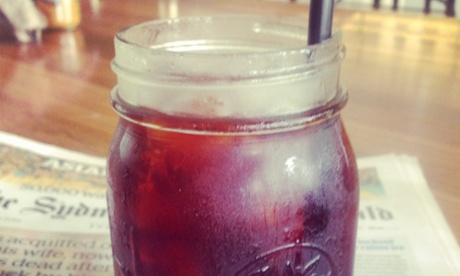 These drinks are often served over ice with no milk (or whipped cream) and they have layers of flavour including red fruits, caramel, nuts and chocolate.
But what are the terminology and various methods about?
The cold drip or cold press method is when coffee grounds are steeped in water at room temperature or cold water for an extended period, usually up to 12 hours or more. The liquid produced is viscous and intense in flavour and served without milk and often on ice.
Pour-over or filter coffee is a gentle process of hot water being poured over coarsely ground coffee grains that are sitting in filter paper. The flavour is extracted as the water passes through the grounds into a cup or pot, producing a light, subtle brew that is then chilled. No milk is added. Some cafes are even serving carbonated cold coffee on tap but if ice cream and cream is your thing, fear not, chilled espresso served sweet and milky is still widely available.
Leading coffee brewers from around the country tell us what these varying cold brews are all about.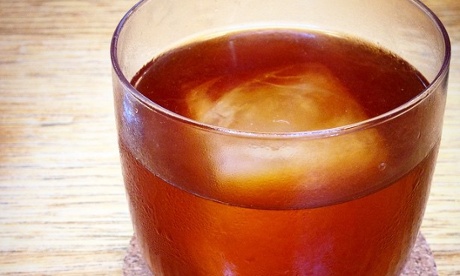 Luke Andrews, Reverends Coffee, Brisbane
Andrews, who opened Reverends in Brisbane's Fortitude Valley two years ago, believes that the growing popularity in various methods of making coffee is due to the fact our coffee culture here is Australia is experimental and progressive. "We (Australia) experimented with and have become leaders in roasting methods and espresso methods," he says. "Over the last few years different brewing methods have become the next thing for us to become leaders in," referring to the various ways you can draw flavour from the bean.
The heat of summer means cold brews are currently popular around the country but in the Queensland sunshine, Andrews has it on his menu all year round, saying "the most popular cold coffee we sell is the cold press method." Andrews says that his version of the cold press is very common in the Queensland specialty coffee scene and is a milk-based coffee, generally sweetened with a sugar syrup, agave or vanilla bean, and more often than not served in a takeaway glass bottle.
"The traditional cold press is an immersion brewing method where you soak ground coffee in cold water over a number of hours to produce an concentrate and then add to milk and sweetener," he explains. It sounds like the cold drip method with added milk but Andrew says that a cold drip will often have "a bit more body and more of the coffee bean oils in the cup," as the coffee is immersed in water for up to 24 hours, "so they are generally a bit heavier."
Dave Makin, Axil Coffee Roasters, Melbourne
Dave Makin, owner of Axil Coffee Roasters in Melbourne's Hawthorn and CBD, says he focusses on three types of cold coffee. Nitro Coffee, which he launched this summer is coffee that "has been cold brewed 500 litres at a time for a number of hours before being filtered then charged with nitrogen before being filled into kegs." He says the keg is then fitted to their refrigerated tap system and served over ice.
The slow process of cold drip is another brew where the coffee is "brewed one drip at a time through a saturated mass of ground coffee before being chilled and served over ice." It often provides a more viscous finish than other methods and gives a surefire caffeine buzz.
Makin also serves the traditional iced coffee with double espresso, ice cream and milk.
"I don't believe one [method] is better than another, they have to be appreciated for what they are," Makin says. "We have some great natural processed coffees from Ethiopia which are big and fruity but I can still appreciate a washed coffee that displays amazing acidity and clarity."
Still, he's a fan of no milk in some of his cold coffee. "If it's specialty coffee, roasted well and extracted at the right ratios then I'd definitely be drinking it black."
Scott Giles, Mischief Brew Coffee, Adelaide
Former chef Scott Giles from Mischief Brew in Adelaide sells and supplies his brews to cafes around the city.
"I feel cold brew coffee has grown in popularity because while there are many coffees available to the consumer where the flavour of the coffee is hidden behind sweeteners, cold brew, straight up or on ice, can give an honest representation of where the coffee comes from," he says.
Giles makes and sells "cold brew, cold filter, cold press, all sorts, we are striving to always be better at steeping coffee grounds in cold water for an extended period."
He acknowledges that different coffee bean varietals are better suited for different brewing methods and the natural flavour profiles of the various green coffee beans Giles buys will predict how he will roast and brew them.
Mischief Brewers focus on particular origins and varieties, as "it is always nice to experiment with a variety of variables in regards to selecting a coffee bean and then we choose a specific form of extraction."
He also recommends drinking the cold brews without milk. "Without the milky masking agents, cold black coffee over ice is a refreshing, easy to drink, naturally sweet and full bodied."
Ollie Mackay and Chrissie Trabucco, Assembly Coffee, Melbourne
Mackay and Trabucco opened Assembly in late 2012 in Carlton, initially serving just filter coffee and tea. They extended their range to include espresso a year later. Now they serve only one style of black cold coffee - a cold pourover coffee, served on ice.
"Translating hot drinks to cold drinks isn't linear," says Mackay. "We decided to serve our cold coffee this way because we like the varieties of flavours pour-over gives the coffee."
The couple have no aversion to cold drip although Trabucco feels that cold drip is more about the method than the bean. "For me, it focuses more on how the coffee was made with its syrupy texture, it's delicious but not how we want to present our cold coffee."
Mackay adds, "We think pour over is a more of a transparent way of bringing flavour out of the beans."
They're currently serving a Chele'lektu from Ethiopia. "It's got a lot going on flavourwise, and works well," says Trabucco. They brew the coffee hot, bring it to room temperature and then refrigerate it.
It's very personal choice on what they brew, "beans that are delicate get lost," says Mackay. "This is light but there's a lot of flavour, it's vibrant."
They also do the milky versions if that's your fancy. An iced latte comprises of a double espresso over ice and finished with cold milk and an espresso shake is served with vanilla icecream that they make out the back of their tiny shop.
When hot days are forecast they stock up on the pour over coffee the day before to have it chilled for the dry Melbourne heat, "a lot of our customers have cold coffee first thing on hot days," says Mackay.
While the February temperatures are set to soar, it's refreshing to know that caffeine can be enjoyed in a cooling, complex and interesting way. Forget the naysayers, if coffee is getting too serious, it's also getting way more interesting.
Where to buy it
Reverends
372 Brunswick St Fortitude Valley, Brisbane
Axil Coffee Roasters
322 Burwood Road, Hawthorn, Melborune
76 Flinders Lane, Melbourne
Mischief Brew Coffee
Assembly Store
60 - 62 Pelham St, Carlton, Melbourne