Image credit: The Bombay Canteen
The
falooda
is a dessert disguised as a drink. It is a felicitous coupling of silky vermicelli noodles with ice cream and /or crushed ice, slithery black basil seeds (
tukmaria
), all of which is steeped in a colourful bath of rose and
khus
syrup, with nuts sprinkled over. When it comes to
falooda
though, the whole is always greater than the sum of its parts. Sweet, refreshing, smooth, cool, crunchy, velvety, it engages the palate on many levels simultaneously, and is the perfect antidote to a summer day.
Where Falooda was Born
If one is to believe eminent food historian, K T Achaya,
falooda
began life as a decadent concoction in the royal courts of Mughal Emperor, Jehangir. "Akbar's son Jahangir had great curiosity about anything novel," writes Achaya, in The Story of Our Food. "A favourite of Jahangir's was
faluda
, a rich jelly-like drink made from the strainings of boiled wheat mixed with fruit juices and cream." Others say that king Nader Shah brought it with him when he came to India. Of course whichever way you look at it, this was a drink only meant for royalty.Soon, the dish escaped its gilded cage and began its journey across the country, which is where it transformed into the cool, colourful dessert-drink it is today. It's difficult today, to think of falooda as anything but lashed to Indian moorings. But many assert that
falooda
, as we know it today, came trundling with the Iranis when they sailed to India. Certainly faloodeh is a quintessentially Persian drink, enjoyed on Jamshedi Navroze by the Zoroastrian Iranis.But versions of
falooda
can be found around Asia too. Halo halo, the traditional Philippine dessert, is a similar jumble of ingredients - evaporated milk, coconut, yam ice cream with tropical fruit. Singaporean cendol is made up of shaved ice in a lake of coconut and condensed milk with a golden-brown palm sugar syrup drizzled over it. Malaysia ups the ante with its ais/ice kacang that adds jelly, red beans, fruit, peanut, ice cream, sweet corn etc to the cendol. Mauritian bubble tea is made of milk, basil seeds, agar agar, strawberry or vanilla syrup and is called alouda.
(Ice cream Vs. Frozen dessert - The Chilling Truth)
Where to Try Falooda
Naturally, hybrid versions of the
falooda
have sprung up. You can try new-fangled types made with chocolate sauce, strawberry and butterscotch;
kulfi falooda
;
kesar
-flavoured
falooda
;
paan-masala faloodas
; the Shirazi
falooda
with pistachio ice cream, and a profusion of nuts and
faloodas
laced with seasonal fruit (the mango being wildly popular).Most of these flavours can be found at Mumbai's iconic Badshah Cold Drinks in Crawford market, which sells eleven varieties of
falooda
, along with a plethora of other cooling drinks that include 'milk cold drink', 'milk and water sherbets' and 'milk with ice cream.' Gagan Gupta, a huge
falooda
fan, swears by Badshah's
faloodas
"because they are not very sweet. Most places make them very sweet." My NRI friend, Aditi Bhagwat, concurs. "When I come to Mumbai, I have to visit Badshah's for a
falooda
. Otherwise, I feel it is a wasted trip. They have the perfect flavour balance, not too sugary, and are thick and creamy enough to fill my stomach."At the Irani café Kyani & Co,
kesar falooda
and ice cream
falooda
(rose, grape, orange and pineapple flavours) are listed under its specialities. Aaswad in Dadar is famous for its spicy
misal pao
, but its range of
faloodas
is pretty delicious too. The very popular Baba Falooda serves, along with all the regular flavours, a black currant
falooda
and a mixed ice cream
falooda
. Everywhere,
falooda
is served in tall glasses, and slurped up with long spoons. Stalls all down Juhu and Chowpatty beaches sell
falooda
in plastic packets for parched visitors on sultry summer days.Delhi is not as famous for
falooda
but at Giani's, the
kesar
and
rabdi faloodas
do brisk business. The
rabdi falooda
there is, according to me, the best in Delhi - the
rabdi
is thick and creamy and studded with nuts, perfumed with rose water.It is said that Sreeraj brought the
falooda
to Bangalore, with its blend of vermicilli, tapioca pearls, basil seeds, dry fruits, rose and
kulfi
. And way down south in Madurai, Famous Jigarthanda serves a variant of
falooda
known as jil jil jigarthanda.
(How to Make Ice Cream at Home: An Easy, Foolproof Recipe)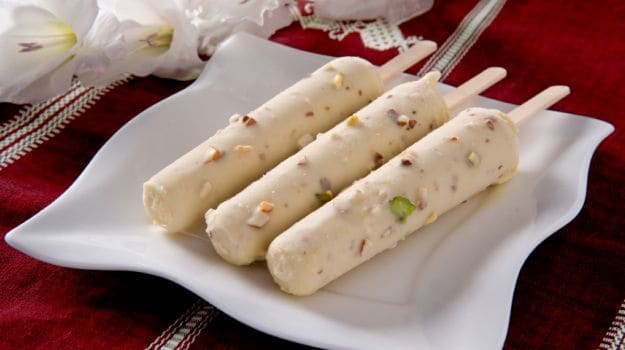 The Modern Falooda
In fact, so beloved is the
falooda
that even the latest and the hippest restaurants serve it. Sucres des Terres has created a sundae version of it for Bombay Canteen, with layers of vermicelli, strawberry jelly, basil seeds and rose ice cream topped with candied pistachio and a sweetened milk foam. Monkey Bar serves a Gadbad Falooda with three scoops of ice cream, rose milk, praline and candied papaya. And SodaBottleOpenerWala offers an Irani Falooda, what they call a 'classic Bombay Falooda flavoured with strawberry.'
(10 Ice Cream Flavours You'd be Crazy (Not) to Try!)
How to Make Falooda
It is really not that hard to make a
falooda
, since all the ingredients are available nowadays in shops. Buy the delicate semiya vermicelli or
falooda sev
, some
sabja
seeds, rose syrup, milk, dry fruits and nuts and ice cream. To prepare it, cook the vermicelli in boiling water until translucent but not too squishy. Soak the sabja seeds in water till they swell up. Meanwhile, sweeten some hot milk with sugar, then chill the mixture. Pour into a tall glass, the rose syrup, the seeds, the
falooda sev
, the chilled milk and then throw in a scoop of ice cream. Garnish with the nuts and dry fruit. Of course, ideally, you should prepare the
falooda sev
and ice cream at home, but failing that, you can always turn to your neighbourhood bania. Some people put cubes of fruit-flavoured jelly,
khus
syrup or kulfi, but to my mind, that is all by way of gilding the lily.
Disclaimer:
The opinions expressed within this article are the personal opinions of the author. NDTV is not responsible for the accuracy, completeness, suitability, or validity of any information on this article. All information is provided on an as-is basis. The information, facts or opinions appearing in the article do not reflect the views of NDTV and NDTV does not assume any responsibility or liability for the same.