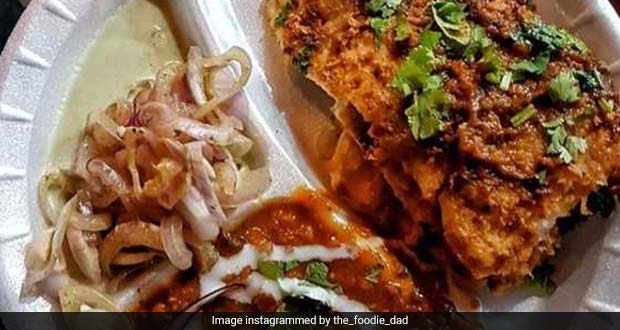 chhole kulcha is too mainstream. Try your hands on this new and exciting version of kulcha - nutri kulcha. Located in Shalimar Bagh is SFC, a takeaway that dishes out this scrumptious delight. When it comes to street food, nutri kulcha is a welcome variation. This delicacy is sure to be a treat for all the vegetarians out there. If you happen to be a soya lover, then this is the place to be. The combination of kulcha and nutri (soya chaap) is quite unique and is being loved by people across the vicinity. This place offers a huge variety of chaaps. You name it, they have it. From peri peri chaap to adraki garlic chaap, this place has it all. If you're on a diet and want to up your protein intake, then there's an exciting option for you too - diet (lemon) chaap.

How Is It Made?

What makes this kulcha different from others is its stuffing and coating. This place has certainly taken the kulcha game to the next level. The nutri kulcha available here is not only served along with generous portions of the nutri curry, but also stuffed and coated with the same at the time of its preparation.

(Also Read: This Plate Of Chhola Kulcha Comes With 'Capsules' And 'Heere Moti', Nothing Illegal About It )


Made with a melange of hearty Indian spices, this delight is quite appealing to the taste buds as well. The soft kulchas are first toasted in butter and ghee. They are then smothered and stuffed with nutri curry on both the sides. To add an extra zing to the dish, chaat masala is sprinkled on it along with freshly chopped coriander leaves. The delight is served with cream-laden nutri curry along with sliced onions and coriander chutney.
You can also customise the spice quotient of this dish as per your like and preference. Spice junkies, take a note! A plate of nutri kulcha here is priced at INR 110; considering the amount of butter and cream that goes into making of this delight, every single penny is worth it.

(Also Read: Here's Why 'Kulcha' Was Given a Special Place on the Official Flag of the Nizams of Hyderabad)

So, the next time you happen to be around Shalimar Bagh, do give this unique dish a try and share with us your experience in the comments section below. Go digging!

What: SFC

Where: Shop No-20, Anshul Plaza Market Shalimar Bagh, New Delhi Opposite Gufa Mandir

When: 5pm - 10:30pm

Cost For Two: INR 250

Speciality: Nutri Kulcha


Having
About Deeksha SarinAn eccentric foodie and a die-hard falooda lover, Deeksha loves riding scooty in search of good street food! A piping hot cup of adrak wali chai can make her day bright and shiny!