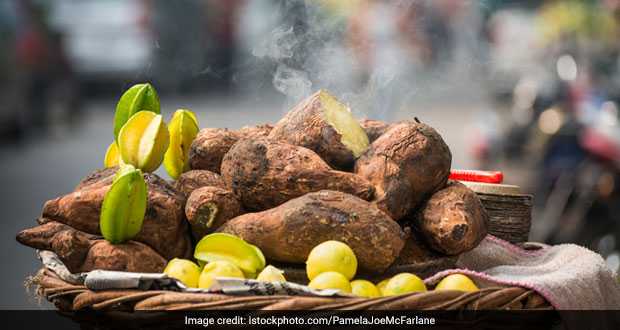 chicken kebabs, aloo-pyaaz parathas and spicy fried momos; this elaborated list of street food in Delhi will definitely get you drooling. And, let's be real, you either love it or hate it, but can't ignore it! Delhi street food will never leave you disappointed. This is one place where you can think to escape your fancy dining plans and enjoy eating out on the streets. Here's a list of must-try places in the Delhi where you can gorge on the exotic street food without any prejudices.


Kulcha King

Located at the buzzing Sarojini Nagar market and Connaught Place, Kulcha King is a haven for all the chhole kulche lovers. The place serves the best Amritsari kulcha and chhole, which we are sure will leave you craving for more! In fact, if you want to have an idea of all the amazing stuff that this place offers, then take a look at its website. With the price so economical, ranging from INR 70 to INR 100, we are sure you'd end up eating more!Where: Shop No. 144, Ring Road Market, Sarojini Nagara and Shop No. 6, Hanuman Road Market, Connaught Place



Azam's Mughlai

Nestled in the heart of the city, this very small eatery is known for serving the most authentic Indian street food. A popular choice among street food lovers, the restaurant is known for serveing extremely spicy galauti and kakori kebabs. If you have a taste for spicy Mughlai food, then Azam's Mughlai is a must-eat.

Where: 1B, Khan Market


Shree Balaji Chaat Bhandar

While walking down the narrow-cobbled streets of Chandni Chowk, you will find this small eatery serving one of the best street foods in Old Delhi. From chatpati aloo chaat, tangy gol gappa and spicy aloo tikki to mesmerising dahi bhalle and crispy papri chaat; this eatery is a one-stop destination to try Delhi's lip-smacking street food.

Where: 1462, Chandni Chowk


Bishan Swaroop

Another street food jewel cushioned between the busy streets of Chandni Chowk, Bishan Swaarop Chaat Corner is one the most popular food stalls that is known to serve the best, refreshing fruit chaats in Delhi. There are three types of dishes on the menu - aloo chaat, aloo kulla and fruit chaat. But, you must try their mixed fruit chaat, which is nothing but a beautiful mix of all the seasonal fruits like guava, watermelon and orange with some other add ons like beetroot, chickpeas and fried potato.

Where: 1421, Chandni Chowk



Dolma Aunty Momos

Known for the famous steamed chicken momos, Dolma Aunty momo joint is a firm-favourite place of every momo lover. Situated in the heart of south Delhi, this place offers amazing delicious, soft and succulent momos. Brownie points to the fiery red sauce that goes along with the momos. One plate of chicken momos is priced at an extremely affordable rate of INR 60, it is totally worth it!

Where: Shop 39-B, Central Market, Lajpat Nagar 2

(Also Read: 7 Best Places to Eat Tandoori Momos in Delhi)


With such great options of street food at one place, no wonder Delhi is also known as food capital of India! So, what are you waiting for, let the feasting begin!


The cobbled streets of Delhi, especially the narrow by lanes of Old Delhi, are undoubtedly brimming with some of the India's best street foods. From appetising dal kachoris, tangy gol gappas and scrumptious chhole samosas to delectable
About Shubham BhatnagarYou can often find Shubham at a small authentic Chinese or Italian restaurant sampling exotic foods and sipping a glass of wine, but he will wolf down a plate of piping hot samosas with equal gusto. However, his love for homemade food trumps all.