If you're still deciding how to celebrate Valentine's Day 2017, let us help you. We've curated a quick list of the best restaurant offers across Indian just for you. Push out the confusion and read through this list to decide what's best for your date and make your evening the most memorable and special in your lives. A perfect date need needs a perfect setting. More so, when the date we're talking about is 14th February or Valentine's Day. There's a lot of planning that goes into creating a lovely evening for your partner - the ambience must ooze charm and the food must be extraordinary. After all, the day of love comes but once every year. So, what's happening in the restaurant world this
Valentine's Day
? What are the offers and specials that could help make your evening out a perfect one? Pick any and enjoy a wonderful evening of romance and good food with your partner. What more could you ask for?
Mumbai
LIMA
Where: Next to NRI, Maker Maxity, North Avenue 2, Bandra Kurla Complex, Bandra East, Mumbai 51
For reservations: 022 3000 5040
When:14th Feb 2017Chef Jerry Thomas creates a special Valentine's Day menu for all the lovely couples out there. Valentine's Day is a day symbolic of love,
chocolates
, red roses, and all things mushy. The day gives you the chance to spend the evening with the most scrumptious food at Rs. 3000 ++ per couple which will also include a glass of complementary Lover's Blush each (a cocktail with Sparkling wine, Fresh kiwi, and a dash of Strawberry crush). There's also a surprise gift at the end of the meal to make your evening all the more special.The Menu:
Soup (Zuppa de Amazonia)
Watermelon Ceviche or Ceviche Classico
Appetizers include Asparagus and Artichoke Aguachile or Scallop Tiradito.
Main Course: Sweet Potato Gratin, Fish Escabeche or Grilled Lamb chops with warm potato salad and leek puree (Pick one)
Round off your meal with desserts like Berry tres leches and
Chocolate mousse
.
Out Of The Blue
Where: Out of The Blue, 14 Union Park, Khar (West), Mumbai, Maharashtra 400052
When:14th Feb, 2017
Reservations: 022 2600 3000
Price: 5000 INR per personEnjoy a meal under the beautiful sky when the weather is perfect for an intimate meal. Out of the Blue has curated a 3 course meal made with some of the best ingredients locally available. Choose from Phyllo Wrapped Asparagus: pink peppercorn hollandaise or Cauliflower Bisque: pomegranate, brown butter croutons, truffle oil and more. Enjoy the smoked salmon platter, creamed mascarpone, candied orange and micro greens. Looking for an element of surprise? Try the miso and chilly marinated tofu sesame tossed pak choy, broccoli and peppers or pan seared scallops & parmesan risotto, crisp kale. If you are feeling adventurous then order the coriander crusted pork tenderloin with roasted apples and fennel in a whisky jus.And that's not all. For dessert, which is the sweetest and most romantic course of all, you can choose between the Chocolate and Walnut Tart or Rhubarb Crumble which is served with a rich nutmeg ice-cream.You also get to take home with you a bottle of Chandon Rose along with the meal per couple. All this just for Rs. 5000.
Sassy Spoon
Where: Nariman Point and Bandra
When:14th Feb,2017In the hectic routine where we find no time to spend with the most special person of our lives, The Sassy Spoon, Bandra gives you the opportunity to get cozy in its perfect ambience and enjoy a scrumptious meal. The menu comprises of
of beetroot infused pear barley salad, berries and sweet potato with lemony honey mustard dressing, Quinoa and smoked aubergine ratatouille with tomato sauce and a pan-seared rawas on a bed of lemony mint, coriander and baby potatoes, Sambuca cream sauce & Coriander lime chicken with sundried tomato, goat cheese and creamy spinach risotto.
The Sassy Spoon, Nariman Point will be serving Grilled New Zealand lamb chops with spiced apricot marmalade, Beluga lentil stew and snow peas, spaghetti with clams, pancetta and herb butter, grilled cottage cheese, cilantro mash, veggies, chili garlic sauce. You can also enjoy the romantic al fresco seating at their Nariman Point outlet.The cocktails without which the evening will seem dull will include Brambletini - Muddled strawberries, blackberry and citrus infused vodka, spiced raspberry liqueur, mulberry caviarLoveLorn - Muddled strawberries, vanilla vodka, lime, raspberry short cake, vanilla vodka, amaretto, hazelnut. Dark Temptation- Amarula, Chocolate Liqueur, Vanilla Vodka, dark rum, dark chocolate dust.
The desserts menu includes Heart of Passion- red velvet fondant with a dark chocolate passion fruit centre with fresh strawberries, strawberry coulis and vanilla ice cream, Hugs and Kisses- a dessert that doubles up as a game with your loved one, Gold brushed X's and O's macarons with strawberry fruit ganache and a meringue lattice & Chocolate torte with chilli mousse and raspberry sorbet which will be available at both the restaurants.
Bangalore
Sanches
When: February 8 -14, 2017
Where: Sanchez, UB City
Timings:12 noon to 11 pm
Price: Rs. 395 onwardsSanches provides a combination of a very lively ambience for all the single friends out there as well as a very intimate atmosphere for those celebrating love this Valentine's Day.Chef Vikas Seth will offer a special menu featuring mouthwatering dishes and divine desserts accompanied by a cocktail or two. The taste of Spiced Tangled Chocolate Sweet Hearts, a sinfully rich theatrical dessert will stay with you forever. This dessert is cocooned in a white chocolate sphere, which unfurls on pouring warm spiced dark chocolate to reveal an aphrodisiac mélange of
chocolate fudge
, berries, nuts and
ice cream
. The Chipotle Brushed Baby Lobsters and the Creamed Avocado and Strawberry tortilla slices are must try entrées. For the mains, Beer Battered Fish in Soft Beet Tacos served with jalapeno mayo and green tomato salsa and Chilaquiles - Mexican lasagna with layers of tortilla chips, served with house salad tossed in spiced strawberry dressing, are sure to tantalise your taste buds.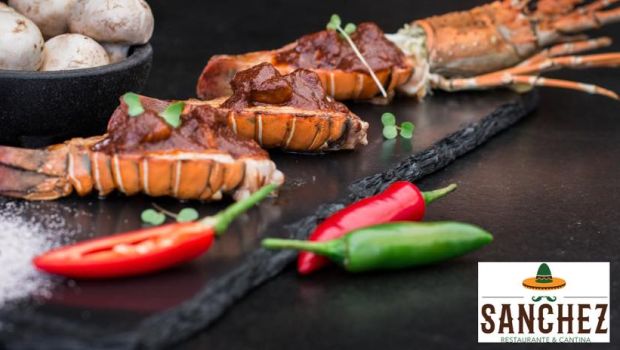 Photo Credits - www,facebook.com/Sanchez
Radisson Blu Atria
When:14th Feb, 2017
Where: Radisson BLU Atria Bengaluru
Timings: from 1900 hrs Onwards
Reservations: +91 80 22205205This Valentine's Day do something different with your love. Get one with nature with the water underneath and the open skies above, as you dine in the floating set up in the newly opened Radisson BLU Atria Bengaluru. Choose from a 5 to a 7 course meal, to rejoice your love with a carefully curated menu to tease your senses and make the evening, an affair to remember.5000 +++couple (5 course set menu with unlimited IMFL liquor)
6500+++couple (5 course set menu with unlimited IMFL liquor + limited exclusive table by the pool side + flowers and chocolates for the lady)
7500+++couple (7 course set menu with unlimited IMFL liquor + limited exclusive table in the pool, enjoy your meal as you soak your feet in the pool + flowers and chocolate's for the lady )
3200+++couple (5 course set menu with mock tails and soft beverages ) Terrace seating.
Delhi
The Leela Palace
Where: Le Cirque, M Lounge and The Library Terrace, Diplomatic Enclave, Chanakyapuri, New Delhi 110023, India
When:14th Feb, 2017
Reservations: +91 11 39331234Celebrate this special day in a candlelit ambience showered with rose petals. Share a romantic dinner specially crafted for your loved one as you whisper sweet nothings and exchange warm smiles.
Guppy
Where: 28, Main Market, Lodhi Colony
When:14th Feb, 2017
Time:7 pm onwards
Price: Rs 2000/- per person for the 5 course menu
Reservation: 01124690005Guppy, the contemporary Japanese bar and kitchen, is all set to make it extremely special this Valentine's Day. It's going to be a lavish affair with an impressive set dinner of 5 delicious courses. There's heart shaped sushi made with immense hard work and a whole lot of love by the team at Guppy, who are going to be welcoming you with open (origami) hearts. Romance is in the air as Guppy dresses up with heart strings, red candles, red carnations and red fairy lights, just for you. And yes, we don't want you love guppies to forget the absolutely wonderful time you spend here, so we have polaroid pictures to give you for keeps. Bring your partner and experience Valentine's Day, Guppy style.
Thai By Kylin
Where: N-6, First Floor, GK-1, Delhi
When:10th -15th Feb, 2017FIVE STEPS TO LOVE
· An exotic 5 course Valentine's Menu especially curated by Le Cordon Bleu Chef Nikkhil Kanwar
· Terrace Dining
· Aphrodisiac Shots
· One lucky couple will get a chance to win a trip to Dubai
Monkey Bar
Where: Monkey Bar, Vasant Kunj
When: 14th February
Time:
12:00 noon to 12:00 midnight
(Guests below the age of 25 years are only permitted till
6:00 pm
)
Entry:FreeIt's the biggest Valentine's party in town as Monkey Bar, celebrates the day of love in style. If you have love on your mind, they have just the party for you at the craziest Valentine's bash "Wingman Monkey"