Story Progress
Back to home
Chocolate Mousse Recipe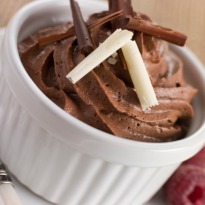 Whip up a chocolate mousse in minutes with this easy recipe.

Ingredients of Chocolate Mousse
180 gm plain milk chocolate
3 eggs - separated
1 Tbsp butter (15 gm)
1 Tbsp rum or orange liquor (optional)
Chocolate curls for garnish
4 bowls/cups to set the mousse
1.
Break the chocolate into smaller pieces.
2.
Place the chocolate and butter in a double boiler or in a bowl placed in a bigger bowl with hot water.
3.
Leave thus till the chocolate melts, stirring constantly.
4.
When melted and smooth, remove from heat, and beat in the egg yolks and rum.
5.
Whisk egg whites stiff, and fold into the chocolate mixture.
6.
Pour into the cups and refrigerate to set.
7.
Garnish with the chocolate curls and serve.