Most of the scrumptious and appetising-looking dishes that look pleasant on the dining table, turn out to be awful the next morning leaving pungent odours all over the kitchen. If you are planning to dish out your favourite
cuisine
this evening but dread the mere thought of those pesky cooking smells that are later going to occupy your entire kitchen and the house, then we're here to give you some quick-fixes to minimise or even eliminate those pungent cooking odours. Here's how:
Invest in a Good Exhaust fan or Electric Chimney
The idea is to ventilate, however you can. So, do not underestimate the power of a good exhaust fan or a chimney. Fight the stink even before it starts by switching on the exhaust fan while cooking foods that have the potential to leave behind a foul odour. Alternatively, you could also invest in a chimney as it will filter the fumes from cooking in a more effective and efficient manner.
Prevent Oil Build Up
Oil tends to evaporate at boiling point and ends up condensing on cooler surfaces in and around the kitchen area. The odour that releases from accumulated oil is quite unpleasant. Hence, grease and oil can cause pungent smells in your kitchen, if not taken care of properly. The best solution is to clean those specific areas of the kitchen using strong cleaning agents on a daily basis. If you use the scented ones, the cooking smells can be reduced in and around the kitchen to a great extent.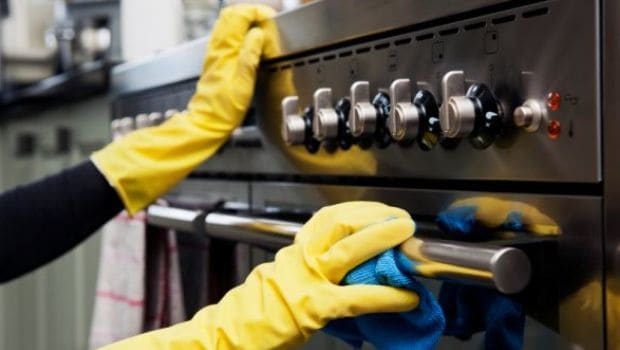 Cleaning accumulated oil stains can reduce foul odours to a great extent
Keep a Separate Disposal Bag for Smelly Items
The most easiest and inexpensive way to prevent foul odour in the kitchen is to maintain a separate disposal bag for all smelly items. Toss smelly items like fish, chicken or anything that can potentially rot in a separate disposal bag and dispose it off at once. Do it on regular intervals or the odour might just spread outside as well.
Leave a bowl of Vinegar on the Counter Overnight
Vinegar can do wonders in the kitchen. Due to its chemical properties, Vinegar can absorb stubborn odours to a great extent. So, if you've just hosted a house party and have tons of used dishes lying in the kitchen sink; just pour some vinegar in a small bowl and keep it at the counter before going to bed. The next morning, there would be no pungent smells and you'll be able to wash those dishes without any discomfort.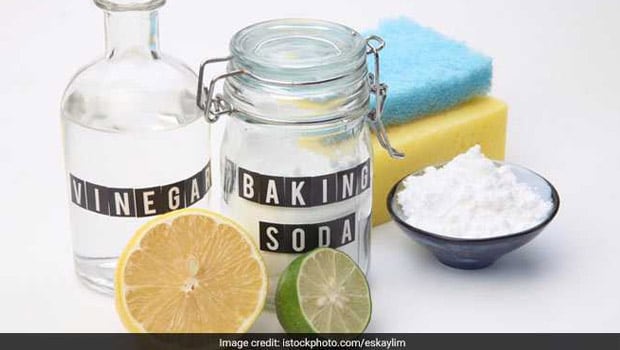 Vinegar is a magic ingredient
These handy and inexpensive tips can reduce unpleasant kitchen odours to a great extent. Apart from being highly effective, these quick-fixes are quite easy and won't take much of your time and effort. So, next time if you sniff those foul odours anywhere in and around your kitchen, you know what you've got to do!
About Deeksha SarinAn eccentric foodie and a die-hard falooda lover, Deeksha loves riding scooty in search of good street food! A piping hot cup of adrak wali chai can make her day bright and shiny!