If you are a salad lover like me, I am sure you must have tried various salad recipes. Whether it was our favourite desi salads or the ones that have pieces of chicken, paneer, and other exciting things, salads in any form are good to have. However, if you want to give them a twist and taste, how about making a salad with pasta and cream?! While many think salads are just a plate of greens, this yummy pasta salad will change your mind forever. Pasta is one of those things that we usually have dipped in a savoury sauce. But there are many other popular ways of cooking pasta. One of them happens to be this delightful recipe. You only need a handful of ingredients to make this salad, and its creaminess will leave you drooling.


In this quick and simple salad recipe, you will only require a handful of ingredients. This recipe is perfect for the time when you want to try something different or when you want to serve your guests a delicious salad! Plus, it will be a hit among people of all ages. The best part is that this recipe hardly requires 15 minutes to prepare! So, without waiting, let us check out the recipe for this deliciousness below.


(Also Read: 5 Quick And Easy Chicken Salad Recipes To Include In Weight Loss Diet)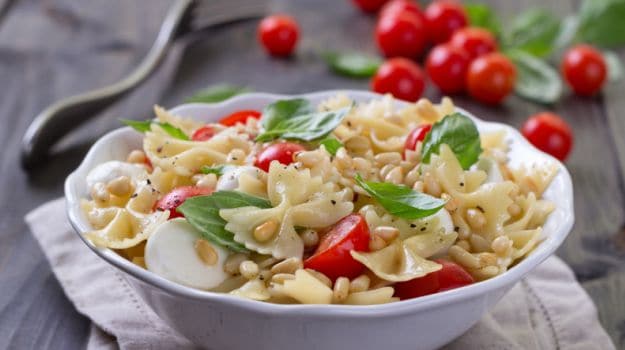 Creamy Pasta Salad Recipe: How To Make Creamy Pasta Salad Recipe
Boil some macaroni and set it aside. Now chop vegetables like spring onion, corn, cucumber, and lettuce leaves (you can add more vegetables as per your choice.) In a bowl, add mayonnaise, salt, pepper, sugar, and vinegar and mix. Now, combine the vegetables and the mayonnaise dressing with macaroni and combine well. Adjust the spice as needed, and relish!
Watch the entire recipe video of this creamy pasta salad above in the header.
If you are in search of more delicious and easy-to-make salad recipes, click here.


Try out these yummy recipes and let us know how you liked their taste!