Wear a T-shirt That Will Track Your Health
NDTV Cooks | Updated: December 06, 2014 12:22 IST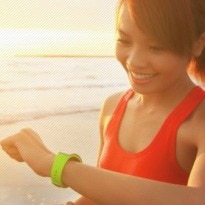 Many of us like to keep a close watch on what we eat and how many calories we consume. That's when fitness and health trackers come into play. With the help of health devices, one can actually keep a track of daily calorie consumption, calories burned, heart rate, sugar levels and other associated elements. But wait, what if we told you that you can now say goodbye to those fitness bands and smart devices that you have to carry everywhere and just slip into a T-shirt that can track your health?

Scientists have long been trying to develop electronic sensors that can easily be embedded in your clothes which would work like tracking devices. One of the biggest challenges to this concept was the inability to wash these garments with the electronic sensors. Some of the most recent experiments involved creating electronic sensors that are water proof, stretchable in nature and are not affected by the chemicals in detergents that are used while washing.

According to a recent study published in the journal Sensors, you may soon get clothes that can monitor your glucose levels, heart rhythm and brain activity. The electronic sensors attached to the garment can then send crucial information to a doctor for a quick analysis. The new smart textiles will be capable of monitoring and transmitting biomedical information via wireless or cellular networks. The fabric is created by superimposing multiple layers of copper, polymers, glass, and silver.

"We have tested a number of solutions, and the results are promising. We will also have to make sure that the fabric is robust, and can stand up to chemicals found in laundry detergent," said Professor Younes Messaddeq from the Laval University, Quebec.
"Of course, the technology will have to be connected to a wireless network, and there is the issue of power supply which has to be yet tackled," he added.

The research team is of the opinion that this new development in the field of digital clothing can pave a path for further discoveries that can help those suffering from chronic diseases, elderly people living alone, and even firemen and police officers.

"The fibre acts as both a sensor and an antenna. It is durable but malleable, and can be woven with wool or cotton. The signal quality is comparable to commercial antennas," said Messaddeq.

Not only this, experts also explained that the surface of the fibre can be adjusted to monitor a range of information such as glucose levels, heart rhythm, brain activity, movements, and
spatial coordinates. A patent application has already been filed, though certain elements still
need to be fine-tuned before this latest innovation can be commercialized.

With inputs from PTI