Friday has just only begun, but our minds have already floated on to the weekend. All we can think about is getting over with our work and finally doing the things that we love over the two days. And if you happen to love cooking and experimenting, you came to the right place! This weekend, spend some time making delicious food and surprise your family with extensive meals! For the same, today, we bring you some yummy and easy veg curries that will look stellar on your dining table! These recipes are easy to make, and the best part is that it only requires your everyday ingredients! So, with just a few ingredients, make lavish meals and fill your bellies with the goodness of lip-smacking food. Check out the recipes below:


(Also Read: Military Mutton, Laal Maas And More: 5 Spicy, Delicious Mutton Curries To Help You Survive The Cold Wave)
Here Are 7 Veg Curry Recipes To Have Over The Weekend
1. Veg Thai Curry (NDTV Food's Recommendation)
Thai cuisine is known for its spicy, refreshing and flavourful meals that leave us spellbound with every bite. And this red Thai curry will bring you exactly that. It's aromatic, mildly spicy, and with a hint of coconut milk- it becomes perfectly creamy for you to have. Check out the recipe here.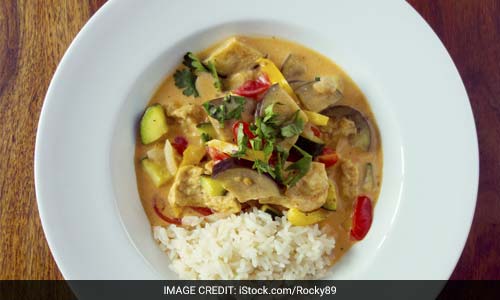 2. Shahi Paneer
A bowl of shahi paneer is creamy and spicy. It is one of the most popular vegetarian dishes in the country. We all know that a plate of Shahi Paneer with some naans will never disappoint. Every bite of this restaurant-style shahi paneer recipe is an indulgence. Check out the recipe here.


Aloo Rasedar is undoubtedly one of the most common recipes to make. However, if you want to give this dish a new twist, then make it the South Indian way! A filling and tasty aloo sabzi with flavourful spices to go with crisp puris is a must-have. Find the recipe here.


4. Goan Veg Sorak
Goan Veg Sorak is a red curry with coconut, kokum, and a mix of spice paste created with a variety of Indian spices. This curry is flavoured with kokam, a Konkan fruit that looks like a cherry tomato. If you don't have kokum, you can use tamarind pulp. Find the full recipe here.


5. Sambhariyu Shaak
This recipe is a one-pot mixed vegetable-packed curry full of healthful and wholesome ingredients. Potatoes, ivy gourds, egg plans, chillies, and other vegetables are used here. You can combine these ingredients to make a simple yet tasty one-pot curry. Here is the recipe.


6. Punjabi Dum Aloo
This Punjabi-style dum aloo requires no unique ingredients and can be made whenever you want to treat yourself to a delectable Indian dish. Crispy, small, deep-fried potatoes coated in masaledar onion-tomato sauce provide a flavour explosion on the palate. For the recipe, click here.
7. Amritsari Chole
This dish, which is often served with kulche, is popular with both children and adults. It's thick, rich, and everything decadent. Click here for the Amritsari chole and kulcha recipe.


So, what are you waiting for? Try out these amazing veg curry recipes, and let us know which one you liked the best!