Just when we thought Chef Gaggan Anand was probably on his way to winning the top spot in the World's 50 Best Restaurants List (currently Gaggan ranks World No. 7), came the news of him shutting shop. A shocker, no doubt! Like his marvellous creations where you absolutely have no idea what to expect (think a bonbon but it turns out to be a
puchka
!), the man too is full of surprises. You cannot predict his racing mind or fathom the tricks of the trade which he knows well ahead of time. You start wondering though, why do some of the most renowned restaurants such as El Bulli, Noma and now Gaggan announce their end when they are actually at the peak of their glory? Shouldn't they be pushing more boundaries and reinventing their culinary concepts beyond imagination?
But like the wise say, you need to know when to stop; Gaggan too is old school in certain ways. "Everything comes with an expiry date. When I started out, I gave myself 10 years' time to make Gaggan one of the most famous restaurants in the world despite all the challenges. Progressive Indian food has becomes a phenomenal success, but you need to be smart to know when to stop, and go chase new dreams."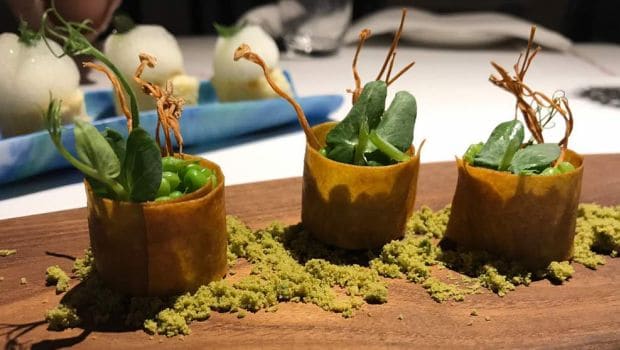 So if not restaurant Gaggan, what's next for the culinary maestro? Looking at him smile across the table we know that numerous ideas are brewing in his mind. Even though there are three more years till Gaggan finally stops service, his new plans are already taking shape. He shares some light on two immediate plans.
The Task of Making Tofu the Next Big Thing
We all know Gaggan Anand as the genius chef, but only a few are aware of the fact that he is also a restauranteur, having invested in some of the most exciting food concepts in Bangkok recently. Heard of Suhring - the progressive German restaurant? It currently ranks No. 13 in Asia's 50 Best Restaurants List, and Chef Gaggan is a proud investor of the venture started by German twins Thomas and Mathias Suhring, among other projects.
At a time when chefs are going all out to spruce up traditional cuisines or bring global food to the table, Gaggan sees potential in a humble ingredient, which many of us turn away from, and is willing to bet his money on it. It is none other than tofu, the cottage cheese. Yes, you heard it right, Gaggan is investing in an eatery which will solely be serving tofu.
"Nobody really thinks about tofu. It is the most underestimated ingredient, but we are going to make it the most popular food soon. The new eatery will be a small place, probably surviving on the salaries of three people, but will serve the most delicious tofu in ways you couldn't have imagined before."
The 10-Seater Restaurant in Japan
In 2014, Gaggan met Chef Go in Japan, and realised they were, in a peculiar way, very similar. They share the same birthday, have resembling signatures and even similar energy. They have cooked together in several occasions ever since, and have grown to admire each other a great deal. So when thoughts of starting a new food project sprouted in his mind, he knew it had to be with Chef Go. Perhaps it's destiny.
"Go and I are planning to open a restaurant, which will be called GoGan. It will be a 10-seater restaurant that is open for one month and then closed the next. This is because we want to put in time for a whole lot of experiments and creativity as well as relax and enjoy our life. I am done working like a dog," says Gaggan.
"Go and I share an expression of art through food, which can beautifully co-exist together, and has this unbeatable energy. Our earlier food collaborations have done very well, particularly the pop-ups, where we have cooked for 72 people over three days, 12 people in batches of two per day. Now we plan to come together and create a whole new level of dining."
The Concept of Subjective Food
Food is subjective. One man's meat is another man's poison. So is it really fair when you head to a restaurant and be served food made with ingredients that don't really impress your palate? But then again, looking at it from a restaurant's perspective, it is almost impossible to cater to every person's individual likes and dislikes and serve food accordingly. Gaggan plans to do the impossible.
"I want to go through every diner's details before they come to dine at my restaurant - what they do, where they come from, eating habits, what they like, what they dislike - and be able to give that individual attention to my diners. I will be sending them a questionnaire after reservation to get to know them and then cook different dishes for different individuals based on what they love to eat," says Gaggan with a lot of confidence while we are left wondering how he will ever pull it off.
"It's the worst thing ever to go to a restaurant and get a dish that you hate and then have the Chef convince you that it's good. Different people have different choices, that's the truth. Food is subjective. You may like garlic, I may not. Someone may like chilli, ginger and coriander but hate mint. That's the kind of details that will be going into the menu."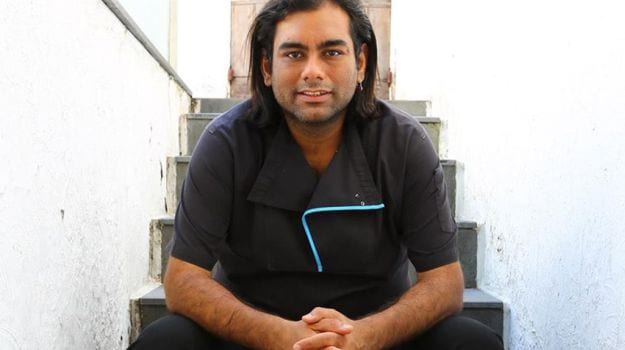 What to Expect at the New Restaurant?
Needless to say, we were very curious about the kind of cuisine that will be served at GoGan. Will it be a fusion of Japanese and Indian, only Japanese or something completely new? We badgered Chef with a lot of questions to which he counter-questioned, "What is good food? Can you name any particular cuisine that defines good food? It all matters on how delicious the food tastes and that's all. I want to create impossible food, something you haven't even imagined before."
Well, seems like we have to wait and watch. And Chef Gaggan knows very well how to keep the surprise factor top notch. Even at Gaggan, he only reveals the menu once the diner has finished the 22-course meal, making it a rollercoaster of a ride where you don't know what to expect other than trying to decode the emojis, further instigating the curious mind.
GoGan is slated to launch in 2020, but Chef Gaggan plans on opening reservations in 2019 and having the restaurant booked one year in advance. Another impossible task, yet he is convinced that it will happen.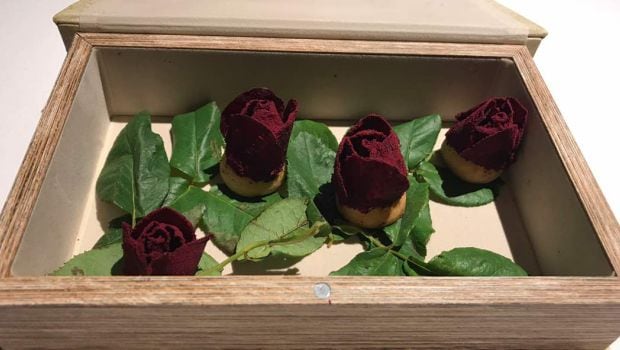 "The Japanese Government has been very helpful and supportive, quite unlike Thailand and India. India would have never let me open a restaurant anywhere close to the Taj Mahal, but Japan has offered us an unimaginable location. They are certain that I will be bringing them the world of gastronomy to their country," he adds, revealing nothing further about the new project, but hinting that it will not be in popular cities like Tokyo or Kyoto. Perhaps in Okoba.
The Need to Change the Game
Anyone who knows Gaggan is aware about his "muphat" nature. He says it as he feels it, there is no pretence. And probably this is the reason why it bothers him to witness the fake world of commercialisation, where people are more interested in blowing one's trumpet, or try and out-do each other rather than growing together as a community.
In the days to come, he plans to get submerged more into the world of cooking and be less accessible. He explains, "When you buy designer clothes or shoes, do you go and meet the designer every time? Why not just appreciate the art itself? I love the fame no doubt, but now I hate it too. I want my food to speak for itself."
Well, if one can cook food that can strike a chord in one's soul that's what people are bound to return to time and again. Food has no boundaries, and there's no end to the creativity. We wish Gaggan luck to do what he does best - present the unexpected.