Picture this: You are gorging on this yellow-
green
, succulent, aromatic delight; your hands are all dirty with its juice but the sweet taste is leaving you asking for more. Mouthwatering much? Well, that's what a
mango
does to you, the only part of summer we absolutely love. In India, about 1500 varieties of mango are cultivated and interestingly each and every mango has a unique taste and flavor. As the summer gets intense, numerous types of mangoes including
Dasheris
,
Chausas
, Alphonsos and
Tota Pari
flood the markets. Another variety that has a strange yet appealing name is Langra, which is medium in size, has an oval shape and is green in color. The bright lemon-yellow flesh of the Langra is super juicy and flavorsome and is scarcely fibrous. Many of us may wonder the reason behind this strange name. We have the answers here, take a look.
Know the Langra Aam
Available from May to August, color of the langra aam is greenish and its size varies from medium to large. The flesh is fiber-less, yellowish brown in color and has a strong smell when it ripens. As compared to other varieties of mangoes, it is naturally very sugary and soft. The size of the seed is small and oval in shape. Langra maintains it green color after it gets ripe, while other mangoes change into yellow-reddish color. This pulpy fruit is cultivated in mid-season in states including Uttar Pradesh, Bihar, Gujarat, Haryana, Himachal Pradesh, Jharkhand, Madhya Pradesh, Orissa, Punjab, West Bengal and Rajasthan.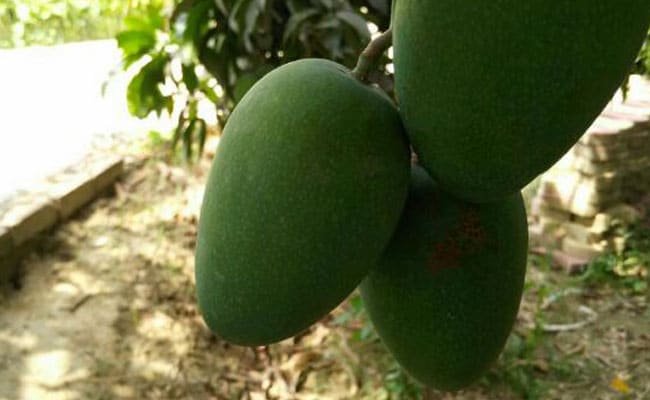 Flesh of the langra aam is fiber-less and the taste is sweet

History of Langra Aam
Langra is a Hindi word and means 'lame' in English. Langra aam is believed to have originated in Banaras (now Varanasi). According to veteran mango cultivator, Padma Shri Haji Kalimullah Khan, the story of how this variety of mangoes got its name goes back a few hundred years. "My Mamu Saab told me that around 250-300 years back, there lived a lame man in Banaras who ate a mango and planted the seed in his home ground. This lame farmer was known as langra by his peers and friends in a village in Banaras. The fruits from this tree were sweet and fleshy. The tree and its fruits, and over a period of time this variety, became famous as the 'langra' variety." He also says that although langra aam is famous and can be found everywhere in the country, but these mangoes grown on the Banarsi land have a distinct and authentic taste that you wouldn't get anywhere. Remembering the olden times, he recollects, "there was a numaish (exhibition) in Taalkatora in Delhi and I had some American guests invited for the same. We gave them all varieties of mangoes present then. On being asked which the best of the lot was, all the Americans vouched for Langra aammajorly because it was not very sweet (unripe), which generally suits the American palate."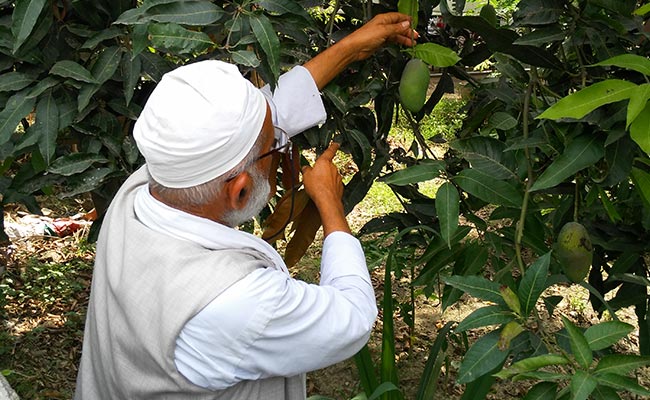 Haji Kalimullah Khan has grown a unique tree with 300 varieties of mango
Padma Haji Kalimullah Khan is a veteran horticulturist and is known for growing his own varieties of mangoes in his hometown Malihabad, Uttar Pradesh. Interestingly, he has his name recorded in the Limca Book of Records for rearing a unique tree called '
Anarkali
' with more than 300 varieties of mangoes. He cultivated five new varieties of mangoes in his orchard known as
Nayantara, Aishwarya, Nargis
and
Jahanara
. In the year 2014, he cultivated a mango tree and named it as
NaMo Aam
dedicated to Prime Minister
Narendra Modi
, which is growing in all its glory. Khan Saab plans to present it to the Prime Minister and urge him to grow them in Gujarat. He has named three new varieties of mango trees as Mohammed Azam Khan, Member of the Legislative Assembly, Bollywood actor
Amitabh Bachchan
and Late A.P.J. Abdul Kalam.
Well, now you know why langra aam is known as langra and why it is loved so much! Let us know which is your favorite variety of mango!