Had enough of hummus? Try this tangy cheese dip instead - great for lunch with pitta bread and crudites
My kids love the taste of hummus, but they also likescooping and shovelling their way through it withcucumber and carrot batons and toasted flatbreads. Whipped feta offers the same interactivity, but gives a respite from all the chickpeas.
Feta on its own is not much of a hit with the kids - the salty, tangy flavour of this brined cheese seems too strong for them. But whipped with some plain, thick Greek yoghurt and lemon juice, the cheese mellows and can be served as a dip. They like it, andso do the adults.
You can add extra flavours to the whipped feta, such as garlic, soft herbs, roasted peppers, chilli flakes ... For this recipe, I just added olive oil and sumac.
Many recipes for whipped feta recommend using a food processor to break down the cheese; I don't bother. I find it is just as quickto use a bowl and whisk to whip the cheese, and creates less washing up.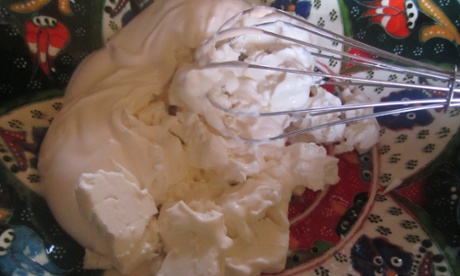 (Serves 4 as a dip)
200g feta cheese
200g plain Greek yoghurt
Half a lemon, juiced
2 tbsp extra virgin olive oil
1 tsp ground sumac
Pitta bread and raw vegetables, to serve
Put the cheese andyoghurt in a mixing bowl and whisk until the cheese is completely broken up and becomes creamy.
Add the lemon juice and mix again.
Put thedip in a serving bowl and dress the surface with the olive oil and sumac.
Serve with toasted piata bread and raw vegetables (such as carrots, cucumber, gem lettuce, fennel, young parsnips with the core removed, beetroot, peppers).
Follow Claire Thomson on Twitter or get more recipes at 5o'clockapron.com.
Whipped feta dip. Photograph: Claire Thomson/Guardian