White Bread That's Beyond the Ordinary
Melissa Clark , The New York Times | Updated: April 29, 2015 19:01 IST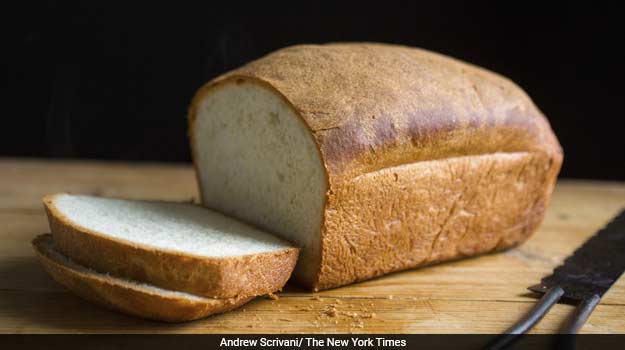 If you want a loaf of truly excellent white bread, you're probably going to have to bake it yourself.

Supermarkets will sell you cottony presliced loaves in plastic bags. Fancy bakeries may offer a flat-topped pain de mie, the French-style white bread with a firm interior. But a fluffy American-style white bread with a lightly sweet crumb and delicate buttery crust - the kind just begging to be made into a PB&J or a BLT - is a rare thing indeed.

This is a shame. Yes, whole and ancient grains add great depth and nutrition to our breads, but it can be easy to forget the joys of a simple, honest and superb loaf of white bread. And there are some instances in which nothing else will do. Happily, white bread is one of the most forgiving, straightforward breads to make at home.

The combination of ingredients is what makes it a cinch for home bakers. There's the sugar, which feeds the yeast and ensures an attractively bronzed crust. There's the butter and milk, adding tenderness to the crumb. And there's the white flour, which has a higher gluten content than anything whole grain, giving the bread a lofty rise.

This recipe calls for all-purpose flour, which will give you the right balance of structure and softness. You can substitute higher-protein bread flour if you're looking for a little more chew in the crumb. But don't use a low-protein pastry flour, which won't give you enough of a rise. And don't be tempted to add whole-wheat flour, either. Not only does it obscure the charms of this particular recipe, but it is also utterly beside the point.
One aspect that often frustrates newer bread bakers is the rising. They worry that the dough isn't rising fast or well enough.

A cold room will slow things down; even if the temperature feels comfortable to you, it may seem chilly to the dough. Sometimes I'll turn on the oven just to warm it up for about 15 minutes, turn it off, then set the dough bowl on top of the stove. I've also risen dough wrapped in my down quilt.

That said, a slow rise isn't harmful to your dough, but it may make for an impatient cook. If it's easier on your schedule, you can also let the dough rise overnight in the refrigerator.

After the dough rises, you've got options. You can bake it straight off into a couple of classic white bread loaves; use one now and throw one in the freezer for up to three months. Or try one of the swirl bread variations, in which a sweet filling is coiled throughout the interior of the bread.

The most classic of the swirl breads is the cinnamon raisin. This particular recipe was inspired by James Beard, who mixed the raisins with sherry before spooning them over the dough.

But I had problems with the bread separating into rings around the filling as it baked. When I toasted and buttered a slice, the butter slipped through the cracks. Simmering the sherry until it reduced into a syrup helped. With less moisture to create steam, the loaves stayed cohesive and sliced more neatly.

Once you've given the cinnamon raisin bread a go, branch out to the other variations, or create your own. The lemon ginger is sweet-tart with a pronounced tang, but you can substitute any dried fruit for the candied ginger. Coconut dulce de leche is gentle and creamy, and would work just as well with chopped nuts in place of the coconut. And orange marmalade can be a template for any flavor jam, as long as it's a thick one (anything too loose or runny like a jelly may get absorbed into the dough and disappear).

Whichever loaf you choose, make sure to eat at least one slice that's still warm enough from the oven to melt your knob of butter on contact. Then sit on your hands so you don't eat the rest.

Recipes:

Excellent White Bread
Time: 4 hours 15 minutes
Yield: 2 loaves

2 1/4 teaspoons active dry yeast (1 package)

1 1/2 cups lukewarm milk

1/3 cup sugar

1 tablespoon kosher salt

3 tablespoons butter, melted, more for greasing bowl and pans and for brushing the tops of the
loaves

2 eggs

5 to 6 cups all-purpose flour

1. In a large electric mixer bowl, dissolve yeast in 1/4 cup warm milk. Add the remaining warm milk, the sugar, the salt, the butter and the eggs. Add 5 cups flour and mix with paddle attachment until smooth, about 2 minutes. Switch to hook attachment and knead on low speed, adding more flour if necessary until dough is stiff and slightly tacky, about 10 minutes.

2. Grease a large bowl with butter and turn dough out into the bowl. Flip over dough so greased side is up, cover with plastic wrap or a kitchen towel and set in a warm, draft-free spot until doubled in size, about 1 1/2 to 2 hours. Generously butter two 9-x-5 loaf pans.

3. When dough has doubled in size, turn it out onto floured surface and knead for 3 minutes. Return to greased bowl, cover and let rise again for 30 minutes.

4. Press down dough with your hand to expel the air. Divide dough in half and place each half into a loaf pan. Brush tops of loaves with remaining melted butter.

5. Cover and let rise until dough is just above the tops of pans, 45 minutes to 1 hour.

6. Heat oven to 400 degrees. Bake bread for 10 minutes, then reduce heat to 350 degrees and bake for an additional 20 to 30 minutes, or until loaves sound hollow when tapped, the tops are brown and the internal temperatures are 200 degrees. Remove loaves from pans and let cool on wire racks.

Cinnamon Raisin Swirl Bread
Time: 4 hours 15 minutes
Yield: 2 loaves For the dough:

2 1/4 teaspoons active dry yeast (1 package)

1 1/2 cups lukewarm milk

1/3 cup sugar

1 tablespoon kosher salt

3 tablespoons butter, melted, more for greasing bowl and pans

2 eggs

5 to 6 cups all-purpose flour

For the filling:

1/3 cup dry sherry or apple cider

1 1/2 cups raisins

4 tablespoons butter, melted

1/2 cup dark brown sugar

1 tablespoon cinnamon

Cinnamon sugar, for dusting (optional)

1. Make the dough: In a large electric mixer bowl, dissolve yeast in 1/4 cup warm milk. Add the remaining warm milk, the sugar, the salt, the butter and the eggs. Add 5 cups flour and mix with paddle attachment until smooth, about 2 minutes. Switch to hook attachment and knead on low speed, adding more flour if necessary until dough is stiff and slightly tacky, about 10 minutes.

2. Grease a large bowl with butter and turn dough out into the bowl. Flip dough over so greased side is up, cover with plastic wrap or a kitchen towel and set in a warm, draft-free spot until doubled in size, about 1 1/2 to 2 hours. Generously butter two 9-by-5 loaf pans.

3. Meanwhile, make the filling: In a small pot, bring sherry to a low boil and simmer until reduced by half, about 8 to 10 minutes. Add raisins, cover and let sit until needed for filling.

4. When dough has doubled in size, turn dough out onto floured surface and knead for 3 minutes. Return to greased bowl, cover and let rise again for 30 minutes.

5. Press dough with your hand to expel the air. Divide in half and roll one half into a 16-by-8 rectangle. Brush with some of the melted butter. Drain raisins and mix with sugar and cinnamon; scatter half the mixture over dough and, starting with the shorter side, roll up tightly into an 8-inch log, tucking the ends under. Place roll seam-side down in a loaf pan and brush top with melted butter; dust with cinnamon sugar if desired. Repeat with second dough half.

6. Cover and let rise until dough is just above the tops of pans, 45 minutes to 1 hour.

7. Meanwhile, heat oven to 400 degrees. Bake bread for 10 minutes, then reduce heat to 350 degrees and bake for an additional 20 to 30 minutes, or until loaves sound hollow when tapped, the tops are brown and the internal temperatures are 200 degrees. Remove loaves from pans and let cool on wire racks.

Variations: To use a different swirl, skip Step 3 and use these fillings instead in Step 5. (Do not add cinnamon and sugar in Step 5, and skip the dusting of cinnamon sugar at the end.)

Lemon ginger filling: Combine 1 1/2 cups candied ginger, finely chopped, with 3 tablespoons lemon zest (from about 4 lemons).

Orange marmalade filling: Use 1 1/2 cups thick orange marmalade (do not use anything runny, like a jelly).

Coconut dulce de leche filling: Combine 1 cup coconut flakes, 1 teaspoon cardamom and 3/4 cup dulce de leche or cajeta.

© 2015 New York Times News Service