Coconut has always been an integral part of Indian cuisine and culture likewise. Right from distributing dry coconuts in the form of prashad to preparing nariyaal ki barfi, the options are unlimited. You can also prepare an array of sweet and savoury dishes. Also, coconut oil is largely used in preparing various delicacies in the southern part of the country. And, we just cannot overlook its health benefits. To highlight the importance of this fruit, World Coconut Day is marked on September 2. Wondering how can you celebrate this day? Here, we have listed about five recipes for delicious drinks that use coconut in some way or another.
Here Are 5 Coconut-Based Drinks For World Coconut Day:
Let's hit the list with the basic coconut milk. This four-ingredient drink is highly nutritious and is extracted from the flesh of coconuts. It has a rich, thick and creamy texture. To make this, just blend in coconuts with some ginger, pepper and honey and it's ready.
This delectable drink is from Maharashtra's Konkan region. Ingredients? Coconut and kokum (a popular fruit large produced in the Konkan region). The drink has cooling properties. It also helps in digestion.
(Also Read: World Coconut Day 2022: 7 Must-Try Delicacies To Mark The Day)
The name itself is enough to give you summer vibes. Isn't it? Cucumber and coconut gazpacho not only keeps you hydrated but also have a cooling effect on your body. You just need cucumber, coconut milk and mint leaves to prepare this.
This appetising drink includes oats, lemon juice, coconut milk, fresh mango, plain yoghurt, some honey and sunflower seeds. It hardly takes about ten minutes to get ready. So, when you want to skip meals and go for something light, nutritious and wholesome, make this mango coconut smoothie for yourself.


(Also Read: World Coconut Day: 5 Unique Ways To Have Coconut In Your Breakfast)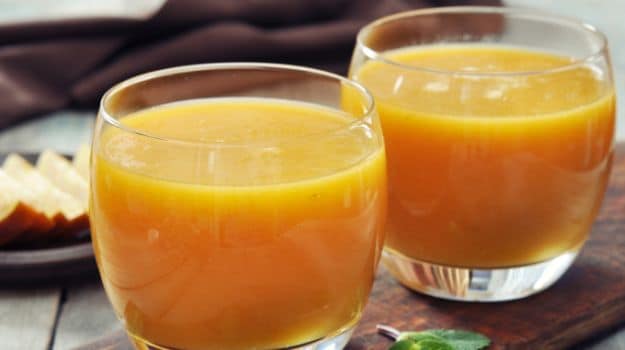 Running out of ways to stay hydrated? Your search ends here. This drink carries the goodness of coconut water and mint leaves. You can jazz it up by adding honey and lemon to it.
Happy World Coconut Day to our readers!