You Need More Than Good Food To Pull Off A Great Party
By Kathy Hunt (Zester Daily) | Updated: June 27, 2017 16:46 IST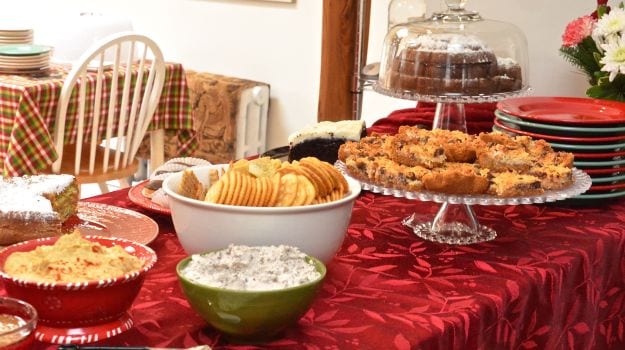 Cake stands and platters can be used for serving a variety of party foods. Credit: Copyright 2015 Kathy Hunt

As someone who loves to invite people over for any and every occasion, I've developed a short list of what's needed to pull off a successful soiree. Besides having a good playlist and ample food and drinks, the right tools, and enough of them, will ensure your party is a hit.

Believe me, running out of clean glasses, forks or plates may make the evening memorable, but it's not the wisest way to throw an unforgettable celebration.

Through poking around restaurant-supply stores and dishware shops and raiding my late grandmother's and mother's dinnerware collections, I've amassed enough inexpensive utensils to host half the East Coast. Although you may not have the time, space or obsessive nature to stock up to that extent, you should consider buying, borrowing or renting the following items if you like to host friends and family at your home. Elegant and useful, they'll impress your guests and reduce your stress.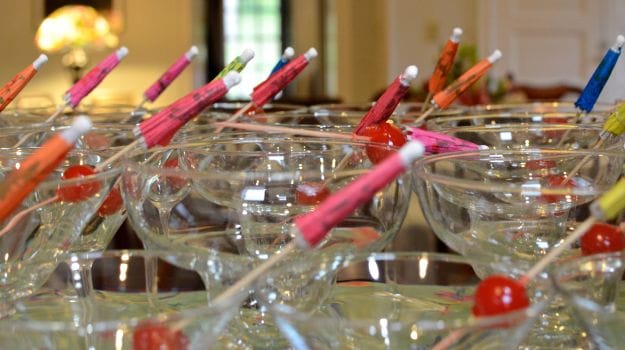 Plenty of glassware is key for a successful party. Credit: Copyright 2015 Kathy Hunt

Chafing dish
From sautéed shrimp and ratatouille to mashed potatoes and garlic peas, I use my chafing dish to keep festive foods hot and palatable. Because the dish heats with Sterno, I don't have to worry about guests tripping over extension cords or accidentally unplugging it. It's a win-win tool.

Coffee urn
I've lost track of the number of gatherings spent watching my coffeemaker dribble out 10 cups. I'd pour the steaming coffee into an insulated carafe, toss out the used grounds and make another pot, repeating this ritual until all the caffeine addicts had their sobering fix. Eventually, I grew tired of barista duty and bought a 20-cup coffee urn. Now I fill up the urn, flip on the brewing switch and encourage people to pour a cup of hot coffee whenever they want. It's the best $25 I've ever shelled out.

Insulated carafe
If you don't have room to house a coffee urn, invest in a large, insulated carafe instead. Never again will your guests drink cold or burnt coffee. Place your carafe alongside creamers pitchers or gravy boats so guests can have coffee however they like.

Creamers, small pitchers and gravy boats
Pick one of the three and then buy several. In my case, I opted for large, white, nondescript creamers, which I fill with milk, cream, gravy, sauces or syrups. To keep the gravy, sauce or syrup warm, I place the creamers on another entertaining must, a warming tray.

Warming tray
What you don't spoon into your chafing dish, you can set on a warming tray. This comes in handy for large items such as a platter of roast meats or multiples such as creamers, pitchers or gravy boats. As its name indicates, your food stays warm on this tray.

Punch bowl, with or without cups
When I inherited my mom's punch bowl set, I thought, "What will I ever do with this old albatross?" The answer, I learned, was serve gallons of mulled cider, spiked eggnog, white sangria and other boozy beverages. The beauty of the punch bowl is you can select a signature cocktail for the night, make the drink right before the guests arrive and then direct your partygoers to help themselves. Better yet, withhold the alcohol, leave a bottle of spirits by the bowl and let your visitors decide whether to imbibe.

Cake stand
Even if you don't bake, you'll benefit from owning a cake stand and an optional cake-stand cover. You can layer cookies, brownies, candies, quick breads or flatbreads on its pedestal. You can serve pies, tarts, muffins and cakes from it. Classically stylish, it keeps your treats fresh and appealing.

Oversized plates or platters
Perfect for appetizers, desserts, cheeses, crackers, breads and any other food you might serve, oversized plates or platters are a fundamental part of any large or small feast.

Tongs, pie servers and serving spoons
Even if you're just offering finger foods, you don't want your friends' fingers literally in the food. Inexpensive tongs, pie servers and serving spoons ensure cleanliness and classiness at your fete.

Utensil holders
I store party silverware in bain-maries, but you could as easily put your flatware in a cloth napkin-lined basket, Mason jar or decorative box. The goal here is orderliness and not to have mounds of forks, knives and spoons sprawled across your dinner, buffet or coffee table.

Glasses, glasses and more glasses
You can celebrate in style without the linen napkins and tablecloths, metal flatware and ceramic or china dishes. You can likewise revel without lavish decorations or floral displays. What you can't do without is glassware. Depending on the theme, I set out two or three types of glasses -- beer, wine and cocktail. Pint beer glasses can be used for soda, iced tea, lemonade, seltzer, water and, of course, beer. Stemmed wine glasses are ideal for wines, punches and non-alcoholic drinks. Less essential but no less delightful are martini or cocktail glasses. Possessing a conical-shaped bowl, this glass works well with cocktails, punches and bubbly beverages.

© Thomson Reuters 2015