Our body needs essential nutrients and minerals for muscle building and brain development, and green vegetables are a great source of these nutrients. Spinach, fenugreek, cucumber, and carrot are some of the vegetables known for their nutritional value. Nowadays, some other vegetables like broccoli, parsley, and celery have gained popularity with the trend. Zucchini is another wonderful vegetable that is popular for its health benefits, and people like to add it to their diet. If you are still unfamiliar with the benefits of zucchini, then keep reading:


Also Read: 5 Foods You Should Stop Reheating In Microwave Oven Now!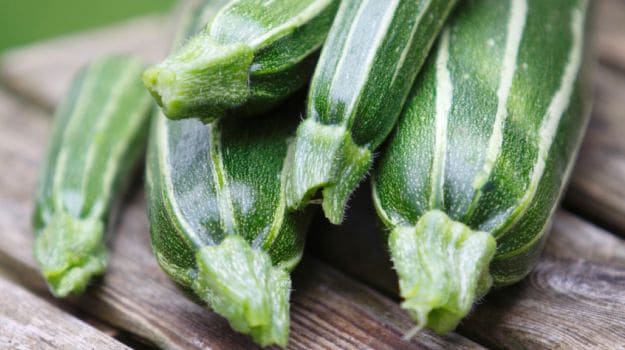 Here are some benefits of zucchini:
Zucchini is a summer squash that belongs to the same species as cucumber and pumpkin. It is loaded with essential vitamins and minerals that are beneficial for the body. This healthy vegetable is low in calories and high in fibre, which may help in lowering cholesterol. It contains potassium, magnesium, iron, vitamin A, and vitamin C. The presence of vitamin A makes this vegetable good for eye health. It has 95% water content, which keeps the body hydrated. Also, its high water content and fibre make it an ideal vegetable for a weight-loss diet.
Also Read: Say Goodbye To Bloating With These 5 Must-East And Must-Avoid Foods


There are many ways you can add this vegetable to your diet. Today, we are going to share a healthy zucchini paratha recipe that you can have for breakfast or dinner. Zucchini paratha is a delicious recipe that can be prepared in a few minutes. All you need are zucchini, carrot, green chilli, ginger paste, spices, besan, and wheat flour. So, without any delay, let's have a look at this paratha recipe.
How to Make Healthy Zucchini Paratha:
Grate one zucchini and one carrot. Put some salt on the grated zucchini and keep it aside for a few seconds. After a while, squeeze the zucchini to remove all the water. Take one cup of wheat flour and half a cup of gram flour in a large bowl. Add finely chopped green chillies, ginger paste, chilli flakes, cumin powder, zucchini, carrots, and salt to taste. Mix everything well and knead a dough. Cover and keep it aside for some time. Now, make balls out of it and roll them into a round shape. Put both on a hot griddle and roast well by applying ghee. Serve hot paratha with chutney or curd.


Now that you are aware of the benefits of zucchini, enjoy this healthy paratha as a tasty addition to your weight-loss diet.
About PayalFood in the mind, Bollywood in the heart - these two things often shimmer in Payal's writing. Besides penning thoughts, Payal enjoys a playful tango with new and delicious recipes. Roaming around is her jam; whether catching up on the latest flicks or grooving to the beat, Payal knows how to keep her empty moments brimming with flavour and rhythm.