Air Pollution May Harm Your Child's Brain
NDTV Cooks | Updated: September 12, 2014 10:37 IST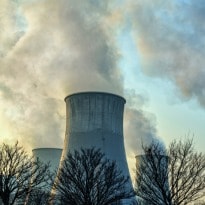 Air-pollution has been known to trigger respiratory troubles in human beings. According to a new study published in the Journal of Alzheimer's Disease, air-pollution can also cause harm to children's brain, making them susceptible to Alzheimer's or Parkinson's disease. The experts are of the opinion that harmful pollutants present in air can cause inflammation and neurodegenerative changes in brain. According to researchers, air particulate matter and their components can cause long-term damage to the brain when inhaled or swallowed. These harmful particles pass through damaged barriers, including respiratory, gastrointestinal and blood-brain barriers

For the study, experts at the University of Montana compared 58 serum and cerebrospinal fluid samples from a control group living in a low-pollution city. The samples were tested on the basis of age, gender, socioeconomic status and the education levels of parents to 81 children living in Mexico City. The study found that the children living in Mexico City had significantly higher serum and cerebrospinal fluid levels of autoantibodies against key tight junction and neural proteins, as well as combustion-related metals.

"We asked why a clinically healthy kid is making autoantibodies against their own brain components," said Lilian Calderon-Garciduenas

She added, "That is indicative of damage to barriers that keep antigens and neurotoxins away from the brain. Brain autoantibodies are one of the features in the brains of people who have neuroinflammatory diseases like multiple sclerosis."
The research helps in understanding how the breakdown of the blood-brain barrier and the presence of autoantibodies to important brain proteins contributes to the neuro-inflammation observed in urban children. This finding can help in understanding the role of air pollution in the dramatic increase of MS cases in Mexico City, At present Mexico city has seen a whopping 400% increase in its MS cases, making it one of the main diagnoses for neurology referrals. The study can help in shedding some light in this respect.

The experts have called for a longitudinal follow-up study to determine if at all there is a relationship between the cognition deficits and brain MRI alterations previously reported in Mexico City children, and their autoimmune responses. One thing that is certain is that the kids are suffering from immune dysregulation.

Once there is a breakdown in the blood-brain barrier, the particulate matter enters the body opening up the passage for harmful neurotoxins, bacteria and viruses to attack the body.

"The barriers are there for a reason. They are there to protect you, but once they are broken the expected results are not good," Calderon-Garciduenas said.

She explained that the autoimmune responses are potentially contributing to the neuro-inflammatory and Alzheimer's and Parkinson's pathology they are observing in young urban children.

Inputs from PTI & IANS