Yoga is a practice of the pre-Vedic Indian tradition that was later spread to the West by Indian yogis and gurus who were well versed and had mastered this art form. Yoga incorporates certain movements and postures that are held in order to achieve health benefits and relaxation. Today, it doesn't just refer to one form but has branched out into different kinds such as hot yoga, kundalini yoga, power yoga and many more. One such revolutionising yoga technique, quite unlike the others, was introduced in Berlin in 2015 - beer yoga or bier yoga. Yogis Jhula and Emily founded this yoga form which is a combination of beer drinking whilst maintaining various yoga postures or asanas. Needless to say that people were left perplexed by this combination of extremely unrelated components as yoga has always been associated with health and harmony while beer with alcohol intoxication followed by health deterioration and discord. However, various research studies have found that beer contains an array of health and skincare benefits.Beer is found to contain anti-cancer properties, as well as other components that can reduce the risk of cardio-vascular diseases, increases bone density, prevents anaemia, slow down ageing, aid the digestive system, facilitate relaxation and so on. If beer is excessively consumed or if a person gets addicted to it then it can cause serious health problems and can be fatal.
The Yogis through their official website explain this new yoga technique by saying that it is a "marriage of two great loves—beer and yoga. Both are centuries-old therapies for the mind, body and soul." Beer yoga is carried out usually in an hour-long session where generic or the traditional
yoga poses
are performed by incorporating the usage of beer bottles as props. People are allowed to take sips in between poses but the consumption is limited to one or two bottles.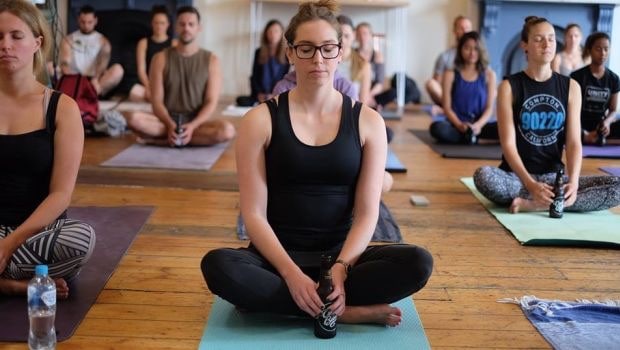 A beer yoga session;

Photo Credit: facebook/Bieryoga
Yoga is therapeutic and facilitates body flexibility, opens skin pores and improves digestion. So in a way beer compliments yoga and perhaps this is why beer yoga has gained such a huge popularity, spreading across to other countries like Melbourne, Sydney, Bangkok, Auckland and Singapore. It has become a trend among beer lovers as it not only allows them to drink beer but helps them to maintain a healthy lifestyle as well.
Various pictures on their website show people holding different poses while balancing the beer bottles on their knees and some even balancing the bottles on their heads while maintaining a lotus asana. It also promotes the idea of having fun and enjoying the session to create a relaxed and a peaceful body, soul and mind. The official website also states, "Beer yoga is fun but it's no joke. We take the philosophies of yoga and pair it with the pleasure of beer-drinking to reach your highest level of consciousness."
Beer yoga is still under a lot of speculation and is a very widely used topic of discussion among people who are skeptical about it being hazardous to health, nevertheless it is definitely a very unique concept which is trending and is worth giving a try to figure out what the hype is all about.