Can Fish Oil Help in Burning Belly Fat?
NDTV Food | Updated: June 27, 2017 17:23 IST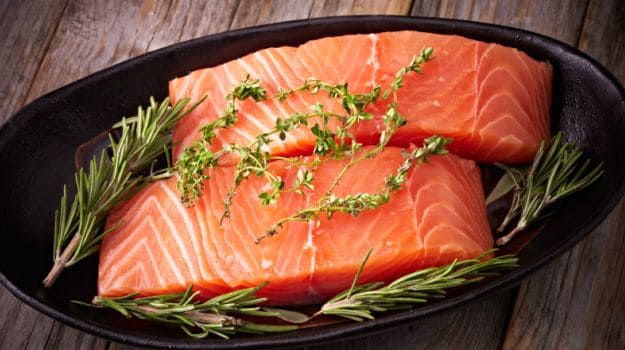 A new study conducted by Kyoto University researchers support the fact that fish is a healthy option over other foods. Fish oil, particularly, has been the hottest topic of debate for health experts and scientists. Fish oil refers to the oil that is extracted from the tissue of fatty fish like cod, salmon, mackerel, tuna and others. It is available in liquid form and even as supplements in the form of pills.

Fish oil is a great source of Omega-3 fatty acids which your body cannot produce on its own. Omega-3 is known to improve heart health and insulin sensitivity. The team of Japanese researchers have found that fish oil may also burn fat faster and lead to efficient weight loss in overweight or obese people in their 30s and 40s.

It is known that fish oil may help with weight loss since it regulates insulin that converts glucose from food into energy and also increases our metabolism. But in addition to this, scientists have now found that fish oil activates receptors in the digestive tract, fires the sympathetic nervous system and induces storage cells to metabolise fat.

This has been clearly explained in their study through the discovery of a new class of cells. Fat tissues do not all store fat."White" cells store fat in order to maintain energy supply while "Brown" cells metabolise fat to maintain a stable body temperature. Brown cells are abundant in babies but decrease in number with maturity into adulthood. A third type of fat cell called the "Beige" cells have recently been found in humans and mice, and have shown to function much like brown cells.
Beige cells also reduce in number as people approach middle age and without these metabolizing cells, fat continues accumulating for decades without ever being used. "We knew from previous research that fish oil has tremendous health benefits, including the prevention of fat accumulation. We tested whether fish oil and an increase in beige cells could be related," said senior author Teruo Kawada.

The team fed a group of mice fatty food, and other groups fatty food with fish oil additives. The mice that ate food with fish oil, they found, gained five-10 percent less weight and 15-25 percent less fat compared to those that did not consume the oil. The team also found that beige cells formed from white fat cells when the sympathetic nervous system was activated, meaning that certain fat storage cells acquired the ability to metabolize.

"People have long said that food from Japan and the Mediterranean contribute to longevity, but why these cuisines are beneficial was up for debate. Now we have better insight into why that may be," explained Kawada in a paper which appeared in the journal Scientific Reports.

According to Dr. Rupali Datta,

Chief Clinical Nutritionist at Fortis-Escorts Hospital,

"Fish meat taken along with a balanced diet of fruits and vegetables can be effective in losing weight as it has less saturated fats as compared to other meats. But this study cannot be taken as final proof of fish oil affecting obesity. More research is required to see that if there is any direct impact of fish oil on obesity. Omega-3 fatty acids derived from fish oil are definitely beneficial. Vegetarians can add more almonds in their diet to derive these essentials fats."

Dr. Shikha Sharma, Wellness Expert and Founder of NutriHealth, agrees, "Fish oil in the form of pills may not be as beneficial as when you consume oily fish. Supplements may not be able to replace the nutritional value. It is better to include more oily fish in your diet to reap the benefits of Omega-3 fatty acids."

With inputs from IANS