According to some estimates, the global weight loss and weight management market is expected to cross $200 billion by year 2020. Yes, that's the kind of money riding on people losing or managing their weights today. Be it sugar-free colas, low-cal snacks,
fitness
equipment or nutrition and diet classes, it's hard to find a single person around you who has remained untouched by all the hoopla around
weight-loss
. This is not to suggest that being fit or working towards higher fitness goals is a bad thing. Neither is it bad to try and reach a weight target that makes you confident and happy. The problem arises when everyone tries to ape the body and fitness standards of others, without first really understanding your own body, your own built and all those nuances about you that make you, you!Once you understand your own uniqueness and set a weight loss target, then starts the actual process of trying to lose weight. Whether it's a lot of kilos you are trying to shed – in the case of new mothers trying to get back to their pre-pregnancy shape – or just few extra Kilos you picked up during the festival season, getting rid of the extra flab is a mental game as much as it is a physical one. And that's the part most of us forget to acknowledge.While a large part of the process does involve eating right and exercising regularly – we forget how important a part our mind can play to help achieve these targets. Weight loss is an internal process as much as it is an external one. And this is where Mediation comes to help. Controlling your thoughts, being aware of yourself, regulating blood flow and heart rate are just some of benefits of
meditation.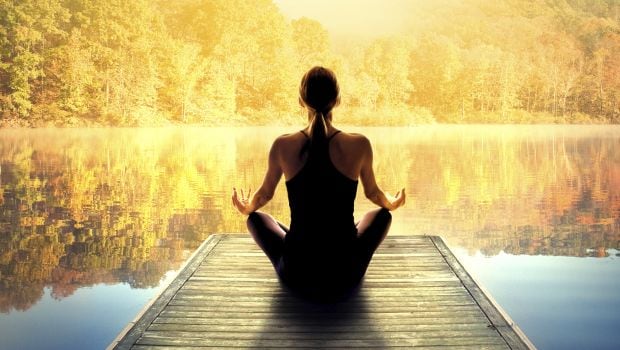 Meditation helps to calm our nerves down.
How Can Meditation Help with Weight Loss1. Meditation makes you aware of yourself:
We are often running from one meeting to another, trying to wrap up one chore even as the next few creep up on us slowly. Meditation is an ancient practice that does wonders in calming one down. Once you are aware of yourself you are better prepared to face the challenges around you.
2. Tool against binge eating:
Most people put on weight due to binge eating. The reasons for binge eating can be many – from stress to self-esteem issues or pressure at work or home. Binge eating is a vicious cycle where you constantly oscillate between periods of less eating to
over-eating
. Once you are less stressed out, you tend to have fewer, and fewer episodes of eating-without-thinking.(Also Read :
Binge Eating May Up Various Health Conditions
)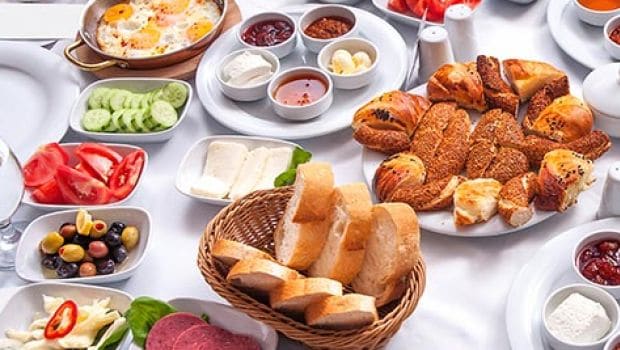 A daily practice of mediation can help reduce stress levels.
3. Reducing Stress:
A number of people gain weight because of stress. It's their body's way of reacting to a less desirable state of being. At a point when you are already feeling stressed, it is likely that eating right and exercising regularly would also take a backseat. If you constantly feel stressed wouldn't you be more tempted to skip workout sessions than otherwise? Stress can have many side effects on your wellbeing.
Stress
releases a hormone called Cortisol and this hormone typically prepares you for 'imminent danger'. Unhealthy levels of Cortisol in the body have been linked to accumulation of belly-fat over many studies.(Also Read :
How to Reduce Stress: 9 Brilliant Ways to Calm Yourself
)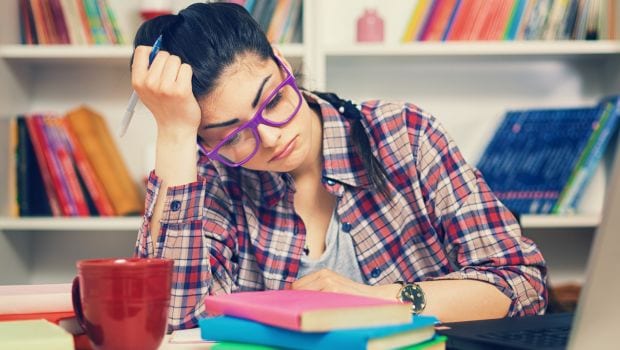 Meditation can produce a deep state of relaxation and a tranquil mind.​
4. Keeps you mentally fresh:
A fresh mind and a healthy body go hand in hand. The more tired and exhausted you feel, the less likely you are to stick your weight loss program. Once you are totally there, you will also be more involved in the process. You will be able to spot the things that are working and ones that aren't. 'Are there any exercises I need to repeat more often? Is there a particular food item that boosts my metabolism more than the others?' (Also Read :
How to Boost Mental Health: Include Fruits and Vegetables In Your Daily Diet
)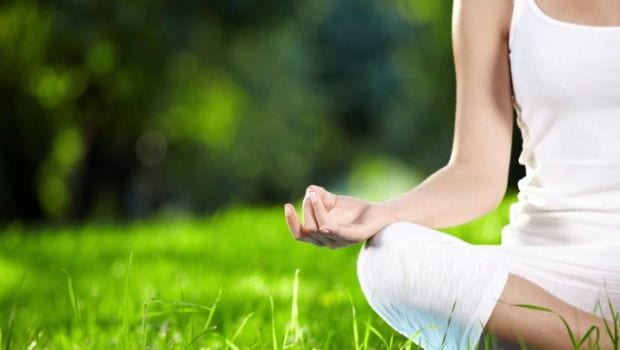 Meditation helps to make your mind fresh and charged up.
5. Positivity:
This is one of the most significant benefits of Meditation. A feeling of positivity, a belief that you can do this. You cannot believe in your goals if you are also feeling negative about them.(Also Read :
Stay Happy: Positive Emotions Could Keep Your Heart Healthy
)
Meditation lays the groundwork for this positive approach to weight loss.
If you are meditating with a focus on losing weight loss make sure you 'focus' mentally on a healthier, happier version of you.
What is Mindfulness?
Simply put, mindfulness means being present in the moment. It's an immediate and deep awareness of the moment you are in right now. Doing this helps reduce the constant 'chitter-chatter' that goes on in our brains at all times. It's a peaceful way of being and not only does it help in weight loss it also prevents weight gain. Try to practice mindfulness during your everyday routine and see the positive effects of it yourself over a few weeks.
Things you must keep in mind before embarking on this journey:1.
Accept who you are. This is crucial because till you dislike yourself you will not see the kind of results you are expecting.
2.
Be prepared to make a lifestyle change and not something that will last only a few weeks.
3.
Stop comparing yourself to others. You may even get friends to partner with you for this new exciting phase. Even if you don't, don't compare your journey to someone else's.
4.
Don't get too serious about it. Have fun! Try new thigs, don't let the process bog you down.The 3 three pillars of healthy weight loss are exercise, diet and the power of your mind.