Aloe vera is an ingredient that barely needs an introduction. It is a rage in the beauty and health world, and all thanks to the presence of numerous medicinal properties. The green coloured thick plant stores water in its leaves, making them thick and fleshy, what's also called aloe vera gel. When you slice through the leaves, you get a fresh sticky cooling gel, which comes packed with
essential for health, skin and hair
. You can not only apply the gel topically but also consume it regularly to reap maximum benefits. There is no denying the fact that it is loaded with nutrients. However, as they say, excess of anything is bad. There are chances that aloe vera may not suit your body, skin or hair, which can further lead to side effects. It is also the latex of the aloe vera plant that many people may be allergic to. For the uninitiated, we jot down some plausible side effects of aloe vera. (Read:
how to make aloe vera gel at home
)
Side Effects Of Aloe Vera
While there are unprecedented benefits of aloe vera gel, it can also have certain side effects that may affect overall health. Here are some side effects of aloe vera gel that you should know:
Aloe vera leaves contain latex, which comes from underneath the plant's skin. Many people are allergic to latex, which can cause stomach issues like irritation, stomach cramps and low potassium levels. Externally, latex could be safe, if applied appropriately. However, more research is required.
Most people can be allergic to the aloe vera gel, causing skin allergies, redness in the eyes, skin rashes, irritation and burning sensation.
Consuming aloe vera juice might cause your blood sugar levels to drop. It has laxative effects, which may up the chances of electrolyte imbalance in diabetics. If you are a diabetic, it is better to consult a doctor before consuming aloe vera juice.
The laxative effects of aloe vera can lead to dehydration. Laxatives are generally used to alleviate constipation; however, if taken in more quantity than recommended, they may cause dehydration.
It is said that pregnant women and lactating mothers should avoid drinking aloe vera juice due to its irritant qualities. It may stimulate uterine contractions in pregnant women, which may lead to birth complications.
Aloe vera juice may lower the levels of potassium in the body, further causing irregular heartbeat, weakness and fatigue. Elderly and sick people are generally advised to not consume it.
The bio-active compounds in aloe vera might interfere with liver's detoxification process, further causing health complications.
Stomach discomfort is one of the most common side effects of drinking aloe vera juice. The latex can cause excessive cramps and pain in the tummy. Do not consume aloe vera juice, especially if you are dealing with stomach problems.
Let's Also Look At The Brighter Side:

Health Benefits Of Aloe Vera
The anti-inflammatory properties of aloe vera help reduce the oxidative damage caused by free radicals in the body. Moreover, the antioxidants present in the gel have been proved to be useful in managing arthritis and rheumatism.
Aloe vera juice is said to be a good digestive. A cupful of the juice can help relieve stomach problems like constipation.
Aloe vera causes cells to produce nitric oxide and cytokines that give the much-needed boost to your immune system.
Aloe vera is said to improve the effectiveness of your diet and maximise your weight loss potential.
Aloe vera is majorly used in Ayurvedic preparation that is useful in correcting disorders like anaemia. It is known to increase the red blood cell count that keeps your haemoglobin levels in check.
(Also Read:
Easy Ways to Store Aloe Vera Gel
)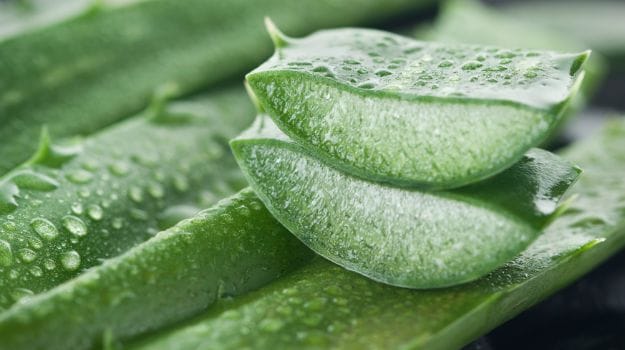 Skin And Hair Benefits Of Aloe Vera
Aloe vera gel is enriched with a host of antioxidants like vitamin A, beta-carotene and vitamin E, all of which are known to take care of your skin by preventing early signs of skin ageing.
Applying aloe vera gel on skin can act as a protective layer for the skin; thanks to the antioxidant activity. Moreover, chilled aloe vera gel applied on burnt skin could help in giving instant cooling, further healing and replenishing your skin.
The anti-inflammatory properties in aloe vera help in calming insect bites and rashes on the skin. You can apply the gel topically even for small cuts. Most people use it as an after-shave lotion or after-waxing gel to keep the skin looking fresh and moisturised.
Aloe vera acts as a natural hair conditioner; it is the presence of proteolytic enzymes that nourish and strengthen your hair from the roots and keep them soft and shining.
The ideal pH balance of our scalp is 5.5 and when the balance is disrupted, it leads to various hair problems. Shampoos tend to contain surfactants that are alkaline in nature, which is why they may alter the pH of the scalp. Aloe vera tends to restore the moisture and pH balance of your scalp, further giving it a smooth texture.
If your scalp is dry and flaky, aloe vera is your one-stop solution. The moisturising properties of aloe vera can help unclog the pores and remove dead skin cells, further allowing moisture to enter the scalp. A good moisturiser will ensure lesser dandruff or dry scalp problems.
(Also Read:
Here's Why Aloe Vera Is Good For Weight Loss
)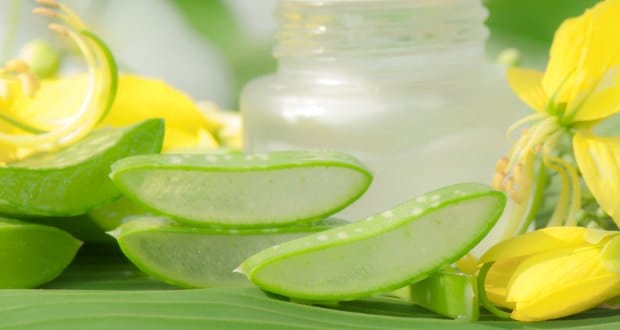 While consuming limited amount of aloe vera juice is fine, it is always good to consult a doctor to ensure these side effects do not creep up your body.