Don't drink too many carbonated drinks, avoid all kinds of junk food, get yourself tested for food allergies - the list of things to follow for a perfectly healthy digestive system is endless. Those of you struggling with every day stomach problems will know that this list of possible solutions is always a gamble. Sometimes they help and sometimes they don't. It's a constant case of hit or miss!





I have turned to many short-term, tried and tested remedies over the years - going off milk and other dairy products, drinking warm water with triphala (a herbal powder) at night, rubbing heeng over my tummy, drinking water that's been boiled with fresh cumin seeds etc. But put occasional overeating, weekend drinking, anxiety and a 12 hour desk job to one big pot, and you've got yourself an upset stomach all over again.

(Tea as Good as Water)





If you like to sip tea through the day and also have to deal with painful stomach problems then keep reading. According to Dr. Ritika Samaddar, Nutritionist at Max Healthcare in New Delhi, "There are different kinds of stomach problems so it's not possible to specify which kind of tea works for what kind of disorder. However, what you can do is avoid regular tea with milk, caffeine and tannin. It's also the reason why other organic teas rose to popularity. They're completely free from caffeine and don't harm your system."

(Whats are the Health Benefits of Drinking Tea)



To help you find the perfect alternative to regular tea, I've put together a mix of both natural, home-made teas and store-bought ones that you can drink. They work perfectly well for things like bloating, gas and uneasiness. And if you manage to ditch regular tea once and for all and get hooked to one of these, you'll end up feeling so much healthier!





Green Tea





In the last few years, green tea has become almost as common as regular tea. Pegged as one of the healthiest teas, green tea is known to boost memory, kill cancer cells and prevent diabetes. Popular in Japan and China, it is quickly preserved and heated to prevent oxidation. Oxidation is the same natural process that turns the colour of an apple after you slice it, as it's exposed to oxygen. It is due to this difference in processing that green tea retains the maximum antioxidants and polyphenols that are responsible for its many health benefits.

(Sip on Green Tea to Protect Your Heart)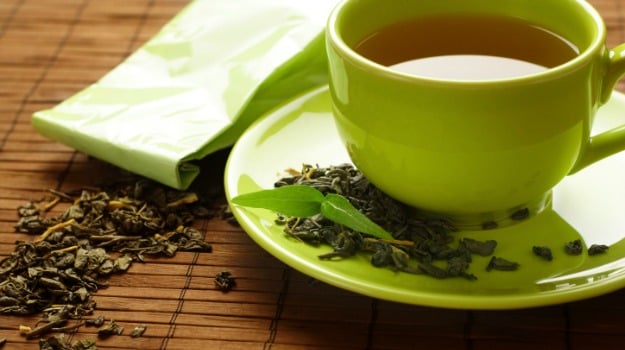 Green tea is very rich in antioxidants that help prevent cancer, increase metabolism, reduce blood pressure and aid in weight-loss. Dr. Ritika Samaddar adds, "Try not to go for the popular brands because it hasn't been proven that they work or are authentic. Instead, opt for the Chinese or Vietnamese variety."

(Drink Green Tea to Get Rid of Smoking Addiction)
If you can't decide which brand of green tea to pick up, then check out the results of our taste test:
Green Tea Taste Test: Which One's the Best?
Peppermint Tea
Peppermint is a minty cool herb that usually comes in the form of post-dinner breath mints, toothpaste, gum and of course, tea. Peppermint has the ability to heal an upset stomach, cure bloating, indigestion and flatulence which is basically when a lot of gas builds up in your stomach. According to a study done at the University of Maryland, the various oils in peppermint stimulate the gallbladder to produce and release bile that the body uses to digest fat.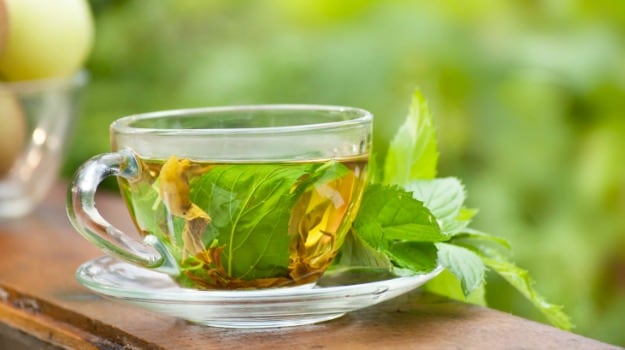 Peppermint tea also has a soothing effect on the liver which helps improve digestion. It is possibly the only kind of tea that you can sip on in-between a meal. The same study also found peppermint to be effective for those suffering from Irritable Bowel Syndrome (IBS).

Apart from the leaves, the entire plant is used in many different ways. While the leaves are made into tea, the oil is mostly used externally. According to Web MD, "peppermint oil is used for headaches, muscle pain, tooth ache and nerve pain and inflammation of the mouth."
Bush Tea
I must admit, I had my very first encounter with this tea only recently when a friend sent me a packet from England. It smells odd at first and has a deep red, almost maroon colour to it. But once you get past that, it's all rosy and pleasant, and also leaves a great aftertaste. It comes from Africa where it's known as bush tea or Rooibos (roo-ee-bosh) and in England it's referred to as 'red bush'.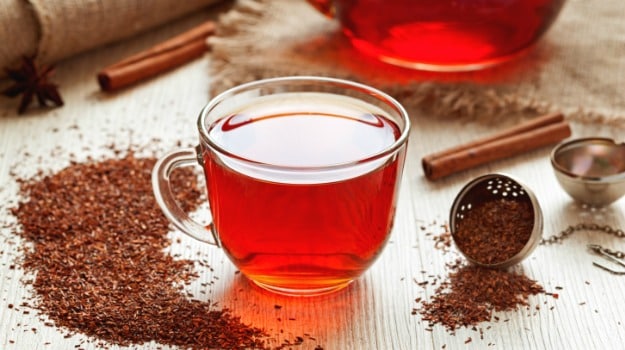 Bush tea is a kind of herbal tea that is completely caffeine-free and pegged as a better alternative to green tea. Besides being great for treating allergies, improving bone health (since it's rich in calcium) and circulation, it's also ideal to overcome severe stomach ache and abdominal pain. Red bush is also really good for heartburn, ulcers and constipation.
Fennel Tea
Fennel is a green and gorgeous herb with long leaves and yellow flowers which produce fennel seeds. The entire plant can be eaten in many different ways. The white and crisp bulb-like end can be eaten raw in a salad, cooked in a pot of water to make a delicious soup or finely blended to a puree form. Fennel also goes really well with fish.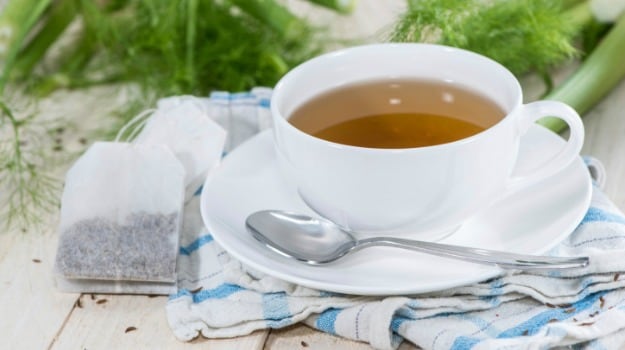 Fully mature fennel seeds are known to be extremely good when used in cooking or otherwise. According to Web MD, fennel seeds are used for "treating many digestive problems like heartburn, bloating, loss of appetite and colic in infants."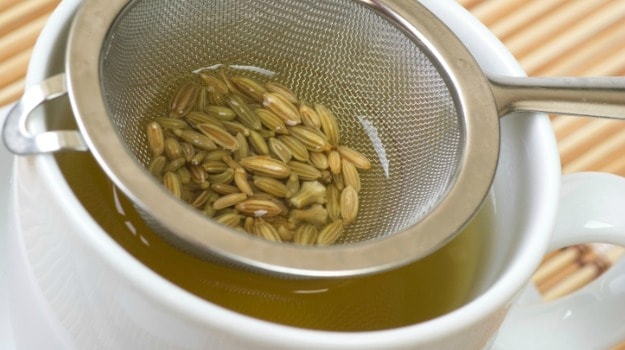 How to make fennel tea at home: Take a teaspoon of freshly ground fennel seeds and add it to boiling water. Let the mix boil for a 3-5 minutes, strain and drink.
Ginger Tea
Ginger is always been known to cut bloating, which is why your mother may have suggested you chew on ginger if you have a stomach ache. So it should come as no surprise that this benefit extends to ginger tea as well. It can also be used to cure motion sickness and headaches.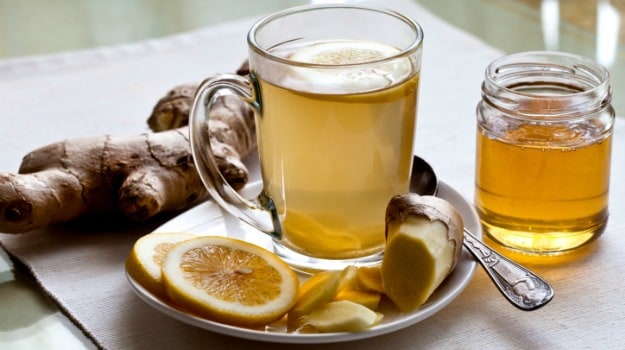 How to make ginger tea at home: Take a piece of ginger, about 1 to 2 inch long. Peel the skin and add it to boiling water. Boil it for 3-5 minutes, strain and serve. If it's very bitter for you, then add some honey to it. You can also add some lemon which will cut the acidity.
Nutritionist Niharika Ahluwalia also made a few interesting suggestions that can help with an upset tummy. "Add some ginger to hot water, let it rest and drink it. You can do the same thing with ajwain (carom seeds) and fennel seeds as well. This helps with bloating or flatulence (gas) and will ease you out."
(How to Make Lemongrass Tea)

She added, "You can add lemon to any other kind of tea you might be drinking as it cuts the acidity. Obviously this applies to the teas which don't need milk. Milk is another thing you should avoid on a bad stomach."

Comments(Also see: The Mighty Health Benefits of Kombucha Tea)