Why Working Long Hours is Bad for You
NDTV Cooks | Updated: September 18, 2014 10:02 IST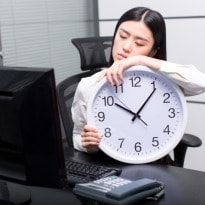 A study conducted sometime ago showed that people who over-work or work for extremely long hours are more likely to start smoking and in case of smokers it may even lead to increased smoking. Of course, we are well-versed with the after-effects of excessive smoking. A new study that has appeared in the American Journal of Industrial Medicine now links long work hours to increased risk of developing heart problems.

For most of us, working for long hours is an everyday affair. All that extra hard work and enthusiasm is sure to get you rewards but at the cost of your health.

According to this alarming study, working for more than 40-hours in a week may lead to stress, dissatisfaction and compromised health. Long working hours increase the risk of developing coronary heart disease or narrowing of the blood vessels that supply blood and oxygen to the hear within a period of 10 years.

"We found that those working 61 to 70 hours had a 42 percent increased likelihood of developing coronary heart disease," said lead researcher Dr Yun-Chul Hong from the Department of Preventive Medicine at the Seoul National University in South Korea.

"Those working 71 to 80 hours had a 63 percent increased likelihood while those working more than 80 hours ran a 94 percent risk," he added

Dr Hong and team examined about 8,350 Korean adults for the study. It was found that the working hours were significantly related to the risk factors of coronary heart disease such as blood pressure, cholesterol levels, diabetes and smoking habits. The authors also noted that those who worked less than 30 hours per week had higher cholesterol levels. This means that when compared with people who worked 31-40 hours a week, those who worked more or even less than the above time period were more vulnerable to the risk factors.
Other studies have also shown that working for more than 40-hours in a week may make you rather unproductive due to disengagement, decreased concentration levels and stress.

"We hope that these findings contribute to the proper management of working conditions and enhance quality of healthcare for workers, particularly for those at risk of developing CHD", the researchers concluded.

With inputs from IANS