Your Brain Tricks You Into Eating Fatty Food
NDTV Cooks | Updated: October 24, 2014 15:58 IST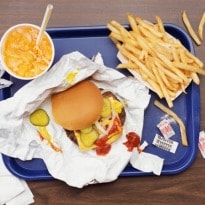 A recent study established that our brain activity may be related to food cravings. According to health experts, a certain area in brain - dorsolateral prefrontal cortex - is responsible for triggering food cravings. The study also suggested that minor magnetic stimulation to a person's DLPFC can manipulate one's craving for high-calorie foods.

Adding to the earlier revelations, a new study published in the journal Psychological Science explains that our brain takes decisions based on a food's calorific content and mostly make us opt for foods with high calories.

According to Alan Dagher, neurologist at the Montreal Neurological Institute and Hospital of McGill University, "Our study sought to determine how people's awareness of calorific content influenced the brain areas known to be implicated in evaluating food options. We found that brain activity tracked the true calorific content of foods."

For the study, volunteers were asked to look at some food pictures. Their brain activity was monitored and MRI scans were taken. The participants were asked to rate the items that they would like to consumed and also guess the approximate calorie content of the food item. As a result, for most of the participants their choice of food revolved around those with high calorie content. Most of them were unable to accurately estimate the calorie content of the chosen food items. The MRI scans revealed increased activity in the area of the brain that registers the 'tasty' stimuli over the calories of the food.
They were also asked to bid on the food they wanted in order to understand their extent of their cravings. It was noted that most of them were willing to pay high prices for foods with high calorie content.

"Decisions about food consumption and calorific density are linked to a part of the brain called the ventromedial prefrontal cortex, an area that encodes the value of stimuli and predicts immediate consumption," Dagher added.

Another study conducted by a team at University of Waterloo suggests how food uncontrolled cravings - one of the primary causes of obesity - can be monitored and curbed by manipulating a certain brain area - dorsolateral prefrontal cortex. According to experts, studies like these can help a great deal in understanding the parameters on which people make their food choices which could aid in controlling the factors that lead to obesity.

Inputs from IANS