The fact that we have a
chaat
counter, a swanky new restaurant and an ice cream cart parked at every nook and corner always made me feel that we don't belong to a health-conscious nation. And no new kind of fitness trend will ever manage to draw large crowds. Till I saw a middle-aged aunty who was fitter than I was at 15 and a beefy college kid walk out of the new gym next door.I got the same feeling you get when you watch someone climb three flights of stairs with ease while you grasp for air in desperation. Doesn't it just crush your spirits? So I signed myself up at the gym. Because being a food writer meant that I couldn't give up food and because there's no other way to get gorgeous, toned arms like Michelle Obama.
As someone new to the fitness craze, I was shocked to see that the parking lot was full, the gym was out of yoga mats and I had to wait in line to do a bench press! That's when I saw the huge room with big glass doors, tucked away at the far end of the gym. It had an exhaustive time table hanging outside. From Cross Fit to Kettlebell, from Bollywood to spinning, it listed every possible workout I'd read about in the past. And so began my journey with 'Fitness and Fun'.
My job requires me to taste a lot of good food and so a strict regimen is often hard to maintain. This is why I needed to mix things up. I made fitness a part of my life because it becomes easier when you enjoy what you do. So if you want to dislodge the weight from years of whiskey and kebabs, and repetitive squats and dumbbells don't float your boat, then these classes are the answer to your prayers.
These workouts are brilliant. Not only because they put you on the path to physical transformation, but because they come with the added virtue of not seeming like regular exercise. It's a quality that drives all great fitness trends.
But I won't lie, there were times where in-between spinning on Wednesday and Cross Fit on Thursday, I thought that I was about to have a stroke. But I wanted to approach life with a new ferocity. I wanted to be fit enough to trek in Langtang, dive in Havelock and go rafting in Rishikesh.
Krank it Up - Spinning!
Picture a bunch of stationary bikes nailed to the floor in a large mirrored room, some insanely loud music and hard-hitting energy. Spinning starts out with multiple safety checks which makes you feel as though you're prepping for bungee jumping. Then comes a one hour long cycle of sprints, hill climbs and wind downs. Your legs don't get a minute's rest which is probably why they wobble when you get off the bike. But if you stick it out, then you can be sure to kiss those love handles goodbye. According to Waseem Ansari, fitness expert at Sportsfit, a popular South Delhi gym, "Spinning is a cardio workout which doesn't just help you lose weight, but also strengthens your leg and core muscles."
Jonathan Goldberg, also known as Johnny G created this genius spinning program in 1987. He was a South African ultra-distance cyclist who came up with an indoor cycling workout when his wife was pregnant. He had to train for a train for a cross-country race called 'The Race across America', and so an indoor cycling sensation was born. The first cycle was patented in 2006 and the rest is history.
Push Through with CrossFit
At first I thought Cross Fit was a boot camp for exercise fanatics, with no music and no machines. Just you and some squats, push-ups, pull-ups, crunches, kettle bells, yoga mats, ten pound bags that you drag across the floor and burpees. Little did I know that I'd be obsessing over it 4 months later.
What's not to like? It's a high intensity workout which pushes your heartbeat to as high as it can go, gives you an adrenaline rush like no other, boosts your metabolism much quicker than regular exercise and you get good results as quickly as possible. Yes, it's true that you need to rely on your own body weight to do push-ups, pull ups and all but what's great is that Cross Fit isn't just a cardio workout. It works on your muscles and overall body strength.
Founded in 2000, CrossFit was started out by Coach Greg Glassman over several decades. And since then, it's been accepted by people all over the world.
Fitness expert Waseem says, "CrossFit isn't just about repetitive squats, it's time bound. So you need to complete a certain number of exercises in a certain time. It pushed your heart beat up and keeps it there for the entire duration of the class. And that's the key to quick weight-loss. But this class isn't recommended for people of all age groups and kind. Those suffering from hypertension and heart trouble should definitely keep away."
Kettlebell
Kettlebells, also known as the cast iron weight are medium-sized cannon ball looking things with a thick handle on top. They're a fantastic option for those who enjoy weight training. Unlike dumbbells, a kettlebell distributes the weight evenly and requires more effort which means you burn more calories. Also, with dumbbells you can't swing your body. Only kettlebell allows you that kind of flexibility. But first you'll have to get over the fear of dropping a kettle bell on your foot.
My most favourite kettle bell exercise is when you have to squat and hold the kettle bell over your head, bring it down slowly and repeat till your legs can't take it anymore. And it works really well for women struggling with love handles or bulgy sides.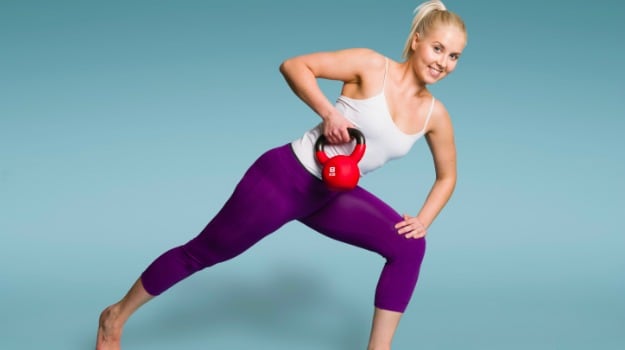 Kettlebells have been around for centuries and it is believed that the Russians were the first to start using them for athletic reasons. Kettlebells are known as 'Girya' in Russian and were introduced in Russia in the beginning of the 18th century when it was used as a weight to measure grains. Around 1870-1880, Dr. Vladislav Kraevsky, a man who's considered to be the founder of heavy athletics introduced kettlebell exercises to Russians and went up to set up a weight training hall. For years to follow, kettlebell became a symbol of national pride and was used by the military and Olympic athletes to train.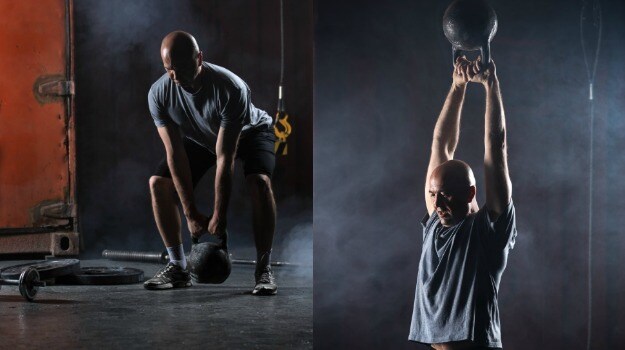 Sweat to the Music with Zumba
When Zumba first arrived, everyone thought of it as just another fitness fad. Its Latin rhythms and odd sounding name sparked wasn't an easy sell, but it turned out to be one of the biggest fitness trends of all time. And a one hour long dance party!
Zumba is a cardio-dance routine, which demands a whole lot of foot work and co-ordination. An hour of Zumba can help you burn as many as 1000 calories, it's recommended for people of all age groups and doesn't put you at the risk of any kind of extreme damage because all you do is dance.
The concept of Zumba was introduced by Colombian dancer, choreographer and aerobics instructor Alberto Perez during the 1990s. It is believed that he forgot his music on the way to the class and grabbed the closest CD he could find which happened to have Latin beats. So he quickly choreographed the day's routine and zumba was born.
Functional Training
At first, you it may seem that the functional training workout is very similar to the CrossFit workout, but it actually isn't. According to Waseem, "functional training was a way in which physiotherapists used to help people perform their daily tasks better. So after a session of functional training, you'll find climbing stairs easy and holding your body in squat position more bearable."
He added, "The movement functional training replicates are your daily movements but will give you power, strength and endurance. And people of all age groups, irrespective of the problem they might be suffering with, can take part." Some of the exercises that you'll usually see in functional training, which you can also at home are - plank combined with mountain climbing, squats and jump immediately after and low lunges."
"Functional also helps people with joint mobility and so if I get someone with knee trouble I always ask them to attend functional training. It helps them improve movement and train your muscles."