Pad Thai noodles is a popular stir-fry dish made with flat rice noodles, scrambled eggs, peanuts, bean sprouts and shrimp, chicken or tofu. The flavours of this dish are centred around a sweet and savoury fusion. It is salty, nutty and has a slight amount of sweetness to it, making it an absolute treat for the taste buds. Pad Thai noodles is a common street food in Thailand and is a popular item served in Thai restaurants across the world. However, since it has gained popularity now, its flavour may differ from region to region according to the taste preferences of the area. So, if you're craving some pad Thai noodles, here we bring you a super easy and delicious recipe that is ideal for mid-week indulgence.


Also read: Quick And Easy Noodles Recipe: Make Chilli Garlic Veg Noodles In Just 20 Min


In this recipe, flat noodles are entangled with tofu, eggs, bean sprouts and sweet and spicy sauces. For a tasty and fulfilling meal, pair these noodles with condiments like lemon wedges, red chillies or roasted peanuts. Make these pad Thai noodles for a wholesome lunch or dinner and impress your family with your culinary skills. Check out the recipe below: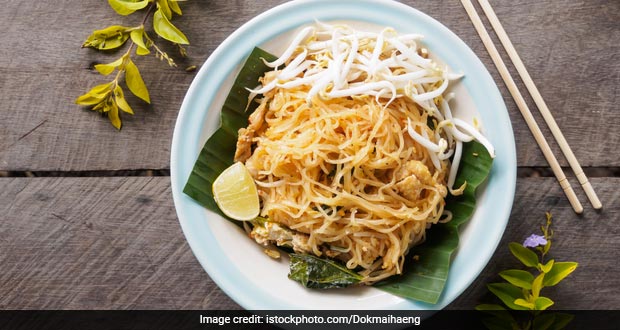 Pad Thai Noodles Recipe: How To Make Pad Thai Noodles
To begin with the recipe, first, in a wok or skillet, heat the oil until a light haze appears. Add the garlic and fry until it becomes golden brown. Add the tofu and stir briefly. Break the eggs into the wok, mixing quickly while they cook.


Also read: 13 Best Traditional Thai Food Recipes | Popular Thai Food Recipes


Add the noodles, mix well. Add the spring onions, half the amount of peanuts and bean sprouts. Stir well. Now add lemon juice, sugar, chilli powder and light soy sauce. Mix it up, plate it and garnish with more peanuts. On the side, arrange the remaining bean sprouts, leftover peanuts and spring onions with a lemon wedge.



For the complete recipe of pad Thai noodles, click here.


For more Thai recipes, click here.


So, what are you waiting for? Try out this recipe and let us know how you liked it in the comments below.
About Vaishali KapilaVaishali finds comfort in eating parathas and rajma chawal but is equally enthusiastic about exploring different cuisines. When she's not eating or baking, you can often find her curled up on the couch watching her favourite TV show - FRIENDS.