The cuisine of Thailand works effortlessly to lure food lovers into its aromatic spell. Its rich and creamy curries, fragrant sauces, flavourful snacks and sinful sweets are bound to make you go back to indulging in them time and again. The key to cooking any Thai dish lies in perfectly balancing the five key flavours - sour, bitter, salty, sweet and spicy, which takes skills to master. Each Thai dish is therefore never dull, always bringing in the much needed punch to your palate.

According to Chef Irfan Pabaney of The Sassy Spoon, Mumbai, "The fresh and strong ingredients used in Thai cuisine are what make it very different from other cuisines. I think lemongrass, Thai chillies, galangal, ginger and kaffir lime leaves are the most important ingredients in Thai cooking."





Thai food has been influenced by other Southeast Asian cuisines such as Indian and Chinese, but it still manages to be completely different from them. Originally, Thai cuisine used to be a lot spicier than it is today, but over time, the hot elements were reduced and other flavour boosters like lemon grass and galangal were introduced to the cuisine. One also commonly gets to see the use of minced or sliced meat in the dishes. Some of the popular Thai dishes include Thai curries, Som Tam Salad, Tom Yum Soup, Pad Thai noodles, Satay, among others.





Want to cook Thai dishes at home? Here are our 10 Best traditional Thai recipes for you -





1. Chicken Satay
Recipe by Chef Vicky Ratnani





A classic and downright delicious Thai appetizer, served with a chunky peanut sauce.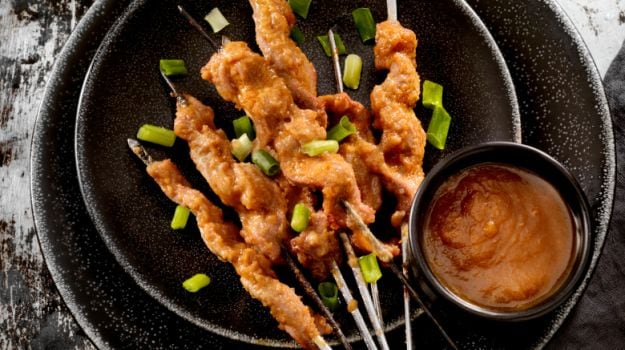 2. Tom Yam Soup with Mushrooms
Recipe by Kanishk Karkatta
Tom Yum or Tom Yam is a spicy Thai soup. It is a type of clear hot and sour soup. This vegetarian version is made with mushrooms and Thai spices.
3. Pad Thai
Recipe by Chef Sameer Modi
Pad Thai is a fried noodle dish commonly served as a street food in Thailand. Flat noodles beautifully entangled with tofu, eggs, beansprouts and sauces.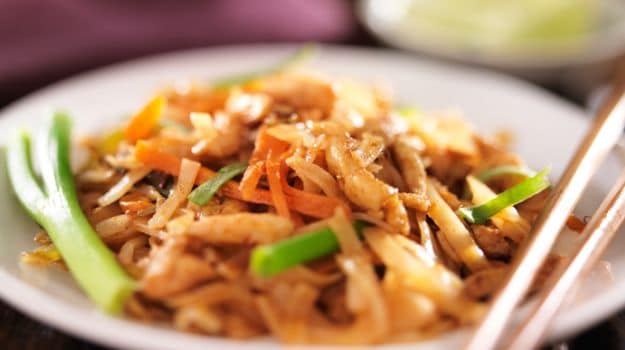 4. Thai Green Chicken Curry
Recipe by Shreya Vaishno
Chicken cooked in coconut milk with onions, lime leaves, basil leaves and an aromatic Thai green curry paste
5. Som Tam (Papaya Salad)
Recipe by Rocky Singh
Som Tam is a green papaya salad that combines all four tastes - sour, chilli, sweet and salty.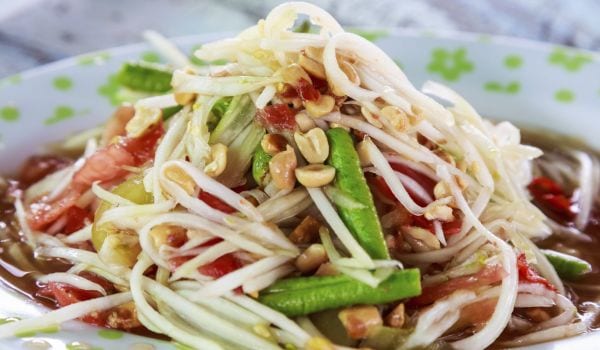 6. Thai Fish Green Curry
Recipe by Chef Vicky Ratnani
Fish fillets simmered in coconut milk with freshly made Thai green curry paste and aromatic spices. Best served with steamed rice.
7. Khao Klukh Krapi (Rice with Shrimp Paste)
Recipe by Chef Veena Arora, Chef De Cuisine, The Spice Route
'Khao Klukh Krapi' is a traditional Thai fried rice made with shrimp paste, garlic, lemon, prawns and cucumbers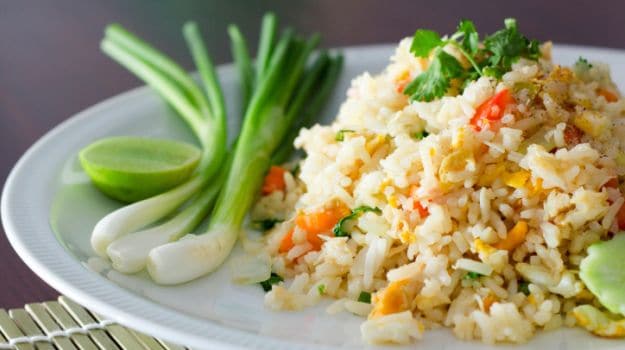 8. Massaman Curry
Recipe by Chef Nikhil Chib
Chicken cooked in coconut flavors, tamarind, potatoes and an aromatic massaman curry paste.
9. Khao Pod Tod (Corn Cake)
Recipe by Chef Vaibhav Bhargava, ITC Sheraton, New Delhi
Enjoy these hot fritters on a bed of cool cucumbers. The succulent corn patties absorb the seasoning well and you would be left craving for more.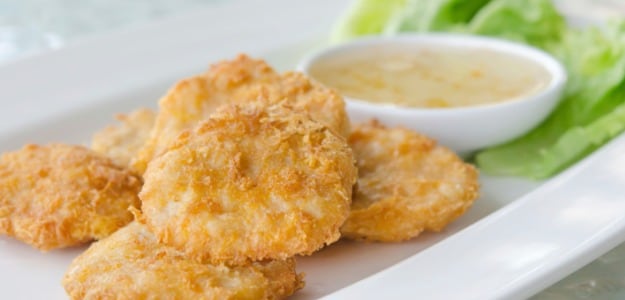 10. Gka Prow Gai (Basil Chicken)
Recipe by Rocky Singh
One of Rocky Singh's favorite Thai dish. Chicken mince tossed in mild oriental flavors with aromatic basil leaves.