10 Most Popular Noodle Dishes from Across Asia
Meher Mirza | Updated: November 19, 2016 08:55 IST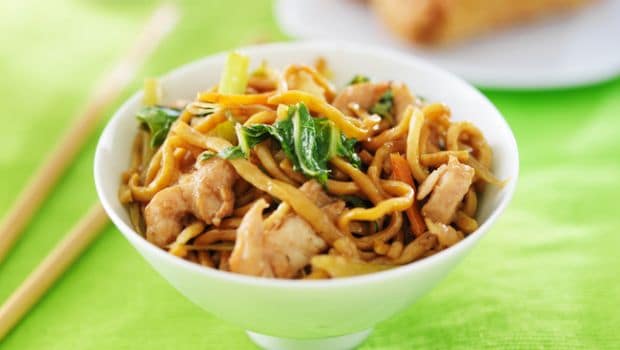 It's really very hard not to fall in love with a bowl of noodles. And such is the variety that no matter where in South East Asia you travel to, your tastebuds will find something to seduce them. Chilli Pan Mee in Kuala Lumpur, smoky Char Koay Teow and Hokkien Mee in Penang, Laksa in Singapore, Bun Cha in Hanoi, Kuy Teav (soupy beef and rice noodles) in Siem Reap, Ramen in Sapporo...the dishes are endless.

In this story, I'm pretty sure I won't even be touching the tip of the iceberg, so I am just going to mention a few of my favourites. Let's start with China, which, I'd wager, is the gateway to the Asian noodle kingdom for most of India. China is a vast country, and much like India, its cuisine is not monolithic. Fuchsia Dunlop writes in Shark's Fin and Sichuan Pepper that convention carves the country into four sections: the imperial cuisines of Beijing and Shandong, the refined, subtle food of the literati in the East, the very lightly-cooked and seasoned dishes of the south, and the spicy Sichuanese, which is perhaps closest to the Indian palate. This is where my beloved Dan Dan noodles were born and where local noodle shops abound, serving a plethora of mostly wheat noodles of varying thicknesses, doused in sauces and spices for the perfect marriage of salty, spicy and savoury tastes.

1. Dan Dan Noodles - ChinaDan Dan Noodles are Sichuan's archetypal street snack, named for the bamboo pole that the vendors used to transport the snack. Although Dan Dan Noodles usually involve a splutter of pork mince, this recipe is vegetarian and a pared-down version of the original.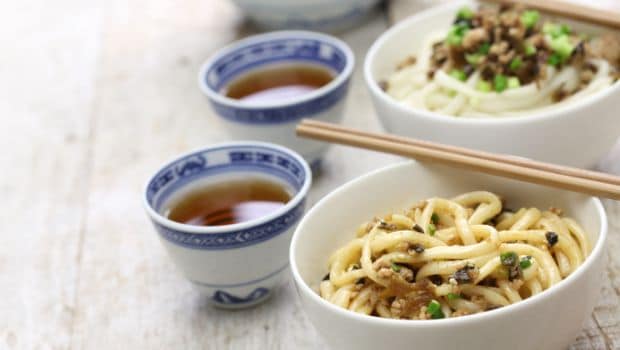 2. Pho - Vietnam

Ranging further south, we come to Vietnam, home of pho: pho is the thread that twines together the entire country. At its most basic pho is made up of beef, broth and rice vermicelli noodles, but depending where in Vietnam you go, its embellishments will change. In the north, it is an austere dish which eschews accompaniments, but in the South, it comes emblazoned with bean sprouts, lime, basil and crisp shallots. It usually offers two iterations – pho ga (chicken) and pho bo (beef), although nowadays you get vegetarian options as well.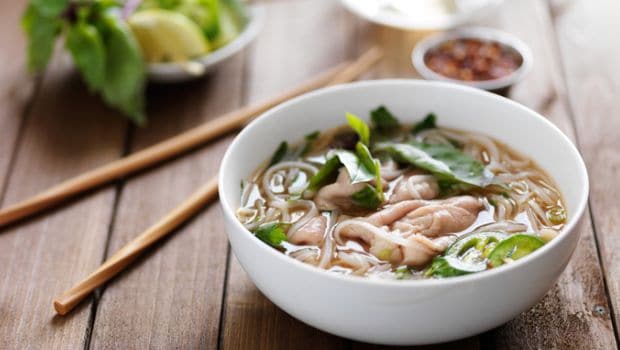 3. Ramen - Japan

Gorgeous Japan is home to an absolute riot of noodles – the popular ramen (wheat flour), soba (buckwheat), yakisoba (wheat flour noodles usually used in barbecues), somen (delicate wheat flour noodles eaten cold usually), thick white udon (chewy, wheat flour noodles), shirataki (yam flour) and harusame (glass noodles). Each category flares into a hundred others. Take for instance, ramen. Although ramen is essentially just made up of noodles, broth, tare (the savoury essence that rests at the bottom of the ramen bowl, imbuing it with its particular umami flavour) and toppings, there are an abundance of ramen styles across the country based on the type of tare or broth used. The four, very broad categories are the soy-based shoyu ramen, miso, tonkotsu (named for the pork broth) and shio (where the tare is made up of a variety of salty, umami ingredients).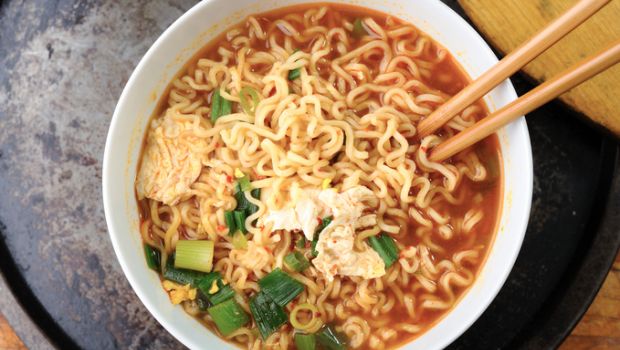 4. Japchae – South Korea

Pretty much the same can be said of South Korea, a country with a staggering wealth of noodles eaten hot, warm, cold, as mains, accompaniments – you name it. Perhaps its most popular noodle dish is the Veggie Stir-Fried Japchae, made with translucent sweet potato noodles, but dig deeper and you will find refreshingly cold naengmyeon (buckwheat noodles swimming in beef broth and served with egg, kimchi, beef and Asian pear), thick, chewy wheat noodles doused in a spicy sauce (jjolmyeon), the odd, milky kongoksu noodles and the home-style kalguksu made with anchovies, shellfish or chicken.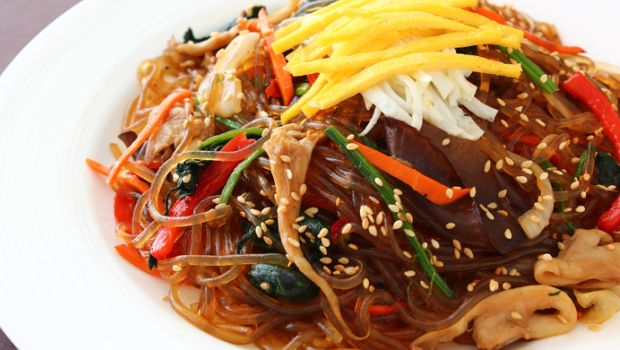 5. Pad Thai - Thailand

We're all familiar with Pad Thai, Thailand's most famous export. And Pad Thai, flat noodles, is delicious but certainly not the be-all and end-all of Thai noodle dishes. Try ordering Mee Krob, a central Thailand dish made with thin, sticky noodles that have been fried until crisp; Sen Jan Phat Puu, which is a mixture of thin rice noodles and crab; and Yen Ta Fo, which is a reddish broth with flat noodles, and seasoned with tofu, fish balls, fish cake, blood and crackers.

For the recipe, click here – Pad Thai Noodles.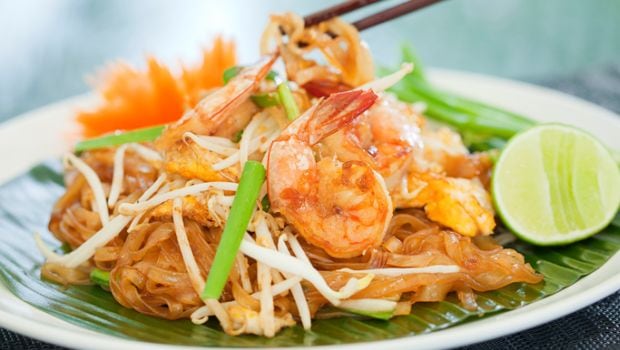 6. Mohinga - Burma

And then there's Myanmar with its 'national dish' - the fish broth-based Mohinga. It is a heart noodle soup made with catfish, lemongrass, chickpea flour, banana stem, and fish sauce among other ingredients. Another very popular noodle dish is the Khao Suey (which has also been attributed to north Thailand) - chicken noodles with its almost South Indian-inspired coconut milk base. If you are planning a visit, try the Mondhi as well - noodles twined around pieces of fish and chicken.

For the recipe, click here – Mohinga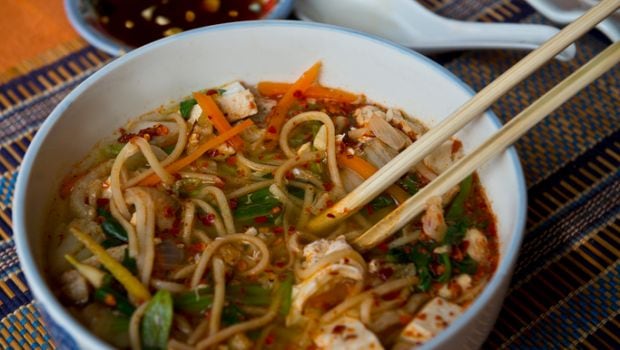 7. Bakso/ Mee Goreng - Indonesia

Mee Goreng has made its way around the world, but Bakso will always be my favourite Indonesian dish. Made of meat balls doused in a savoury broth with skinny noodles of mung bean dough, wheat or rice dough, Bakso is best eaten off the roadside vendor's cart.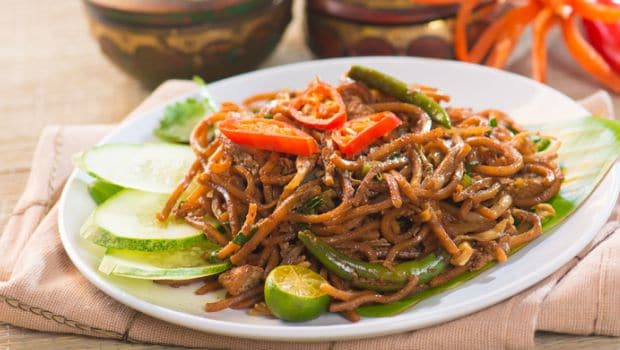 8. Hokkien Mee – Singapore

The earthy, fragrant prawn stock-based Hokkien Mee that I have eaten in Singapore is a favourite. I ate it at one of the city's hawker centres - yellow noodles fried and doused in stock, and served with a heap of seafood on the side.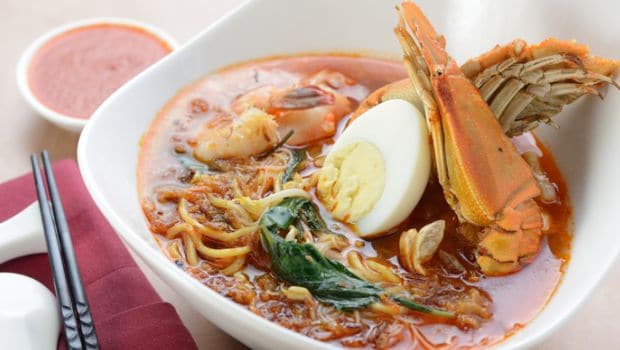 9. Laksa - Malaysia

Then there's the Malay Curry Laksa with its coconut milk base and noodles, studded with shrimp, tofu, fish balls and egg; the piquant spice blend of turmeric, ginger, galangal, lemongrass and shrimp paste soothed by the sweet creaminess of coconut milk.

For the recipe, click here – Laksa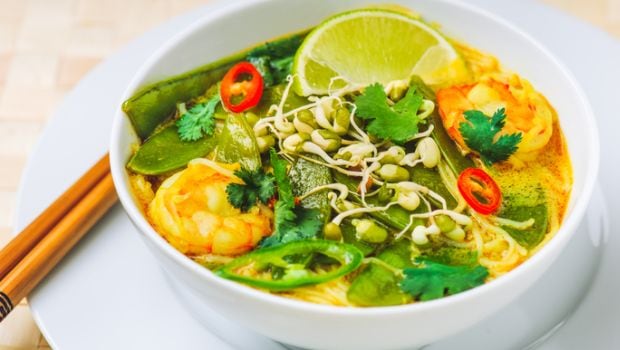 10. Khao Piak Sen - Laos

There are still plenty of noodle dishes I am waiting to taste though – one such is the fat tapioca and rice noodle soup of Laos (khao piak sen). The noodles are chewy yet soft, drenched in a light broth and served with everything from chicken to pork to blood cakes. Others on the list include Filipino rice noodle stir fry (Pancit Bihon), and Cambodia's Ka Tieu, which has been variously ascribed to Cambodia and Thailand. These dishes make life worth living!

About the Author:

Meher Mirza is an independent writer and editor, with a focus on food and travel. Formerly with BBC Good Food India, she loves anime, animals and artsy things but also comics, technology and death metal.

Disclaimer:

The opinions expressed within this article are the personal opinions of the author. NDTV is not responsible for the accuracy, completeness, suitability, or validity of any information on this article. All information is provided on an as-is basis. The information, facts or opinions appearing in the article do not reflect the views of NDTV and NDTV does not assume any responsibility or liability for the same.