My mother wasn't a baker, but she did make some mean lemon bars when I was growing up, using a recipe straight out of a Charlie Brown cookbook.
They were simple things, a buttery crust pressed into the pan and topped with beaten eggs, lemon and sugar, then baked. Ultra-sweet, crunchy on top and gooey within, they were our staple contribution to bake sales and potlucks, and all my grade school friends adored them.
This recipe is not for those lemon bars, as much as they still appeal to my inner 8-year-old. This is for something more grown-up: lemon bars flavored with olive oil and dusted with sea salt. They are complex and sophisticated, tangy and tart, where the other ones were gentle and sweet. Each bite zips around your mouth, hitting sweet, salty, sour and bitter notes. The bitterness comes from the olive oil, and brings an unexpected bite to the mix of flavors.
Using olive oil in lemon bars may sound odd, but when you think about all those lemon and olive oil cakes from Italy and southern France, it makes more sense. The tricky part was figuring out how to incorporate it into bars.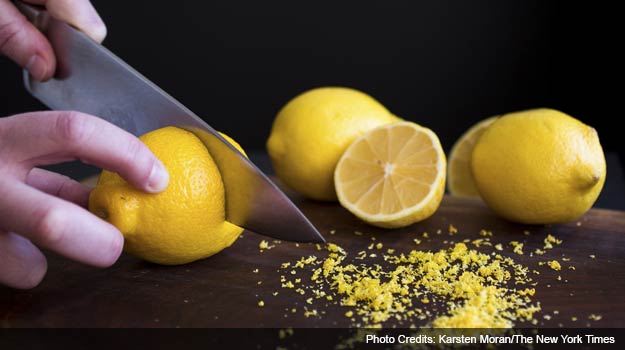 I started with the crust, trying out different versions of an olive oil in the shortbread. But none were as good as using all butter, so I abandoned the idea. Stirring the olive oil into the lemon curd after it thickened on the stove worked a lot better. Not only does it add flavor, it also makes the curd glossy and silky. Choose a good olive oil with personality here - anything bland undermines the point. Look for something with peppery and herbal notes.
A sprinkle of sea salt at the end makes the bars slightly savory and brings out the tartness and bitterness of the curd, while a generous dusting of powdered sugar is a softly sweet contrast. Don't garnish the bars with sea salt and confectioners' sugar until just before serving, or they will melt into the curd and lose their punch.
If you are tempted to use floral Meyer lemon here, you can, but substitute only half Meyer lemons for regular lemons. Meyer lemons are sweeter than regular ones and won't give you enough acidity if you substitute them entirely.
Although these are designed for adults, don't be afraid to serve them to children. My 6-year-old loves these newfangled lemon bars just as much as my mother does.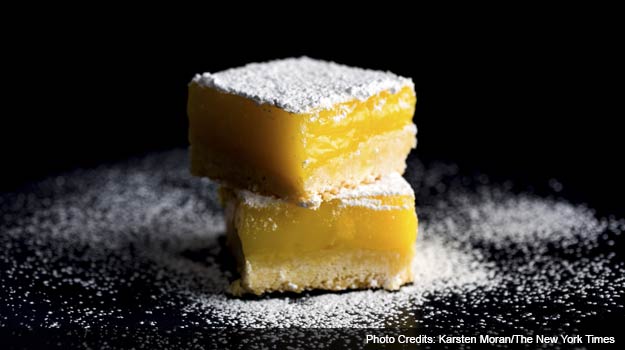 Lemon Bars with Olive Oil and Sea Salt
Time: 1 1/2 hours, plus cooling and chilling
Yield: 24 bars
FOR THE CRUST:
1 1/4 cups all-purpose flour
1/4 cup sugar
3 tablespoons confectioners' sugar, plus more for sprinkling
1 teaspoon finely grated lemon zest
1/4 teaspoon fine sea salt
10 tablespoons unsalted butter
FOR THE CURD:
4 to 6 lemons
1 1/2 cups sugar
2 large eggs plus 3 yolks
1 1/2 teaspoons cornstarch
Pinch of fine sea salt
4 tablespoons, cut into cubes
1/4 cup fruity extra-virgin olive oil
Confectioners' sugar
Flaky sea salt, for sprinkling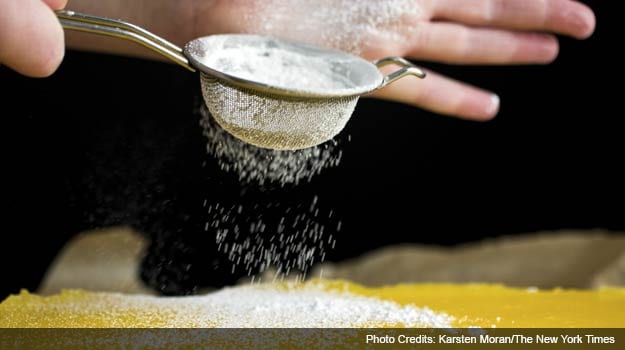 1. Heat oven to 325 degrees and line a 9-by-9-inch baking pan with enough parchment to hang over two of the sides (to be used as handles later to lift the bars out of the pan).
2. To make the shortbread base, pulse together the flour, granulated sugar, confectioners' sugar, lemon zest and salt in a food processor, or whisk together in a large bowl. Add butter and pulse (or use two knives or your fingers) to cut the butter into the flour until a crumbly dough forms. Press dough into prepared pan and bake until shortbread is pale golden all over, 30 to 35 minutes.
3. While the shortbread is baking, prepare the lemon curd: Grate 1/2 tablespoon zest from lemons and set aside. Squeeze lemons to yield 3/4 cup juice.
4. In a small saucepan, whisk together lemon juice, sugar, eggs and yolks, cornstarch and fine sea salt over medium heat until boiling and thickened, 2 to 5 minutes. Make sure mixture comes to a boil, or the cornstarch won't activate. Remove from heat and strain into a bowl. Whisk in butter, olive oil and lemon zest.
5. When the shortbread is ready, take it out of the oven and carefully pour the lemon curd onto the shortbread base; return the pan to the oven. Bake until topping is just set, 10 to 15 minutes more. Allow to cool to room temperature, then refrigerate until cold before cutting into bars. Sprinkle with confectioners' sugar and flaky sea salt right before serving.
© 2015 New York Times News Service