Image via thegrounds/Instagram
The Land Down Under perhaps wouldn't have made it to a foodie's bucket list if it were not for
MasterChef
Australia. But that would have been a great loss. Australia may not have its own cuisine so as to speak (though Modern-Australian food is the new trend there) but Australians take their food very seriously. The first thing you notice is the produce. Fantastic produce available all year round enables chefs to play with ingredients and create iconic dishes that have all of us drooling. Chefs like Adriano Zumbo, Curtis Stone, George Calombaris, Shannon Bennett and Matt Moran (among others) have set the ceiling high when it comes to gourmet food in
Australia
.
Any visit to the country demands a few days spent in the commercial capital - Sydney. The city has an unmistakable busy vibe, everyone seems to have someplace to get to. But come evening and they are all out with their friends and families, eating, drinking and living it up. Do remember that the city eats early. Most restaurants take last orders at 9:30pm and shut shop at 10pm. So make sure you go early and don't have to rush through your meal. Many restaurants allow patrons to carry their own bottles of wine and only charge a corkage of $2.5 per person or similar. Look out for the BYO sign outside. The city has way too many places serving exceptional food but here is my pick of five food experiences that you shouldn't miss while visiting Sydney:
1) The Grounds of Alexandria - If you're passing through the city and have time to go out for just one meal, let this be it. An old mill converted into a eating space, it is incredible in its ingenuity. There is a café where you can eat or else take your food to go and enjoy it outdoors in one of the many spaces they have created in the compound. Canopies made with creepers, vines and flowers, the tables make for community dining. There is an entire area where children can play for hours and even a little 'farm' with a pig, a goat and other animals. The food itself is fresh and just what you want on a sunny day. Try the incredible Smashed Avocado with a Poached Egg.
Cost for 2: AUD70
Address: 7a/2 Huntley St, Alexandria, Sydney

2) Fratelli Wood Fired Pizza - Started by an Italian family, this joint has grown from a hole-in-the-wall to a popular name with multiple branches. The pizzas here, however, retain their authenticity. The menu is vast and each pizza is cooked in the wood fired oven. They even do half-n-half if you can't make up your mind between 2. The best thing to eat here? The garlic pizza from their starters section which is basically pizza base topped with garlic and cheese. Absolutely stunning! They allow you to Bring Your Own Wine (BYO) so make sure you carry a bottle.
Cost for 2: AUD30
Address: 41 Parraween St, Cremorne Plaza, Sydney


3) Mamak - You may find it strange that I ask you to walk over to ChinaTown in a city like Sydney, that too for food. But the waiting queues outside will leave you in no doubt about this recommendation. Malaysian food that leaves you licking your fingers, be prepared to wait in line for your turn here. The service is quick and food served hot, this isn't a place to linger. Not so surprisingly, it is the simplest dishes that shine and have you going back for more. The roti canai is fluffy like a cloud and better than most that I have had in Malaysia itself. Order a chicken satay with that (which is deliciously succulent) and you'll go home happy.
Cost for 2: AUD30
Address: 15 Goulburn Street, Chinatown and Shop P9, 1-5 Railway Street, Chatswood

4) Phillips Foote - How can you go to Australia and not try the Australian Barbeque? Phillips Foote takes it one step further and lets you enjoy the entire experience of barbequing, that too in the historic 'Rocks' district (where the city started from). Walk up to the meat section and choose from a variety of cuts. You are then to season and grill the steak yourself (with guidance from the servers on how many minutes you should grill each side). Top it with sauces of your choice, load up your plate with sides and you're all set! An experience you will remember, for sure. The steaks are high (in quality!) and a meal here is almost like attending a barbeque party. There isn't any BYO on offer but a full bar caters to your needs. Must go.
Cost for 2: AUD50
Address: 101 George St, The Rocks, Sydney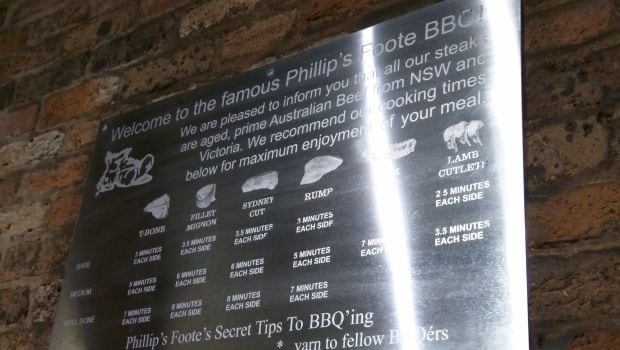 5) Adriano Zumbo - You can not leave Sydney without trying Adriano Zumbo's desserts. Those of you who are not familiar with this iconic dessert chef (known for his croquembouche on MasterChef), his imagination knows no bounds. Though he is known for his macrons, it is an innocent looking dessert that I recommend - the Vanilla V8. A little cube-shaped pastry, it is deceptive in its simplicity. Cut into it and you will realise that it hides 8 intricate layers, each adding an element of texture, flavour and drama to the bite.
Cost for 2: AUD 20
Address: Many outlets including The Star, The Star Casino, 31/80 Pyrmont St, Pyrmont, Sydney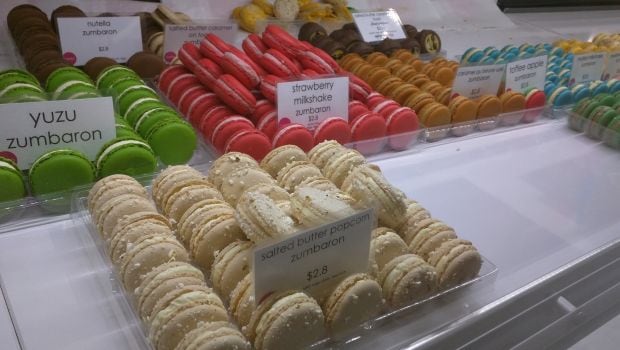 This list is in no way exhaustive. There is way too much good food in Sydney to include everything. Sunsets at Opera Bar deserve a mention, as does Koi Dessert Bar (run by a MasterChef 2015 contestant). Then of course, there are restaurants run by MasterChefs like Aria by Matt Moran, Billy Kwong by Kylie Kwong, Rockpool Bar and Spice Temple by Neil Perry and Bills by Bill Granger. Phew...so much to eat, so little time!