The iconic Katz's Delicatessen is known for its sandwiches -- and a starring role in a movie. Credit: Copyright 2013 Thomas Hawk
Boasting 567 entries, "Savoring Gotham: A Food Lover's Companion to New York City" serves up a feast of foodie knowledge for the Gotham native and novice alike.
Edited by Andrew F. Smith and featuring the writing of more than 150 contributors, the tome includes entries on notable foods and beverages, restaurants and bars, historical sites and events, cuisines, personalities and brands from throughout the city's five boroughs.
"Mention New York City food, and most people think of the white-hot restaurants of the moment, with their media-savvy celebrity chefs, glittering patrons and sky-high prices. Upscale restaurants have long been an exciting part of the city's foodscape, but they are at one far end of the broad, colorful spectrum of New York eateries," Smith says in an introduction. "Inhabiting the starry heights are temples of haute cuisine, such as Per Se and Le Bernardin; at the low end are hot dog carts and old-school Mexican taco trucks. In between, over the past 300 years, have been all kinds of eating places: cafeterias, diners, luncheonettes, drugstore counters, fast-food chains, delis, cafes, coffee shops, juice bars, doughnut shops, ice cream parlors, cocktail lounges, dive bars, and corner sweet shops, not to mention theater snack bars, supermarket delis, farmers markets, social club dining rooms, kiosks and vending machines. Today, New Yorkers have more 50,000 eating places to choose from."
Combining food history with current culinary trends, the text richly explores New York City's diverse food cultures, as well as its contributions to global gastronomy. A hefty volume that even dons a New York bagel on its spine, it makes for a smartly dressed member of any foodie library sure to be referenced again and again. (Full disclosure: I am one of the book's contributors.)
Here's just a taste of "Savoring Gotham":

Baked Alaska
A delightful amalgamation of dessert foods, baked Alaska is a sponge cake topped with ice cream and covered with delicate peaks of meringue, browned in the oven. Although named for what would become the United States' 49th state, baked Alaska found its name in New York City. The igloo-shaped dessert was first christened in the late 19th century by Charles Ranhofer, French chef de cuisine of Delmonico's, one of New York's most prestigious restaurants from 1837 to 1923. Baked Alaska's naming was purportedly to honor and commemorate the United States' purchase of Alaska in 1867.

Eggs Benedict
Whether topped with ham, bacon, salmon or spinach, all signs point to New York City as the origin of brunch favorite eggs benny. While it is unknown for which wealthy Benedict the dish was named, the velvety and savory dish probably originated at Delmonico's or The Waldorf in the 1890s, though New York's Hoffman Hotel and Union Club both lay claim to it as well.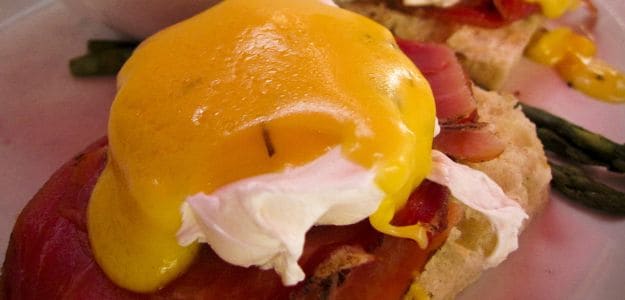 Ellis Island Food
What did the millions of immigrants who entered the United States at Ellis Island between 1892 and 1924 eat for their first meal on American soil? Most likely they purchased a boxed lunch for 50 cents or a dollar, depending upon the size. Some boxed meals included roast beef, ham, cheese or bologna sandwiches, while others featured foods like a loaf of bread, sardines, sausages, apples, bananas, pies and cakes.

Fraunces Tavern
By the mid-18th century, taverns increasingly served as centers of community life. In fact, General George Washington dismissed his troops at the end of the Revolutionary War at Fraunces Tavern. Built in 1719, the tavern is now a museum and restaurant in the financial district open for Gothamites and tourists alike to visit.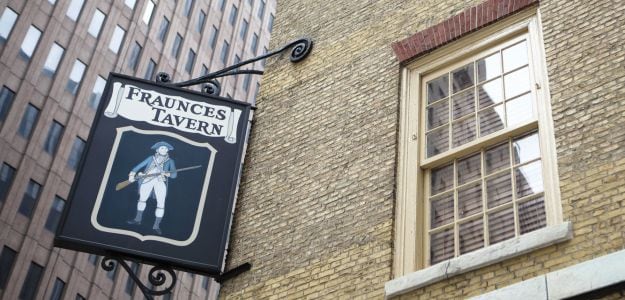 Fraunces Tavern is still a restaurant, as well as a museum, in the financial district. Credit: Copyright 2011 Dan Nguyen

Hellmann's Mayonnaise
The creamy roots of America's best-selling mayonnaise are also in Gotham. While Richard Hellman began his food career with his wife running a delicatessen between 83rd and 84th Streets in Manhattan, he also developed the first shelf-stable mayonnaise. He began selling it in 1912 in glass bottles affixed with a label featuring three blue ribbons to indicate its "first prize" quality, which can still be found on supermarket shelves today.
Jane Nickerson
Often overshadowed by her successor, Craig Claiborne, Jane Nickerson was The New York Times' first food editor from 1942 to 1957. Her daily column was titled, "News of Food." Writing with a strong sense of ethics and news, her reviews paved the way for the Times' expanding food coverage.
Manhattan Clam Chowder
Although its name might suggest otherwise, Manhattan clam chowder actually has no real connection to New York City. An important dish in early American cuisine, chowders made effective (and delicious) use of New England's plentiful seafood resources. Manhattan clam chowder's defining (and highly contentious) characteristic is its substitution of tomato broth for milk.
Katz's Delicatessen
Well-known as the location of Meg Ryan's famous faux orgasm in "When Harry Met Sally" (1989), Katz's was founded a century earlier in 1888. Serving sandwiches topped high with cured meats, Katz has been turning swift and savory business ever since. Figures from the 1950s claimed the deli served more than 10,000 sandwiches a day. Today, Katz's is even open all night long on weekends for those looking to order "what she's having.
© Thomson Reuters 2016