Italian cuisine has a reputation for offering some of the most unique flavours. Be it pizza, pasta, risotto or ravioli, these dishes are so irresistible that our taste buds can enjoy them any time, any day. They can be a major relief when we want to break the monotony of eating Indian food every day and also when we crave something exotic. For Malaika Arora, it seems a bowl full of spaghetti is all that it takes to dive into the Italian world. In her recent Instagram Stories, Malaika is seen relishing some steaming hot spaghetti which looks absolutely lip-smacking.


We all know that Malaika is one of the biggest fitness enthusiasts in Bollywood and this implies that she showers some extra love on fruits and all kinds of healthy stuff. Her mother too is quite supportive and seems to be providing Malaika with some freshly plucked fruits from her garden. "Baby oranges from mom's garden," Malaika wrote while posting a photo of the fruits.


Take a look at the stories by Malaika Arora:
Now, if you too want to enjoy a bowl of spaghetti then we have got some recipes for you.
Pesto sauce is synonymous with Italian cuisine and tossing your spaghetti in it can be a great idea. Pesto sauce is mainly made of basil which helps keep the dish fresh and delicious for a long. In this recipe, which can be prepared under 30 minutes, spaghetti is tossed in a blend of cheese, nuts, herbs, garlic, and pesto sauce.
When you combine the flavours of silky spaghetti with soft meatballs, you get a dish to die for. Here, a host of spices and herbs have been added to the spaghetti before fried meatballs are tossed in and tomato sauce is added to enhance the dish.
Nothing is better than classic Italian pasta and that is exactly what this dish offers. It has bacon, egg, and parmesan cheese along with all the other flavours you can ask for. It takes about 50 minutes to be prepared and can be great for brunch.


(Also Read: Malaika Arora Relished This Maharashtrian Street Food Over The Weekend)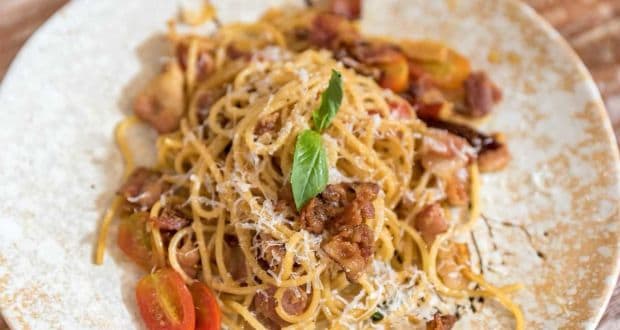 If you are craving seafood and want to give it an Italian touch then this recipe is for you. The recipe is easy, delicious and perfect to serve at a family gathering.
No matter how exotic Italian cuisine may taste, our taste buds always long for something Indian. In this case, this tadka spaghetti offers the right blend of the two cuisines that you must try at least once.