Story Progress
Back to home
Tadka Spaghetti Salad Recipe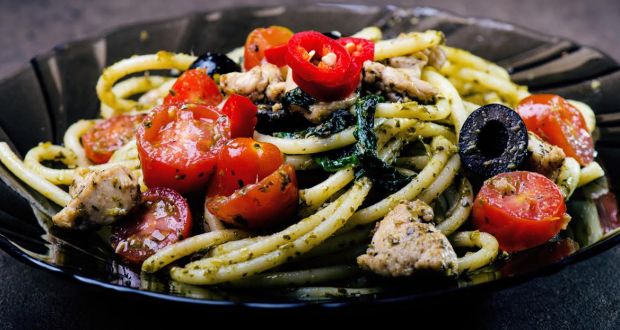 How to make Tadka Spaghetti Salad
A whole wheat spaghetti salad with chicken chunks and vegetables. Tempered with a mustard seed and curry leaf tadka for that Indian punch.

Ingredients of Tadka Spaghetti Salad
For the salad:
250 gms whole wheat spaghetti (boiled according to packet instructions)
7-8 chicken chunks, boiled
1 tomato (diced)
1/2 cucumber (diced), peeled
1/2 red bell pepper (diced)
1/2 onion (diced)
to taste salt
to taste pepper
5-6 black olives, sliced
For the tempering:
1 tbsp olive oil
1 tbsp mustard seeds
3-4 curry leaves
2 green chillies (slit)
1.
In a bowl mix the boiled spaghetti, boiled chicken chunks, bell peppers, onions, tomatoes, cucumbers, olives. Toss.
2.
Add salt and pepper. Toss.
3.
In a small pan add olive oil, mustard seeds. When they start to splutter, add curry leaves and green chillies.
4.
Pour the tempering over the salad. Mix well.
Key Ingredients: whole wheat spaghetti (boiled according to packet instructions), chicken chunks, tomato (diced), cucumber (diced), red bell pepper (diced), onion (diced), salt, pepper, black olives, olive oil, mustard seeds, curry leaves, green chillies (slit)