'Ethiopian Coffee Ritual Great For Bonding'
IANS , New Delhi | Updated: April 03, 2013 11:14 IST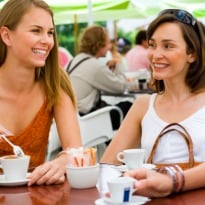 Fancy bonding over a fragrant dark brew to discuss your problems and find solutions? Head for the Ethiopian Cultural Centre here where the East African nation's traditional coffee ceremony is there for the partaking.

It's largely an all-women affair but outside of Ethiopia, men occassionally join it.

"In Ethiopia, women do not have enough time. They work for 17 to 18 hours a day. The only time they have to themselves is during the coffee ceremony in the village. One woman prepares the coffee in her home and invites the other women of the village over," Ethiopian Ambassador Genner Zewide explained to IANS in an interview.

"They talk about their problems - family problems, health problems and share their experiences. They usually try to find solutions to their problems over cups of coffee," Zewide said.

Back home, the coffee ceremony is usually held twice a day - sometimes thrice - once in the morning, once at noon and once in the evening in the homes of different women. The ceremony lasts between one and two hours.

"It feels nice. The ritual takes a long time so that the women have longer time to talk. The roasted coffee beans are often boiled three times for three rounds (three cups each) of coffee. It allows the women to rest and spend longer time chatting," Zewide said.

The ceremony, common to Ethiopian, Eritrean and Arabic cultures, has a spiritual air to it.

A flat pan of green coffee beans is roasted over a traditional charcoal brazier, either inside a room or out in grassy courtyards and knolls. A small ceremonial oven with incense is lit near the brazier in a ritual.
The heady aroma of the roasted coffee beans mingles with the incense, lending the ritual a mystical aura. The coffee cups are placed on a flat wooden stool. Once the roasted beans turn brown and the aromatic coffee oil is drained out of them, they are grounded with a pestle and a long-stemmed mortar. The grounded coffee is then stirred in a black clay pot with boiling water. The brew is sieved several times for the right consistency.

Villagers in Ethiopia say the act of drinking coffee "is transformational as each cup changes the inner persona of the one who drinks it".

It is usually drunk strong and brown with sugar or salt or sometimes without any flavouring agent. The coffee, grown on the higher slopes of Ethiopia, has a delicate and pungent flavour that is destroyed if over-boiled.

Ethiopia is often described by historians as the birthplace of Coffee Arabica.

The lady of the house where the coffee ceremony is held serves the brew in small China cups. The women attending the ceremony are usually dressed in their traditional white robes with colourful woven borders.

"That is the only time when the husbands do not object to their wives going out to visit friends and the only time when husbands do not accompany the women as well," Zewide said.

The idea has lived through centuries - when coffee was discovered in the country thousands of years ago - to become an effective tool of people-to-people bondings in modern times, Zewide said.

The envoy said she had hosted the ceremony for Indian women at the embassy and that's how the idea of running the cafe emerged. "I discussed Ethiopian culture over coffee with the Federation of Indian Women's Associations (that promotes cross-cultural exchanges between Africa and India)," she said.

The Ethiopian Cultural Centre and the coffee cafe were inaugurated in the embassy's premises here earlier this week. For the moment, the ceremony will be held twice or thrice a week and the coffee will be free but will be priced at some stage. On its part, the Cultural Centre will showcase Ethiopia's handicrafts, art and performing traditions, as also host discussions on Ethiopian culture.

Located in the Horn of Africa, Ethiopia, with over 91 million inhabitants, is the most populous landlocked country in the world and the second-most populated nation on the African continent. Dating to the 2nd millennium BC, Ethiopia is one of the oldest locations of human existence known to scientists and is widely considered the region from which Homo sapiens first set out for the Middle East and beyond.

(Madhusree Chatterjee can be contacted at madhu.c@ians.in)