Food Revolution
Seema Chandra , Food Editor, NDTV | Updated: August 08, 2012 10:04 IST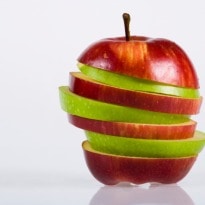 It's time for change - these days it seems to be the mood of the day. It's trendy to be championing a cause. While in India we are currently all consumed by the Anna Hazare movement, there are other equally passionate crusades being fought around the world.

The one I am talking about has to do with food, and its called, no surprises there, the Food Revolution. International celebrity Chef Jamie Oliver is the key crusader. If you follow websites that talk about trends in the food industry, you will realize that a big movement is underway and its main demand is that we have to give our kids better food to eat.

Jamie Oliver's Food Revolution has become a popular tv series. His show invites viewers to take a stand and change the way America feeds itself at home and in school. His belief is that this generation of children is the first that's not expected to live as long as their parents. Partly because less meals are being cooked at home, and there is easy availability of processed foods at every corner.

The lastest crusade doing the rounds is against sugar in milk. When kids drink chocolate or strawberry milk in school everyday, it adds up to 4 teaspons of sugar every day, and that adds up to 2 gallons of extra sugar each year! So he is urging schools to stop providing kids with sugar-filled drinks along with their lunch.

Way back in 1946, in America, the National School Lunch Program was started by President Lyndon Johnson and today around 31.6 billion kids in public schools get their lunch through this program. This program consists of guidelines regarding the nutirional standards that schools have to follow. If you read them, they are actually quite watertight - give the children a variety of foods to eat, there must be at least one portion meat, two portions veggies or fruit, and one serving cereal with a milky concoction. And so on and so forth. While schools follow these rules, they see, to have succeeded in loading the children with calories. Like any crusade, this one also has its share of dissenting voices. Many schools have opposed this as they feel that now school lunches are way too expensive or that the new menu has been the cause for many children to drop out of the school lunch program. For example, the milk consumption went down in Huntington, West Virginia after the schools stopped serving milk with sugars added. So the district decided to continue serving sweetened milk.

It's been two years, an over .... People have signed on Jamie Oliver's website. But the long term success of the food revolution will eventually rest upon making school meals nutritious as well as cost effective, whether the new menus will stick to the US guidelines and most crucially, if kids will continue to enjoy their lunch.