Making friends and influencing people at dinner
Jennifer Miller , The New York Times | Updated: June 13, 2014 17:30 IST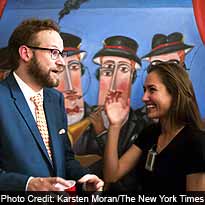 Jonathan Levy was standing on the coffee table in his spacious apartment, holding up a bottle of Lagavulin 16 like a trophy. It was after midnight on a Wednesday last month and the living room was packed with chief executives, designers, philanthropists and TV personalities.

The alcohol had been flowing for nearly three hours and Levy was having some trouble quieting his roughly 100 guests. "You're so cute!" called one of the rowdier ones, a former cast member from "The Real World: New Orleans."

For the last three years, Levy, 33, has hosted a twice-monthly dinner, in which he gathers a dozen or so influential strangers to cook together and mingle. After the meal, he opens his home to the growing "Influencers Network" for a celebratory cocktail party. And what were the guests celebrating on this Wednesday night? Why, themselves of course. And one another. And Jon, as he is known, who introduced them.

"I started these dinners hoping that if I could have people who do incredible things in my life, then my life would be extraordinary," said Levy in a manner that sounded less like a toast and more like a confessional. "You've all surpassed my greatest expectations. Thank you for coming to my home, and spending my life with me, since my family is spread across the world."


"Awww" rippled through the room. From atop the coffee table, Levy looked genuinely moved. When he finally stepped down, a guest who calls himself the Foodie Magician hopped onto the coffee table and started performing magic tricks.

The "What Not to Wear" co-host Stacy London, who was there that night, said she didn't take Levy seriously when she received an invitation to dinner after meeting him at a tech event.

"I thought: 'Here's a young kid with a lot of money. Good for you,'" London said. Then she ran into him again at a party for Rachel Sklar's Web community The Li.st, which she called "Skull and Bones for women." Levy followed up with another invitation, and this time London thought "what the heck."

Levy works in digital marketing at the publishing company Rodale, and lives in the five-bedroom apartment where he grew up. By his own standards of what makes an influencer, he probably wouldn't make the cut. But his family would. His father, the painter Benjamin Levy, and his mother, Hanna Levy, a successful composer and conductor, live in an artists' colony in Ein Hod, Israel. One of his older brothers runs a lab at Boston Children's Hospital and teaches at Harvard Medical School; the other is the director of portfolio research at Moody's Analytics. His sister is a hip-hop fusion artist who lives in New York and Tel Aviv.

Levy grew up attending parties filled with artists and cultural luminaries, but as he approached 30, he looked at his life and realized that it had not quite reached the level of extraordinary for which he had hoped. So he followed what he said was his parents' lead and started inviting people over for dinner - influential people.

In the advertising and startup worlds, an influencer is a person, product or campaign that gets everyone else talking, tweeting and buying. Levy has a somewhat grander, if more abstract vision: He believes that bringing a diverse, influential community together will inevitably lead to collaborations that, he says, have the potential to "change the world."

To date, he has hosted more than 500 people, including the president of CBS Radio, the founder of Improv Everywhere, an MTV VJ, a world poker champion and Cameron and Tyler Winklevoss. The publicists and managers of people like the model and actress Brooklyn Decker (who Levy believes will one day attend) have also sauteed chicken at his stove and baked brownies in his oven.



Regardless of how influential you are (how famous or wealthy), Levy will make you wash the dishes. "I'm not used to coming to somebody's house and being bossed around - being told what to cut and chop and clean," said Fern Mallis, a key figure in New York Fashion Week, who attended this particular dinner. "He's a little bossy. Actually a lot bossy. But I'm always enchanted by being in a situation where you don't know who you're going to meet."

In fact, anonymity is a key element at Levy's dinners. Professions and last names are withheld during pre-dinner drinks and cooking. Once seated, guests must guess one another's identities. This is done one person at a time, and the exercise takes up the entire meal. Given the time crunch (the cocktail party starts at 9:30), dinner seemed like an urgent game of duck, duck goose. Levy hurried around the table, ordering people to spit out their guesses more promptly. "We're on borrowed time," he said, snapping his fingers.

Why the guessing game? "When people don't know what you do, there's no expectation about how you should act," the host said. "I had a person who runs a division in one of the largest hedge funds in the world, and people thought he was a fashion designer."

Mallis is renowned in her field. At fashion events, people always want something from her. "It's nice to be around people who have no clue what I do," she said.



















The Wednesday dinner was dubbed the platinum dinner because of the guests' especially impressive résumés. (They were warned that this reporter was attending, but Levy insisted that I remain undercover. At dinner, I was seated between Kevin King, the global chairman of the PR firm Edelman Digital - whom everybody thought was in sports marketing - and Bre Pettis, the chief executive of MakerBot, whom everybody accused of being the reporter.) Only two people actually knew each other: Mallis and London. A lot of people vaguely recognized the actor Kevin Corrigan, but most couldn't place him. When it was his turn to fess up, he made a show. "'The Departed' and 'Goodfellas'" he shouted a couple of times, banging his fists on the table.

Later on, after the dinner plates were cleared and the cocktail party was in full swing, Corrigan was asked what he thought of the proceedings. "I didn't like judging people based on flimsy information," he said. "It was all about whose guess was the best, everybody trying to one-up each other." Moreover, Levy invented rambling and ridiculous biographies for each person, even though he knew who everybody was.

Into the middle of this conversation walked Opus Moreschi, the head writer for "The Colbert Report." Gangly and bearded, Moreschi arrived in a blue thrift-store suit and a red and white polka dot tie. He had attended one of Levy's dinners over the summer and enjoyed the guessing game. "It was kind of like a game show and the prize was a bigger Rolodex," he said. He did not consider himself an influencer. "I reject that idea," he said. Dan Schechter, a director and friend of Corrigan, disagreed.

"This guy influences generations of young actors," he said and pointed his finger at Corrigan. "And this guy influences generations of young political thinkers and people who love comedy." He pointed at Moreschi. "Can I quote them? Watch them? Think about them?"

The group conceded some discomfort at the unapologetically elitist fashion of their anointment. Guests receive their invitations from Levy's assistant, Caroline Ammarrell, and they are invited to dine at "the manor." (A fair enough description: when you ask Levy where the bathroom is, he says, "seven doors down on the left," and he is not joking.)

Moreschi said: "The whole thing is fairly bold in its brazen self-congratulatory nature. I prefer self-deprecation, personally."

Levy also likes to emphasize his own inadequacy. "I feel like I've begun to get an undeserved status as important," he said. "But it's not about me. I tell my assistant, it's all about the guest. There's no space for ego."

To trawl for the influential, Levy has gone to Burning Man and Cannes. He hopes to soon host his first influencers dinner on the West Coast, possibly at the home of Tyler Winklevoss. And Levy has created a private online platform where all previous dinner guests can search for one another by career field in order to pursue social and professional connections.

Of course, when you put many successful, strong-willed people from so many different professions together at one party, there is bound to be conflict in addition to connection. It wasn't long after dinner that Corrigan stumbled upon London talking about her new Burberry clutch and how Levy's network could help influence people's style choices.

Corrigan was wearing a nearly monochrome outfit of brown T-shirt and slacks. "We have Fukushima polluting the entire Pacific Ocean and we're talking about how people should be dressed?" he demanded.

London said, "I care how people feel about themselves."

He said while nodding sarcastically: "I agree that regardless of how much pollution is being leaked, people should look good."

She said, sounding incredulous: "I didn't say look. I said feel."

He said, backing down, "Listen, I just came in here to look for my leather jacket."

"Really?" she asked. "You care about your leather jacket when there's all this pollution?" She collected her Burberry and left the room.

For her part, Mallis said it was hard to have a conversation, adding later that "the evening was just so programmed. He really controlled the dialogue at dinner." While acknowledging that as a woman in her 60s she was older than many of the invited guests, she also found the cocktail portion "too much of a college frat party."



















But the night seemed a success. Corrigan and London stayed. Grizz Chapman, formerly of "30 Rock," arrived. Kristin White, the former Princess Khaliya Aga Khan and now an angel investor, posed for photographs. Later, Moreschi was found in one of the bedrooms, standing awkwardly in boxer shorts and polka-dot socks that matched his tie. Levy had brought in the owners of Gustin, a designer jeans brand, to give away pants.

Levy, meanwhile, was hard to pin down. He moved between the rooms, making introductions and refilling drinks. He barely spoke with anybody for more than a few minutes, but he promised to follow up with his guests in the coming weeks.

He had told me beforehand that the dinners had led to television opportunities and venture capitalists offering him blank checks, but that so far he's turned everything down.

"When Steve Jobs took over Apple the second time, he waited for the right moment to produce something extraordinary," Levy said. "There will be an opportunity to accomplish something extraordinary in business or TV or whatever it is. But right now if I try to do something too hard, it will go against what this is all about. It's not about business. It's about bringing extraordinary people together."

© 2013 New York Times News Service