South Indian recipes to lift everyone's spirit? South Indian cuisine is a favourite across the country, with little eateries in various corners serving pillowy soft idlis, crisp ghee dosas, tangy sambar, spicy rasam, lemon rice, puliyogare and the like. Something about the taste of each of these dishes that you crave for it every once in a while. And if you can't really find an eatery in your neighbourhood to suit your taste buds, you can always dish them out at the comfort of your own kitchen.

Cooking South Indian food can be quick and easy if you pick the right dishes. Not all need laborious efforts with enormous varieties of spices and ingredients. Some home-style dishes can be prepared with just a handful of ingredients. But if you want to put in that little effort to create traditional dishes, we present our 10 best South Indian dinner recipes to help you get started. From Malabar Fish Biryani and Chettinad Chicken to Avial and Okra Pulusu, you can go all out and try popular dishes from the different South Indian regions. Satisfaction guaranteed!

1. Malabar Fish Biryani
Recipe by Chef Abida Rasheed





This classic Malabar Fish Biryani is a dinnertime treat. Enjoy the delicious taste of this ever-charming dish made with aromatic spices and seer fish.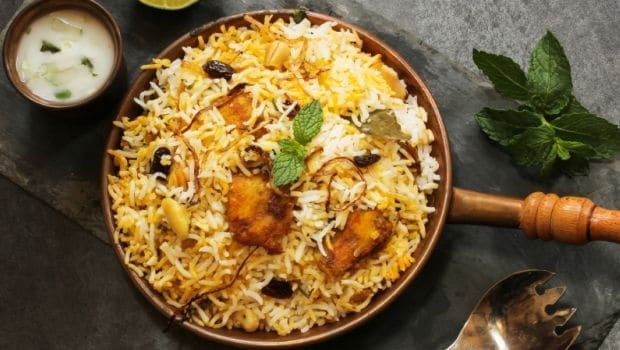 Fish cooked in spices layered between rices and flavoured with coriander and mint leaves.

2. Puliyodharai
Recipe by Chef Devi, Restaurant Analaxmi
A spicy and lip-smacking dish where steamed rice is tossed with a tangy tamarind based pullikacchal masala along with crunchy peanuts.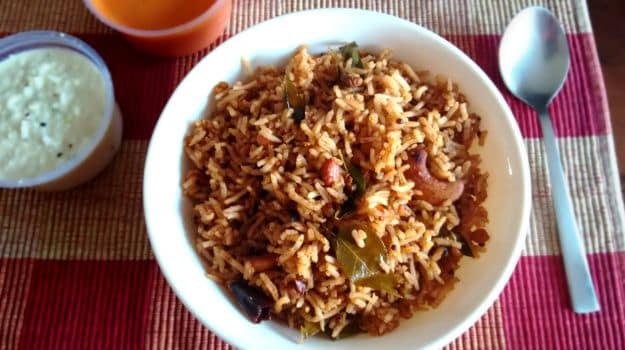 Also called as Kovil / Temple Puliyodharai, Puli sadam and Puliyogare in Kannada.

3. Bendakaya Pulusu
Recipe by Kishore D Reddy
Okra in tamarind gravy or Bendakaya pulusu is a popular dish in Andhra Pradesh. Okra is fried in mustard seeds and soaked in a rich tamarind sauce that makes it sour and tangy.

(Also read: How to make Okra and Bacon soup)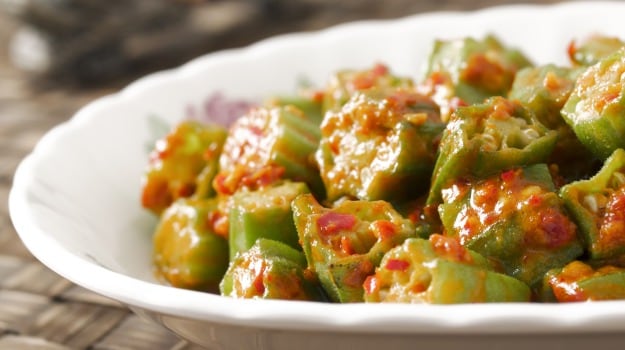 Okra (lady finger) is called as Bendakaya in telegu, while Pulusu is a stew that is made often in Andhra homes

4. Korri Gassi
Recipe by Chef Mallikarjun,Taj Manjarun, Karnataka
A Mangalorean Chicken Curry. Succulent pieces of chicken cooked in finely ground fresh coconut with spices. Serve with Neer Dosa or Nool puttu.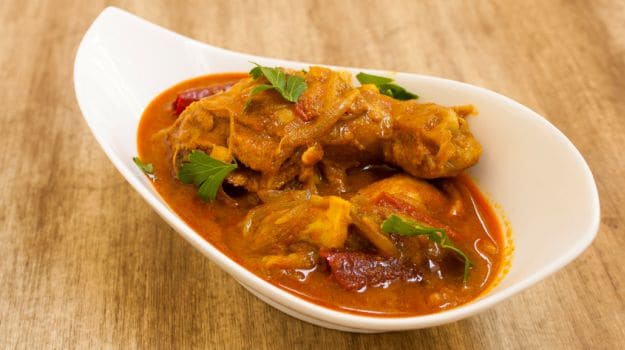 A delectable chicken curry with the flavours of coconut, coconut milk and tamarind.

5. Avial with Kerala Red Rice
Recipe Chef Joey Mathew
Avial is a traditional South Indian dish from Kerala. A thick mixture of vegetables like drumsticks, potatoes and carrots are cooked in coconut oil and mustard seeds. Serve it with red rice.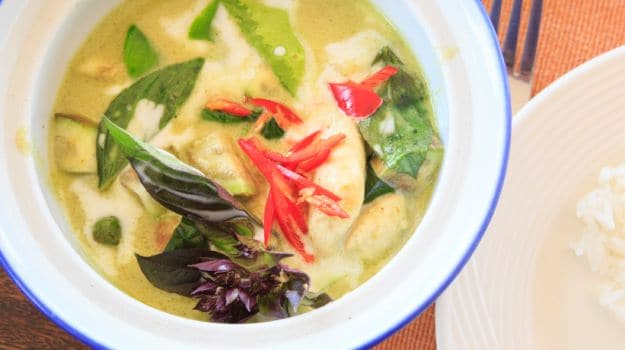 A salad made of cooked vegetables, seasoned with coconut paste, curry leaves and coconut oil.
6. Gongura Mamsam
Recipe by Chef Srinivas Rao
Venture into the heart of Andhra Pradesh to unearth a cuisine which is reputed to be the spiciest of all! Chef Srinivas Rao shares his recipe of a spicy Andhra mutton curry.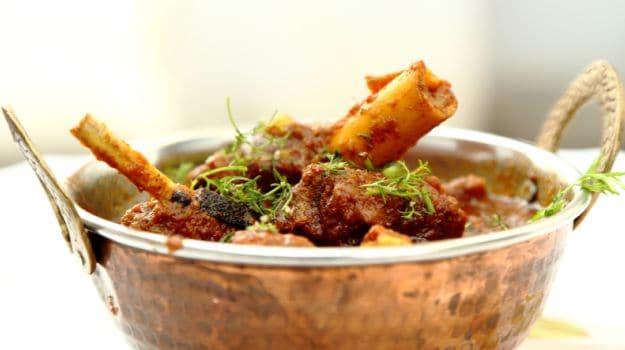 A spicy lamb curry with the distinctive taste of it main ingredient gongura or sorrel leaves.

7. Mangalorean Prawn Curry
Recipe by Chef Aditya Bal
This curry recipe boast about the delicate flavors of coconut that are a perfect complement to the taste of the prawns. Prawns are cooked in coconut oil with a spicy tamarind gravy. Make the most of this dish by serving it over a bed of rice alongside garlic naan.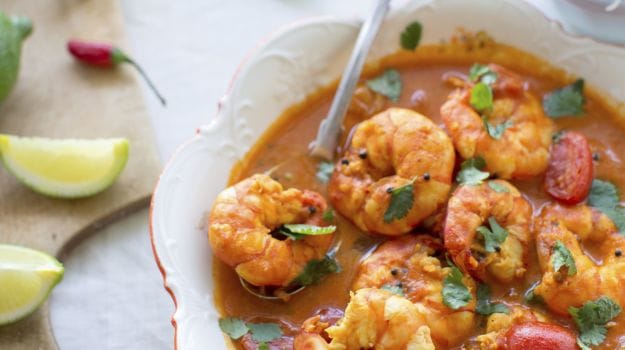 Prawns cooked in coconut oil and dunked in a spicy tamarind gravy, Mangalorean style.


8. Kerala Mutton Stew
Recipe by Chef Andy Verma
Kerala stew is a mildly spiced preparation made with meat/vegetables and coconut milk,popularly served as an accompaniment with appams.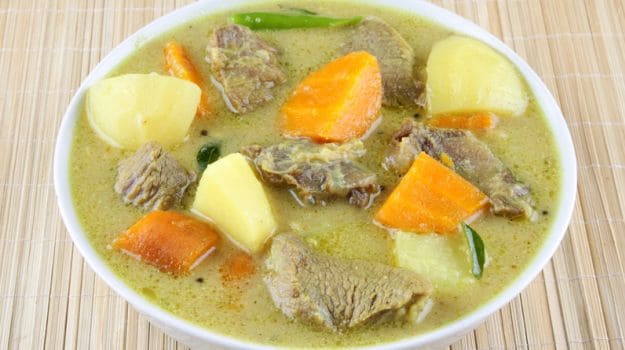 Succulent chunks of mutton simmered in delicate southern flavors of coconut milk, curry leaves, cinnamon etc

9. Bisi Bele Bhaat
Recipe by Chef Ashwini Sridharan
Bisi Bele Bhaat is a traditional dish from Karnataka made with rice, lentils, vegetables and coconut. It is similar to a khichdi.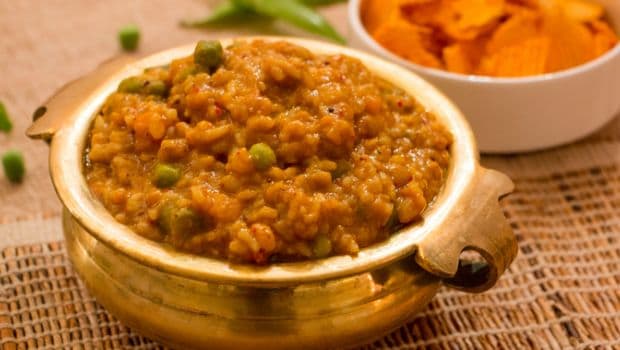 Bisi Bele Bhaat or Bisi Bele huli anna is one of the traditional karnataka recipe, prepared in almost every kannadiga's home.
10. Chicken Chettinad
Recipe by Chef Kishore D Reddy
This is one of the best chicken recipes you may have tried yet. Bring some magic to your plate with chicken cooked in some peppery authentic chettinad paste laced with coconut and onions.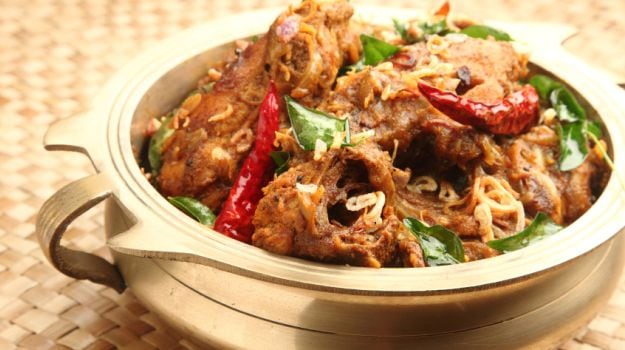 While Chettinad Chicken goes perfectly with Dosa or Appams, it tastes equally good with Parathas and even plain boiled rice.
South Indian dishes are not just delicious, but also very easily digestible. It can be easily said that it is a perfect blend of flavor, color and taste and also takes care of the nutritional balance. Now that you have the top 10 south indian dinner recipes, get going with that alluring and authentic south indian platter for your next meal.
Dinnertime is special. This is when we finally get to unwind after a hectic day to enjoy a wholesome meal with family or friends. If your idea of a good meal is making that extra effort to dig out interesting recipes and stir up a lip-smacking meal, then trying different cuisines must be welcomed too. How about traditional