Starting a business in India tough, says Canadian chef
IANS , New Delhi | Updated: November 25, 2013 14:34 IST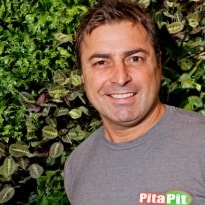 The flavours of the Pita Pit food joint have been tasted in over 400 locations around the globe and its doors have now opened in Gurgaon too. Setting up the business here has however been a task which required "patience", says founder Nelson Lang, a well-known chef from Canada, but says "India is the future in many respects."

He says setting up a business here is more challenging than operating it.

"It is always tough for an international brand to open in India. There are and will always be challenges, often more about setting up than actually operating. This takes a lot of time. That is where patience is definitely a great virtue," Lang told IANS during his recent visit to India.

Founded in Kingston, Ontario, Canada, in 1995, Pita Pit, a hub for delicious sandwiches, has 430-plus locations around the world, including in the US, Australia, New Zealand, Brazil, Panama, Trinidad and Tobago, South Korea, France and Britain.

The brand's first India location is in Cyber Hub, Gurgaon. The eatery opened here earlier this month.

The business prospects here are bright, according to the 44-year-old, who says "India is the future in many respects and we as Canadians love India and its people."

"For us, it feels like a perfect fit at a perfect time. Many Western brands are racing to get to India to join the party. But at the end of the day, it always comes down to people - who you team up with, that is crucial to success. India is a country that is vast, complex and wondrous - we would never think of doing it alone," he said.
Pita Pit has been brought to India by Ishann Dhawan, a co-promoter of Royal China Restaurant that has been a part of the country's hospitality industry for the last three years.

The extension plans for the brand will be rolled out once the response to the first outlet is studied.

"At this time, our main focus is to build the brand starting with the first location in Cyber City. We strongly believe that solid foundations are essential for long-term success. Building a brand takes time - and we want to get it right. Ultimately, we want to be throughout all of India," Lang said.

The restaurant offers foodies a range of sandwiches to gorge on, but personally, he loves Indian flavours.

"We are amazed by the Indian food in Canada. It is also very popular here. I asked our team here to vote as a team (for Indian food) and here are the results - chicken tikka masala, bhindi masala, butter chicken and chicken vindaloo," he said.

Lang, who was born in Bellville, Canada, and grew up in the city of Oshawa, teamed up in 1995 with his friend and fellow local business owner John Sotiriadis to create Pita Pit. The going has been great ever since.

"When my business partner and I opened up our first Pita Pit, our primary goal was to own and operate one successful restaurant. I had no idea that some 18 years later there would be over 430 locations in several countries around the world.

"And with all the smart Pita Pit people now, I expect there will be well over 500 locations worldwide by the end of 2014, with Pita Pits in 10 countries," he said.

In Picture - Nelson Lang, Founder, Pita Pit