I love travelling, most of us do, but usually it's the 'getting there' part that matters the most and sucks the life out of us. I am not talking about the short domestic flights that will get you to the other end of the country in a couple of hours, it's the ten to eighteen hour long, incessant flying that makes your system go haywire, drains you out, and yes, leaves you with a horrible jet lag.
In one of our previous articles we had decoded the science behind an otherwise normal food item tasting funny onboard. My colleague Kriti Malik did an extensive research and found out that, "At 35,000 feet you feel queasy and your taste buds feel numb. Studies show that saltiness and sweetness are tastes that we cannot process in a pressurised air cabin. Instead, sour, bitter and spicy grow more prominent. "
"In-flight food needs to be carefully designed - it's first cooked on-ground, parceled, shoved in a blast freezer, transported, re-heated and then served. And all of this is done while making sure that it doesn't spoil along the way, "explains Kriti in her article, Why Does In-Flight Food Taste So Odd?
According to Sarah Wilson, an Australian journalist, blogger, television anchor and author of the book I Quit Sugar, "Because our sense of taste dilutes at altitude, plane food is jammed with extra flavourings and salt." In her blog Sarah talks about her in-flight experiences and her personal eating practices while she is on board. She confesses skipping eating altogether when on short domestic flights, though that is not even remotely possible when you are due to be on a plane for quite a long time.
So, what is the way out? Pack your own food? Well, maybe!
For longer domestic flights
Domestic flights are usually hassle-free when it comes to packing your own food and taking it onboard. While I was doing my research, I came across food writers and bloggers most of whom admit taking frozen foods on plane. "It will have thawed by the time you board and you can team it with the onboard cheese and crackers if you want," noted Sarah Wilson.
You can also try taking along coolers that will help keep your food fresh and can ask the flight attendant to heat it for you. Try making smoothies and carry it along. Carry a variety of tea bags and an empty thermos to make tea of your choice. Crackers, granola, cereal bars, dry fruits, nuts, salads or a sandwich are also few of the viable options.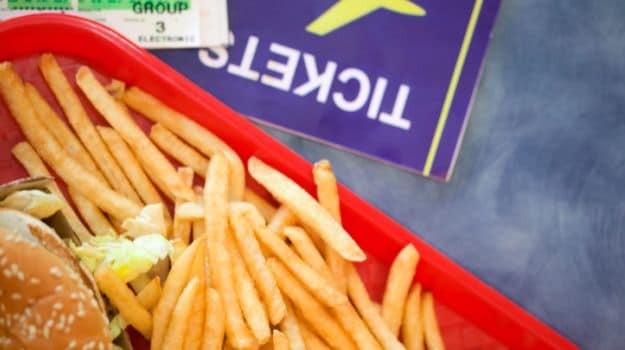 For International flights
When you're flying across borders, security checks may come in the way of taking packed food. In that case consider eating well before your flight. You can also make healthy eating choices at the airport - juices, fruits, yoghurt, smoothies, salads, soups - in case of any stop-overs.
What else to keep in mind?
Make sure you are well fed and not over-fed. Before and while you are in the plane, ensure opting for foods that are light on the stomach, easy to digest as well as good in hydration. Items that can induce gas or bloating should be avoided. You can carry hydrating foods like cucumber, watermelon and so on. Ensure drinking plenty of fluids and avoid drinking carbonated or fizzy drinks.
When flying across time zones, try spacing out your larger meals in three equal parts and snack in intervals. However, according to few recent studies, snacking is found to be much more beneficial as compared to eating large meals when flying for longer hours. Skip taking along fermented foods, seafood or strongly-scented food items on the plane.
When you just can't avoid the flight food
Load up on a few while completely skip the others; keep the following points in mind when consuming in-flight meals.
- Avoid food items that speed up dehydration. While flying so many feet above the ground, your body tends to dehydrate easily than the usual. Skip consuming a lot of sugar, artificially sweetened meals, and carbonated drinks.
- Opt for proteins, vegetables and fruits.- Skip cheesy, fried food; instead opt for boiled, steamed or stir-fried items.- Avoid food items that could cause bloating and gas - beans, broccoli, cabbage, cauliflower, etc.- Excess caffeine consumption can cause dehydration.- In some cases alcohol can also cause discomfort, nausea, dehydration and headache. Skip or consume in moderation.- Hot and spicy food can trigger bowel discomfort.
- "For every hour you are flying, drink at least 500ml / 17oz. of water and drink a stack before you leave for the airport," notes Sarah Wilson.
Summing it up!
Apart from your altered system, numbed taste-buds and limited in-flight food options, a couple of other things that can contribute in making your journey a nightmare is the fact that you constantly breathe re-circulated air - one doesn't have much of a choice there. Your movement is pretty much restricted as well hence try stretching or taking short walks every now and then.
Believe it or not, your surrounding is full of bacteria; consider taking along a sanitiser. Make frequent use of it and wipe your surroundings to get rid of infectious bacteria and germs. Before and while you are onboard, get proper sleep and relax.
And for the first timers as well as those who get sick while on flight, ginger helps in tackling motion sickness. Sip on ginger tea, ale or consider ginger pills or candies.
With all of the above pushed across to your side, we wish for your happy and healthy flight experience the next time you're flying.