With Garlic, Fresh Means Sweet
David Tanis , The New York Times | Updated: July 25, 2013 11:42 IST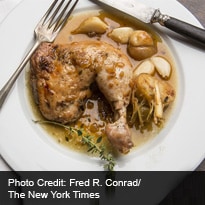 You may not think of garlic as a seasonal ingredient, but it is, and the season is now. I am an unabashed garlic lover, and from midsummer forward, I use it in just about everything.
This is garlic that, instead of being plucked young and sold as shoots called green garlic, is allowed to mature and form large heads. It comes with the roots still on and the stalks attached, and since it hasn't been air-dried for long storage, like the familiar grocery-store garlic, the skin enclosing the individual cloves is still moist, not papery.

Those cloves, when peeled, look like shiny pearls, and they have a fresh-tasting sweetness even when used raw.

There's a classic French dish called poulet aux 40 gousses d'ail, which translates as chicken with 40 cloves of garlic. Although that much garlic might sound overpowering, the idea is this: Garlic cooked slowly and thoroughly loses its pungency, becoming sweet and unctuous in the process. The garlic is then eaten as a vegetable accompaniment, or spread on toasted bread.
Although you can make this dish with ordinary garlic in cooler weather, the result is sensational with summer's new crop.

Aside from the garlic, all you need is a good chicken, an onion, a few thyme branches and a little white wine. I use a Dutch oven to make it - since the cut-up bird is moist-cooked, not roasted, a heavy pot with a tightfitting lid keeps all the succulence in, and the fragrant ingredients are concentrated into flavorful pan juices.
I find it easiest to start on the stovetop and finish the dish in the oven, which ensures even heat and helps brown the chicken at the end of the cooking. (Should you want to make it entirely on the stovetop, also possible, you'd need to brown the chicken parts at the beginning.)

As for the new garlic, the heads just need cleaning up a bit. Trim off the roots and stalk, then remove a layer or two of the tough exterior.

Count on at least one head per person. But the devoted, like me, will require three or four.

Chicken Fricassee with New Garlic

Time: 1 hour 15 minutes
Yield: 4 to 6 servings



1 small chicken, about 3 pounds

Salt and pepper

2 tablespoons butter

1 large onion, diced (about 2 cups)

6 heads new garlic

Several large thyme sprigs

1 cup white wine

Parsley or basil, for garnish (optional)


1. With a sharp knife, remove back bone from chicken. Cut chicken into 4 pieces: 2 legs with thighs attached, and the breast split lengthwise, wings attached. (Reserve back bone, giblets and extraneous chicken fat for another use.) Season chicken pieces generously with salt and pepper and set aside.

2. Heat oven to 375 degrees. Melt butter in a Dutch oven or enameled pot with lid over medium-high heat. Add onion and cook briskly, stirring occasionally, until nicely browned, 5 to 8 minutes. Meanwhile, cut stalk and roots from garlic heads. Trim off 1 layer from each head's tough exterior. Cut heads in half, top to bottom. Add garlic to pot, season with salt and pepper, and stir to coat. Place thyme sprigs on mixture, then add chicken pieces in one layer. Add wine and 1 cup water and bring to a simmer.

3. Cover pot and transfer to oven. Bake for 35 minutes, covered. Remove lid and bake for 10 minutes, or until chicken has browned and juices at thigh run clear when probed with paring knife. Let it rest off heat for 10 to 15 minutes. (If desired, cut breasts in half and divide thigh from drumstick with a sharp knife.)

4. Serve each guest a piece of chicken and several garlic halves. Spoon pan juices over everything. Sprinkle with chopped parsley or basil if desired.

© 2013 New York Times News Service