The usage of
onion
and
garlic
in an Indian kitchen is indispensable - thanks to the exceptionally amazing flavour they offer to curries, stir fries, stew, soup and what not. Both the ingredients, belonging to the allium family, not only add to the flavour, but also have numerous health benefits to offer. However,
Ayurveda
suggests that one shouldn't consume excessive amount of onion and garlic. Ayurveda defines nutritional properties of food based on six tastes that include sweet, salty, bitter, sour, pungent and astringent, and their qualities namely,
sattva
,
rajas
and
tamas
. While both onion and garlic are considered excellent foods, they still are not favoured by Ayurveda.According to Ayurveda expert from NirogStreet, Ram N Kumar, "Ayurveda is not against eating onion and garlic; in fact, garlic is deemed as an important
medicine
in Ayurveda. However, onion is considered tamasic (makes people irritable) and garlic is known to be rajsic (disturbed sleep and drained energy) in nature, which means both these ingredients produce
heat
in the body. While body needs some amount of heat, excessive heat may only lead to increased risk of health problems."Undoubtedly, Ayurveda prizes onion and garlic as powerful medicines and do not recommend avoiding them. Ayurveda principles are generally confused with spirituality and yoga that recommend a no onion and no garlic diet, as they both are believed to distract an individual's focus and attention.(Also Read:
7 Ingenious Ways To Get Rid Of Bad Breath From Onion And Garlic
)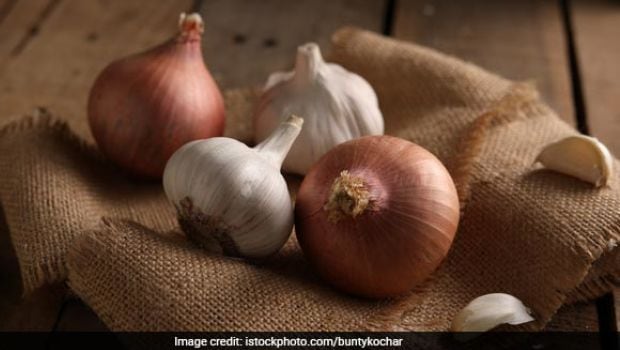 Health Benefits Of Onion And Garlic
Both the ingredients have a long list of health benefits. Garlic has often been considered as a wonder drug. It has been used to prevent infections due to its anti-bacterial, anti-fungal and anti-viral properties, and it is also known to reduce chances of
cancer
; thanks to its anti-carcinogenic properties. Onions, on the other hand, are known to reduce
inflammation
, remove toxins, normalise
digestion
and reduce
cough
. These are just a few health benefits attributed to the two humble kitchen ingredients.So, go ahead and add these two foods in your daily diet; just remember anything in excess is bad for your health and moderation is the key.