Eliyashiv Drori, an Ariel University oenologist who heads the research that aims to identify and recreate ancient wines, worked in the foothills of Jerusalem in October 2012. Image credit: Rina Castelnuovo for The New York Times
The new crisp, acidic and mineral white from a high-end Israeli winery was aged for eight months — or, depending on how you look at it, at least 1,800 years.The wine, called marawi and released last month by Recanati Winery, is the first commercially produced by Israel's growing modern industry from indigenous grapes. It grew out of a groundbreaking project at Ariel University in the occupied West Bank that aims to identify, through DNA testing — and recreate — ancient wines drunk by the likes of King David and Jesus Christ.Eliyashiv Drori, the Ariel oenologist who heads the research, traces marawi — also called hamdani — and jandali grapes to A.D. 220 based on a reference in the Babylonian Talmud."All our scriptures are full with wine and with grapes — before the French were even thinking about making wine, we were exporting wine," he said. "We have a very ancient identity, and for me, reconstructing this identity is very important. For me, it's a matter of national pride."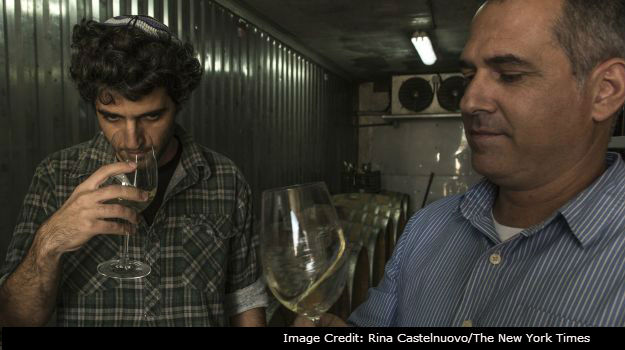 Mr. Drori and a graduate student, Yaakov Henig, sampling Israel's first indigenous wine.
The redevelopment of local varietals, however — like so many things in this contested land — is not free of political friction. It comes alongside contentious new labeling guidelines by the European Union requiring that wines from the West Bank and Golan Heights carry a label saying they were made in settlements. And, perhaps predictably, Palestinians have their own ownership claims on these grapes.For Israeli winemakers, the search for old-new varietals is an opportunity to distinguish their wares in a competitive global marketplace where they harbor little hope of improving on, say, chardonnay from France. Archaeologists and geneticists are testing new methods for analyzing charred ancient seeds. In the endless struggle between Israelis and Palestinians, it is a quest to underscore Jewish roots in the holy land.But Recanati is not the first to sell wine from these grapes. Cremisan, a small winery near Bethlehem where Palestinians partner with Italian monks, has been using hamdani, jandali and other local fruit since 2008."As usual in Israel, they declare that falafel, tehina, tabouleh, hummus and now jandali grapes are an Israeli product," Amer Kardosh, Cremisan's export director, sniped in an email. "I would like to inform you that these types of grapes are totally Palestinian grapes grown on Palestinian vineyards."Yes, but the Palestinian farms that sold the grapes to Recanati have insisted on anonymity, for fear of backlash over working with Israelis, or just helping make wine, which is forbidden in Islam. Recanati, for its part, embraced the heritage, using Arabic on marawi's label and hiring an Arab-Israeli singer to perform at its October unveiling to 50 select sommeliers.The vintner, Ido Lewinsohn, said his product is "clean and pure of any political influence," adding of the grapes: "These are not Israeli; they are not Palestinian. They belong to the region — this is something beautiful."Wine presses have been uncovered in Israel — and the West Bank — that date to biblical times. But winemaking was outlawed after Muslims conquered the holy land in the seventh century. When Baron Edmond de Rothschild, an early Zionist and scion of a famed Bordeaux winery, helped restart the local craft in the 1880s, he brought fruit from France.Today, Israel's 350 wineries produce 65 million bottles a year. The sticky-sweet Manischewitz was long ago overshadowed by top-quality chardonnay, cabernet, merlot, syrah, carignan and more. But there is only so far to go with such imports."Have we managed to create a DNA for Israeli wines? Not yet," lamented Haim Gan, owner of Grape Man, a company that advocates Israel's wine culture.Enter Drori, who has a Ph.D. in agriculture and in 2005, started a boutique winery, Gvaot, near his home in a West Bank settlement. There he noticed a neglected vine with small, very sweet white grapes that he thought might yield tasty wine.With a budget of about $750,000, mainly from the Jewish National Fund — a century-old Zionist organization that has helped transform Israel's agricultural landscape — Drori and a dozen colleagues have since 2011 identified 120 unique grape varieties whose DNA profiles are distinct from all imports. Around 50 are domesticated, Drori said, 20 of them "suitable for wine production."Separately, researchers have identified 70 distinct varieties, using DNA and a three-dimensional scanner that has never before been successfully employed this way, from burned and dried seeds found in archaeological digs. The idea is to match such ancient seeds with the live grapes, or someday perhaps to engineer fruit "Jurassic Park" style.Then there is proving that the old specimens were actually used for wine, not snacks. Drori points to one set that was recovered near the site of the destroyed Jewish temples alongside a shard of clay marked in an ancient Hebraic script, "smooth wine."He believes seeds found in donkey droppings in Timna — where copper mines date to King Solomon's era, the 10th century B.C. — must have come from pomace, the residue left after winemaking, since animals would not have been fed fresh fruit.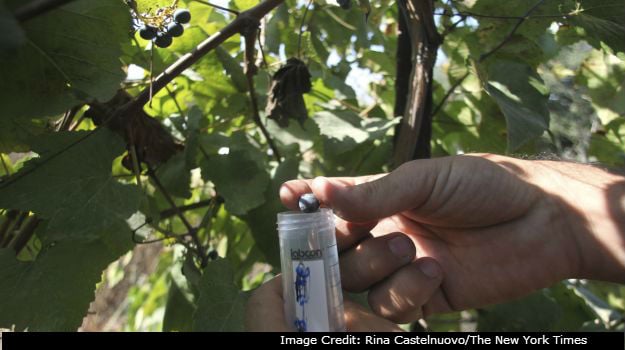 Mr. Drori says he and a dozen colleagues have since 2011 identified 120 unique grape varieties, with 20 of them suitable for wine production.
He also cites a Talmudic reference to a sage who lived in A.D. 220 that mentioned "gordali or hardali wine." That was picked up by a 16th-century scholar who used slightly different names, jindali and hamdani, and described jindali as "soft to chew and the wine weak," hamdani as "hard to chew and their wine strong" — characteristics similar to those of their descendants today.Given the difficulty of procuring the grapes from Palestinian farmers, Recanati produced just 2,480 bottles of the 2014 marawi, which is available in only about 10 Tel Aviv restaurants. The winery has about 4,000 bottles of 2015 marawi aging and hopes to soon plant its own vineyard to expand and refine the brand.Itay Gleitman, the wine writer for Haaretz, called marawi "this year's most important Israeli wine," for its provenance, if not taste. He said it was "pleasant and easy-to-drink," and "opens slightly in the glass with gentle aromas of apple and peach." And, if expressly cultivated for wine-making, has potential that "piques the imagination."Next up is dabouki, also white, which the well-known Israeli vintner Avi Feldstein plans to debut along with his new winery in a couple of months. Dabouki might be the oldest of the local varieties, a good candidate for what filled the glass of Jesus (who Drori believes drank white as well as red).Feldstein said he has about 800 bottles each of 2014 and 2015 dabouki, one "cashewlike" and the other "a little bit tropical.""If you are a true winemaker, you want to express a place," Feldstein said. "Without locality and the diversification it gives, wine is reduced to alcoholic Coca-Cola."© 2015 New York Times News Service