Story Progress
Back to home
Aloo Wadiyan Recipe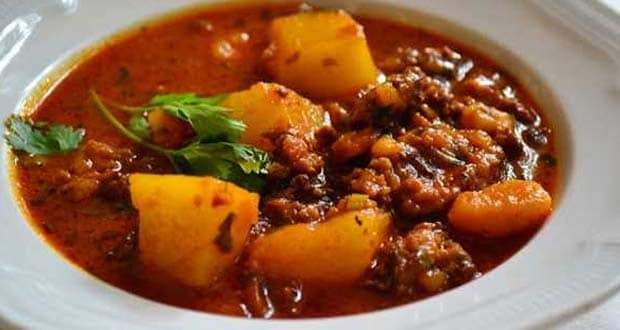 How to make Aloo Wadiyan
Aloo Wadiyan is a popular dish from North India. Wadiyan are made from sun dried urad dal nuggets and are spicy to the core due to the various spices and chillies that are added to urad dal while making it. Wadiyan are most commonly cooked with potatoes but can be combined with any other vegetable or pulao as well. This recipe of Aloo Wadiyan goes well with Roti.
Total Cook Time

1 hr 25 mins

Ingredients of Aloo Wadiyan
2 Medium Potatoes
2 medium Tomatoes
1 medium Green chilli (optional), chopped
1/2 cup Urad dal wadiyan (broken)
2 medium Onion
1/2 tsp Cumin seeds
2 tsp Coriander powder
1/2 tsp Red chilli powder
1/2 tsp Turmeric powder
A pinch of Asafoetida
2 tbsp Plain yogurt (optional)
3 tbsp Vegetable oil
2 tbsp Coriander leaves, chopped
1/2 tsp Salt
1.
Wash and peel the potatoes and cut them into ½" pieces.
2.
Chop the potatoes into ½" pieces.
3.
Gently break the urad dal wadiyan into small pieces by hitting them with a rolling pin or in a mortar & pestle.
4.
In a nonstick frying pan heat 1 tablespoon oil, add wadi pieces and sauté them for 4 to 5 minutes or until they become brown. Then take them out of the pan and keep aside in the plate.
5.
On high heat add 2 tablespoons of oil in the same pan wadiyan were fried add cumin seeds and asafoetida and fry for 2 minutes or until cumin seeds become brown.
6.
Add minced onions and sauté them while periodically stirring. Onions will have a lot of water so for the first 8 to 10 minutes keep the heat high so that all the onion water evaporates quickly.
7.
While onions fry add the tomatoes to the same food chopper or blender and puree.
8.
Once the onions become light brown add coriander powder, red chili powder and turmeric powder and mix with the fried onions and fry for few seconds.
9.
Add Tomato puree and yogurt. With the tomato puree and yogurt onion masala become watery, turn the heat high for 2 to 3 minutes, so that water evaporates quickly and while keep stirring the onion masala frequently. Turn the heat down to medium.
10.
Add chopped potatoes, fried wadiyan, salt and 4 cups of water and mix them with the onion masala, turn the heat to high for 3 to 4 minutes or until gravy start boiling then turn the heat down to medium low, cover the pan with the lid and let it cook.
11.
Stir periodically so that onion masala coats the potatoes and wadiyan all the time.
12.
In about 25 to 30 minutes potatoes and wadiyan will become tender. Mash few pieces of potatoes that will make the gravy thicker.
13.
When ready to serve transfer the dish in a serving bowl and garnish with chopped coriander leaves.