Story Progress
Back to home
Aloo Gobi Recipe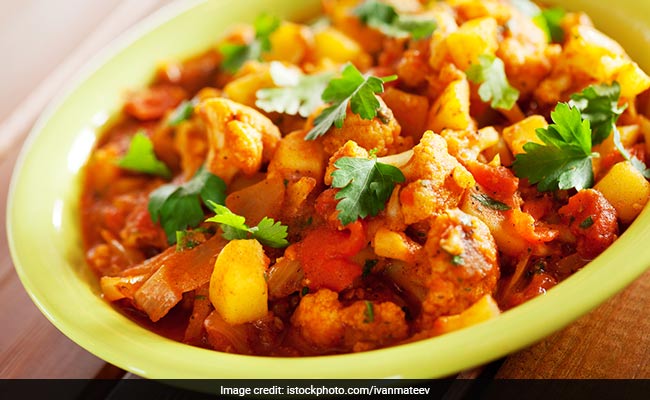 How To Make Aloo Gobi
About Aloo Gobi Recipe | Gobhi Aloo:The everyday recipe of an Indian household, Aloo Gobi is an easy and quick dish to make for lunch or dinner, which makes it a family favourite. Over the time, there have been many variations of this dish, but this one here is the classic Aloo Gobi with combination of spices and generous garnishing of pomegranate seeds.
Ingredients of Aloo Gobi recipe: This recipe is made of various spices and is a delicious combination of Potato and Cauliflower. The bit of lemon juice adds the tangy bit to the dish.
Best Way to Enjoy Aloo Gobi | How to Serve Gobhi Aloo
: Although this is a great dish all in itself but you can pair this delicious Aloo Gobi sabzi with a plain chapati or mix it up with a bowl of rice for a whole, fulfilling meal.

Ingredients of Aloo Gobi
700 Gram cauliflower
2 pieces potatoes, large
200 gram fresh fenugreek
4 tbsp mustard oil
1 tsp black mustard sedds
1 tsp cumin seeds
12 curry leaves, blanched
5 gram ginger, finely chopped
to taste salt
2 medium green chillies, finely chopped
1 tsp lemon juice
1 tsp mango powder, peeled
30 gram fresh pomegranate
1.
Wash the Cauliflower and then cut into small florets.
2.
Soak the florets in salt water for 5 minutes. Remove from salt water and wash again. (This procedure is basically to clean the cauliflower. Alternatively one can use a sterilizing solution).
3.
Keep it aside in a strainer until excess water has drained away.
4.
Chop fresh fenugreek, sprinkle with salt and rub salt on the leaves with your hands in a bowl.
5.
Keep for 5 minutes and wash in running water until all traces of salt have been removed. (This is done to reduce the bitterness of the fenugreek).
6.
Shake dry and keep aside.
7.
Wash the potatoes, shake dry and without removing the skin cut into eight pieces lengthwise.
8.
Fry the potatoes in cooking oil first at medium heat and then on high heat until it cooks fully and the outer crust is crunchy and golden in colour.
9.
Sprinkle with salt and keep aside.
10.
Add mustard oil in a wok, increase to high heat until the oil starts to smoke. Reduce heat until smoking stops and oil reaches medium temperature.
11.
Add mustard seeds, wait for 2-3 seconds and add cumin seeds, followed by curry leaves.
12.
Then add chopped ginger, stir and add chopped fenugreek leaves.
13.
Increase the heat marginally and continue to stir and roast (approx 4-5 minutes) until you see oil on the sides.
14.
Add cauliflower to the above, stir, add salt, stir again, cover the wok and leave on slow heat, stirring occasionally, for 3-4 minutes.
15.
Now remove the cover, add green chillies and continue to stir and roast until cauliflower is soft and the moisture has dried.
16.
Increase the heat, add potatoes, stir and add mango powder. Keep stirring and add lemon juice. Cook for a minute and remove from fire.
17.
Transfer to a bowl, garnish with fresh pomegranate seeds and serve.