Story Progress
Back to home
Anjeer Ki Barfi Recipe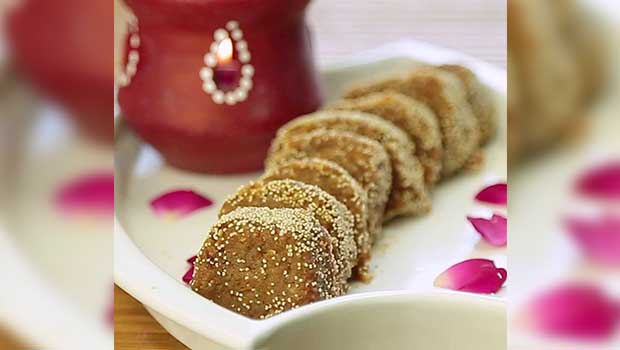 How To Make Anjeer Ki Barfi
NDTV Food
About Anjeer Ki Barfi Recipe: Healthy and tasty, anjeer ki barfi is a very easy and quick Indian dessert to prepare specially on festivals like Diwali and other special occasions. With high concentration of vitamins, minerals and anti oxidants it also has numerous health benefits.

Ingredients of Anjeer Ki Barfi
1 Cup anjeer
2 tbsp khus khus
17-18 Cashewnuts
For Making Barfi:
1 tsp ghee
1/2 cup condensed milk
1/2 tsp cardamom powder
1.
Soak 1 cup of Anjeer for at least 2 hours. 2.
After soaking grind it to make a paste and keep aside.
3.
Dry roast khus khus in a pan until light golden, followed by Cashew nuts and make a powder out of it. Prepare Barfi:
1.
Melt ghee in a non-stick pan and add the anjeer paste to it. 2.
Add condensed milk and cardamom powder. Mix well on low heat for better cooking. 3.
Now add cashewnut powder and mix it properly with the mixture using spatula. 4.
Mix it till it becomes a sticky paste. 5.
Now spread it on a butter paper and level it evenly. 6.
Sprinkle khus khus over it and roll it into the butter paper. 7.
Refrigerate it for about 30 minutes.
8.
After refrigeration, open up the paper wrap and slice it to make pieces of any shape. 9.
Serve it at parties or store it for some daily dose of post-dinner desserts. Recipe Notes
You can also add other nuts like almonds, walnuts, pistachio as per your choice.

Watch the step by step recipe of Anjeer ki Barfi here: