Story Progress
Back to home
Apple Crumble with Singhara Atta Recipe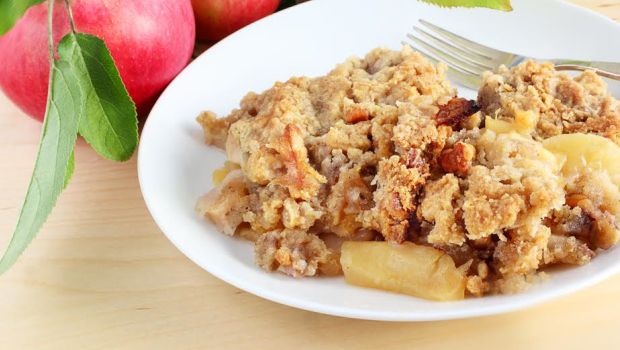 How to make Apple Crumble with Singhara Atta
Apple crumble with a twist, this one's made with singhara atta and the goodness of raisins and coconut. A perfect Navratra delicacy.

Ingredients of Apple Crumble with Singhara Atta
1/2 Kg apples (cored & amp; cut into 1/2" dices), peeled
1/2 coconut (flesh grated)
50 gms raisins
1/2 tsp crushed cardamom seeds
3/4 tsp cinnamon powder
3 cloves
nutmeg, grated
2-3 tbsp gur / shakkar, grated
For the Topping:
150 gms singhada atta
75 gms chilled butter
75 gms gur / shakkar, grated
1.
Combine the apples with the coconut, raisins, spice and shakkar.
2.
Spoon into a buttered ovenproof dish.
3.
Combine the singhada atta and shakkar.
4.
Rub in the butter with your fingertips until the mixture resembles breadcrumbs.
5.
Top the apples with the crumble mixture.
6.
Bake in a pre-heated oven 180 C/ 350 F for 20 minutes, or until the topping is crisp and colored.
7.
Serve hot with custard, ice cream or cream.